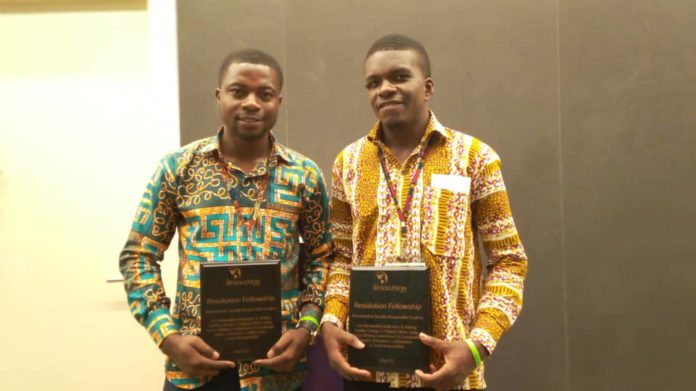 In Bebuso village, in the Eastern Region of Ghana, a group of ten young people is undergoing an intensive two-week training program in beekeeping, tree planting, and cashew seedling preparation, an initiative by Elikplim Kwasi Avor and Ransford Obeng Aniagyei, two Mastercard Foundation Scholars at Kwame Nkrumah University of Science and Technology (KNUST) who aim to create employment and reduce poverty in Bebuso.
An unemployed youth in this community relies on charcoal burning as a quick source of income. He wakes up in the morning and enters the bush in search of a tree to cut down. This is not easy, since most of the trees have already been cut down. He spends a great deal of time to find a tree that will produce a reasonable amount of charcoal for sale.
It takes about two weeks for the charcoal to be ready for harvest after the right quantity of trees has been acquired, and he usually gets an average of twenty bags, selling for around US$4.00 per bag.
Ransford and Elikplim became friends and roommates at KNUST, an opportunity that triggered their thoughts on how they would help their fellow youth in Ghana to earn a living.
"Being passionate about creating and leading change, we developed this project idea in our room after a physical three-day visit to Bebuso and interaction with the inhabitants," explained 23-year-old Ransford, from Larteh in the Eastern Region of Ghana, who completed a Bachelor of Science in petroleum engineering.
They created Api-Smart, a social venture that trains young people in beekeeping and honey production as a source of income, as well as in tree planting. A total of ten young people committed to community development and willing to bring change to their villages are selected each year to undergo a flexible but intensive training program in beekeeping, tree planting, and cashew seedling preparation by the District Agricultural Office.
"Bebuso is a deprived community in Ghana. Having lived most of my life in the community, I must say it is a community which has almost all (if not all) of its members living below the poverty line," said 22-year-old Elikplim, who is doing a Bachelor of Science in agribusiness management.
After the training, the participants are registered as members of the beekeeping association in the district. The cost of the training and seedlings for the tree planting is absolutely free.
"The aim of the cashew tree-planting exercise is to help regain our forest, serve as a source of nectar and pollen for the bees to use for honey production, and also serve as an alternative source of income for the participants, since the fruits and seeds of the cashew tree can be sold for money," said Ransford.
After the training, each of the beneficiaries is given five beehives to commence their beekeeping and honey production business. Supervisors are assigned to them to ensure they are on track. After the harvest of their honey, Api-Smart will serve as a ready market for them by buying their harvested honey. This is done to save them from the struggles they would go through in search of a market for their product. Each participant will be paid based on the quantity of harvested honey they supply.
"Api-Smart will then package the honey bought from them to meet the current standard in the country and sell it to our established network of wholesalers and retailers in cities such as Accra, Kumasi, and other parts of the country. Some of the profit margin gained from this activity will be reinvested into the project to finance its operations and recruit the next batch of beneficiaries, in that order," explained Elikplim.
By doing this, Api-Smart is confident that the standard of living for young people in Bebuso will be higher, as the project aims to empower a total of 100 youth over ten years and recruit more afterward. The team is considering offers from companies in Accra which will provide it with the processing and packaging equipment.
"We have a member of the team who specializes in carpentry and will be handling the hive construction for the project," said Ransford.
Api-Smart won the 2019 Resolution Social Venture Challenge, a competition that rewards compelling leadership and promising social ventures led by youth. These young leaders and change-makers earned a fellowship that includes seed funding, mentorship, and access to a network of young global change-makers to pursue impactful projects in their communities. A collaboration between the Mastercard Foundation and The Resolution Project, the Resolution Social Venture Challenge provides a pathway to action for socially responsible young leaders who want to create change that matters in their communities.
"I feel very honoured to be an SVC winner and very thrilled to be part of the society of world transformers. My message for young people, especially those in Africa, is to remain focused on their dreams and use their God-given talents to help transform their communities and Africa to make our continent a great and a better place. I believe in the future of Africa!" said Elikplim.