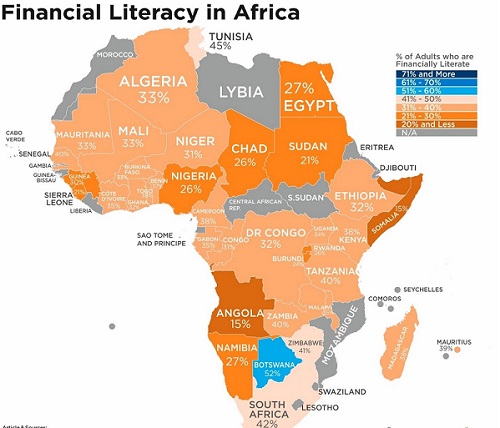 The Holy Bible in Hosea 4:6 says "my people are destroyed from lack of knowledge". By our literary understanding of this living word, we can say that limited or lack of knowledge makes people take bad decisions that affect their lives. Indeed, knowledge is power and acquired either through formal education or informal means from Archeology to Zoology.  But no matter the depth of our knowledge, there comes the need to learn, re-learn or make room for new ideas. Even then, we can't always hardly make good decisions by relying on our own knowledge. This resonates with the saying "wisdom is like a baobab tree; no one individual can embrace it".
Investment decisions require some appreciable level of knowledge by reason of the risks and returns involved. While people with limited knowledge of investment products and services will of necessity rely on professionals or friends to make such decisions, others who have attained high levels of education usually do so based on the information available to them. Some investment products are very sophisticated, to the extent that diligent professionals also need self-education or expert opinions to apprise themselves of the inherent risks and returns. It is then that they can also educate other people who need their services to make informed decisions.
You will agree with me that many people have been falling victim to Ponzi schemes these days – more than ever heard of or witnessed in the country. Surprisingly, some of these victims include professionals and top decision-makers in the banking and finance industry. These are chartered bankers, chartered accountants, economists, lawyers, marketeers and investment advisors we look to for investment advice. These professionals are considered as elite who should have known better and stayed away from the Ponzi schemes. But their inability to do so makes the public describe them as greedy.
Well, some of these professionals in rebuttal posited that they envisaged the risks in their decisions, but were overtaken by events they had not fully measured – hence their woes should not be attributed to naked greed. Apart from the Ponzi schemes, there were instances when people placed investments with licenced institutions – but on maturity realised that they were short-changed regarding the expected benefits.
I remember the case of a friend who subscribed to an insurance policy with one of the insurance companies in the country. Later, he had a change of mind and wanted to terminate the policy when he realised that the benefits he expected were not clearly communicated to him from the onset. Alas! He died when the vehicle on which he was travelling from the countryside to the company's head-office had an accident. It was a painful incident, over a decade ago. If he had prior knowledge or was well-informed of the product(s), he could have made a better decision before underwriting it. That would have also helped avoid his untimely death.
In fact, there are similar situations all around us and we cannot continue paying lip-service to sensitisation programmes meant to enlighten the public and guide them in making informed investment decisions. It is on the backdrop of these happenings that it is worth going back to basics regarding financial literacy, financial education or financial knowledge.
Financial Literacy
Wikipedia basically explains financial literacy as the "possession of the set of skills and knowledge that allows an individual to make informed and effective decisions with all of their financial resources". From my understanding, this definition establishes the fact consumers of financial products can only make informed decisions before entering into contracts with financial institutions when they have the necessary skills and knowledge to do so. It would be wrong to assume that the skills and knowledge required to make financial decisions are the preserve of all those who can read and write.
A person can be literate (able to read and write) but financially illiterate and need to be educated. In the same vein, a person can be illiterate (unable to read and write) but financially literate through conscious efforts of acquiring the skills and knowledge on savings, investments, borrowing and more.  Nonetheless, those who can read and write are in an advantageous position to use their academic knowledge (not necessarily in the study of Finance) to acquire the set of skills and knowledge needed to make them financially literate.
Financial literacy is not an event but a life-long journey, as far as financial and investment decisions are concerned. It is even more necessary now than ever before due to rapid growth in technology, characterised by innovation in product development and packaging. In this regard, learning new skills is essential to being financially savvy – hence, literate.
I am strongly inclined to the assertion that many of the professionals who were swindled through the Ponzi schemes or fly-by-night financial institutions found themselves in those painfully embarrassing situations because they failed to appreciate the essence of financial literacy. They have the wrong notion that financial literacy is meant for stark illiterates and the underprivileged poor. Lessons from their experiences bring to the fore the need to entrench financial literacy programmes in the country. Currently, financial literacy activities at the national level are marked yearly. We can do better with those activities, to help people develop the necessary skills and knowledge for making sound financial decisions on a daily basis.
The Global Financial Literacy Excellence Centre gives insights into financial literacy around the world. The current findings (2018) on the literacy rates among adults revealed that: "At the highest level, financial literacy around the world appears strongest in countries with developed and advanced economies, especially Western Europe and English-speaking countries". The top 10 most financially literate countries include Denmark (71%); Norway (71%); Sweden (71%); Canada (68%); Israel (68%); United Kingdom (67%); Germany (66%); Netherlands (66%); Australia (64%); and Finland (63%).
The same findings on Africa revealed that the continent scored lowest among all others. Only Botswana crossed the 50% barrier, with other countries falling between 31%-40%. It is revealing to note that Ghana currently has 31% of its adults being financial literate. This means that a majority of Ghanaians are likely to fall victim to Ponzi schemes, especially the sophisticated ones.
Financial Education
Financial literacy is half-baked without any relevant education as recognised by the Organisation for Economic Cooperation and Development (OECD). The organisation recognises financial education as "the process by which financial consumers/investors improve their understanding of financial products, concepts and risks; and through information, instruction and/or objective advice, develop the skills and confidence to become more aware of financial risks and opportunities, to make informed choices, to know where to go for help, and to take other effective actions to improve their financial well-being".
Enabling people to improve their financial well-being means that financial education should go beyond the formal and structured classroom settings. In the realm of financial literacy, seminars, community durbars, radio programmes and other coordinated activities which have a deliberate and consistent objective of empowering people to make informed financial decisions are welcome. These programmes invariably create awareness in terms of financial knowledge and skills to become financially literate.
To conclude, Ghana requires a stronger stakeholder commitment to improving its score of financial literacy among its peers and in the world at large. A high score of financial literacy will not only help the country to deepen financial inclusion, but also enhance resource mobilisation for economic growth and development.
This script was written by a Chartered Banker with a flair for feature writing. Apart from his work schedules, he edits or proof-reads corporate material for his colleagues, executive managers – including distinguished professionals working in various fields outside Banking. Through this column, his articles feature on third-party online media platforms in Ghana and outside. Email: Kwaku.Anumu@gmail.com