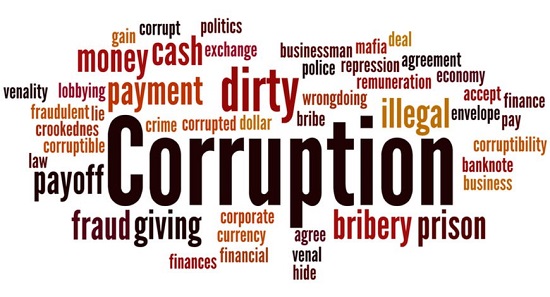 The latest Corruption Perceptions Index (CPI) released by Transparency International (TI) shows that Ghana has dropped two places to 80th globally but remains with a poor score of 41 out of 100, which is below the average score of 43.
This, according to the report, means the country is perceived as more corrupt than African neighbours such as Benin, Senegal, Namibia and Botswana. Globally, 79 countries performed better than Ghana; meanwhile, last year 77 outperformed Ghana.
The CPI 2019 draws on 13 surveys and expert assessments to measure public sector corruption, giving each country a score from 0 (highly corrupt) to 100 (very clean). CPI 2019 focuses on political integrity and highlights the relationship between politics, money and corruption.
"Frustration with government corruption and lack of trust in institutions speak to a need for greater political integrity," said Delia Ferreira Rubio, Chair of Transparency International. "Governments must urgently address the corrupting role of big money in political party financing and the undue influence it exerts on our political systems."
More than two-thirds of countries – along with many of the world's most advanced economies – are stagnating or showing signs of backsliding in their anti-corruption efforts per the CPI 2019 released today by TI.
Global Highlights
In this year's index, Denmark and New Zealand topped with 87 points each. Syria, South Sudan and Somalia are at the bottom of the index, with 13, 12 and 9 points respectively. The highest scoring region is Western Europe and the European Union, with an average score of 66, while the lowest scoring region is sub-Saharan Africa with an average score of 32.
More than two-thirds of countries scored below 50, with the global average score of 43. Since 2012, only 22 countries have significantly improved their scores, including Estonia, Greece and Guyana. On the other hand, 21 countries have significantly declined since 2012, including Australia, Canada and Nicaragua.