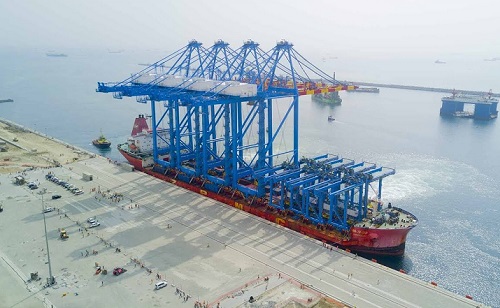 The Ghana Ports and Harbours Authority (GPHA) has stated that the Tema port, which serves as a gateway to Ghana's international import and export trade, will remain open for business and continue to offer essential services for the duration of the partial lockdown.
In light of the recently announced restriction of movement to curb spread of the coronavirus, the port will scale-down its operations; however, essential services will still be provided.
Some of these service providers listed in a statement signed by the Director General of GPHA, Michael Luguje, include the GPHA, Meridian Port Services (MPS), Customs Service, Shipping Lines Agents, Freight Forwarders, Dock Labour Supply Companies, Terminal Operators and Inland Container Depots (ICDS).
Others include Private Stevedoring and Shore Handling Companies, Ship Waste Collectors and Contractors, the Ghana Standards Authority (GSA), Food and Drugs Authority (FDA), Ghana Maritime Authority, Ghana Shippers' Authority, Ghana Immigration Services, Ghana Navy and the Port Health Department.
"In line with the directives issued by President Nana Akufo-Addo on March 27, 2020, for the lockdown of key municipalities in the Greater Accra Region, including the Tema metropolis where the port of Tema is located in Ghana. The Ghana Ports and Harbours Authority hereby notes that the seaport must remain open to business," the statement indicated.
Under the lockdown regime, the port will operate in the areas of vessel and ship handling, cargo deliveries, exports and essential goods.
"Vessel and ship handling – 24 hours a day, 7 days a week – to unload and load cargo for ships arriving and departing. Access to the port by relevant service providers, that is, Shipping Lines Agents and truckers shall be authorised by GPHA upon verification of business to do in the port.
"Cargo deliveries – special dispensation is given for full unrestricted import clearance for all cargoes currently already received in storage at Tema Port for Ghana and in transit, as well as cargoes currently aboard ships on the high seas and coming to be unloaded at Tema Port for local market or in transit to the landlocked countries," it explained.
The statement further stated that after all cargoes already in port and those on the high seas have arrived and have been cleared, the new rule that allows only essential goods to be cleared will apply if the lockdown is still in force.
In clearing essential goods, clearing agents responsible during this period must obtain a permit from the GRA-Customs for purposes of cargo clearance.
"Essential goods that must be cleared include food items, whether in bulk or container; medicines, medical and surgical consumables; pharmaceutical inputs and raw materials; perishable goods, dangerous goods; and direct delivery cargoes such as fertilisers, clinker, and steel products.
"Cargoes meant for export shall be received on daily basis, with shippers and agents who engage in export following the normal routine for booking and movement of cargo to the port terminals," it added. Meanwhile, all other previously circulated protocols remain in force.