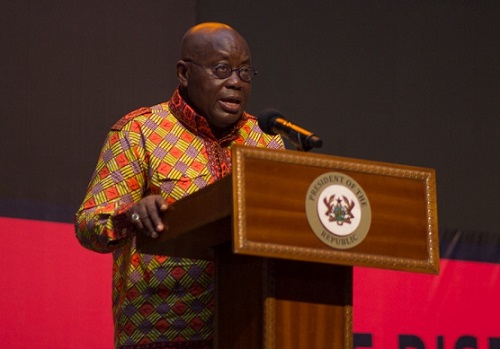 Orders banks to reduce lending rate by 2%
Sets up COVID-19 Fund
President Nana Addo Dankwa Akufo-Addo has announced a GH¢1 billion stimulus support for households and businesses, especially, small and medium-scale enterprises as part of measures to mitigate the negative impact of the coronavirus diseases on the economy.
His announcement comes after he ordered a lock down of the capital city Accra, Kumasi and Tema, as part of measures to combat the fast spreading coronavirus pandemic that has shut down economies around the world, with Ghana expected to see GDP decline to as low as 2.5 percent in the worst case scenario.
The President said Finance Minister Ken Ofori-Atta will provide details about the GH¢1 billion stimulus package but added that it will be used to implement measures that will reduce the impact of the pandemic on households and ensure that job losses are minimised.
"Fellow Ghanaians, we are in this together, and Government will stand by you. We are aware that there will be discomfort and difficulties for all of us over the next couple of weeks. As a responsive Government, we will continue to implement bold measures to mitigate the impact of the Coronavirus on businesses and households and ensure that job losses are minimised.
The Minister for Finance has been directed by me to prepare, for approval by Parliament, a Coronavirus Alleviation Programme to address the disruption in economic activities, the hardship of our people, and to rescue and revitalize our industries. He will, then, immediately make available a minimum of GH¢1 billion to households and businesses, particularly small and medium scale enterprises," he said at seat of the Presidency in Accra on Saturday night.
He further mentioned other relief measures that will provide respite for businesses. This include  the extension of the tax filing date from April to June; a 2 percent reduction of interest rates by banks, effective 1st April, 2020; the granting by the banks of a six (6) month moratorium of principal repayments to entities in the airline and hospitality industries, i.e. hotels, restaurants, car rentals, food vendors, taxis, and uber operators.
Again, the President said, a new COVID-19 Fund, which will be managed by an independent board of trustees, and chaired by former Chief Justice, Sophia Akuffo, has been established to receive contributions and donations from the public to assist in the welfare of the needy and the vulnerable.
He further expressed upbeat that measures taken by his government to combat the disease will bring the economy back to life if all in the country play their part as expected.
"I am urging all of you to bear with these additional measures. They are being done in the interest of all of us. They are, hopefully, only for a short while. These additional measures, together with those earlier announced, are what will help us defeat the virus. And, we must be united in our determination and efforts to overcome this challenge," he said.
Measures for health care facilities and practitioners
To show commitment to the fight against the coronavirus pandemic, the President further outlined provisions government has made for health care facilities and practitioners in the country. He said government has taken delivery of additional Personal Protective Equipment (PPEs) and more are being procured.
He added that distribution of 17,000 coveralls, 350,000 masks, 17,000 goggles, 2,400 non-contact thermometers, 350,000 gloves, 25,000 sanitsers, 30,000 tests kits are ongoing for healthcare personnel and those undertaking contact tracing and testing.
Again, recruitment exercise is ongoing for 1,000 community health workers and an additional 1,000 volunteers to help in the fight. Furthermore, one hundred pick-up vehicles and two 2,500 tablets have been mobilised for the exercise, he said.