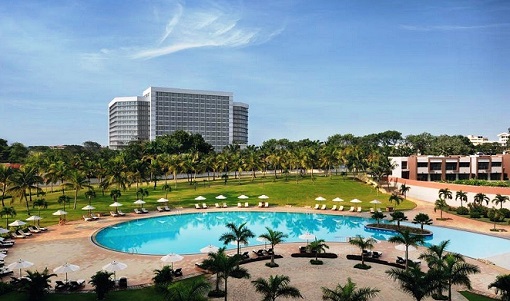 The president has declared a two-week lockdown as part of measures to help curb the spread of COVID-19. Hoteliers have been allowed to operate, but have been given strict guidelines by the Ghana Tourism Authority (GTA) boss. He has been on air over the past weeks answering questions on effects of the COVID-19 pandemic on the tourism industry.
He also said this year's Kwahu Paragliding Festival, which was due to take place from 10th April, has been called off by the GTA. Prior to the authority calling off the Kwahu Paragliding Festival, some residents in the Kwahu area had called for cancellation of the Festival for fear of contracting the virus. With the lockdowns and ban on social gathering, the cancellation was expected.
The GTA boss was also asked how much the cancellation will cost the country. According to him, the figures are not yet quantified and available – but it will be in the millions of Ghana cedis. It is imperative that we have the yearly statistics on the economic gains of all festivals in Ghana. Residents of Kwahu will wake up one morning and come to terms that, this year, no festival will take place on their soil…which will be so unusual. However, that is the reality and COVID-19 has been a challenge to the tourism industry; and there are talks of a global recession in the very near future if this pandemic remains unresolved.
Many conferences and sporting events are being cancelled or postponed, wasting the amount of money invested up until now. Japan's prime minister, Shinzo Abe, has finally agreed to postpone the Olympic Games to 2021. It wasn't an easy decision, but that is the reality facing our world today. Many football-lovers in Ghana have complained they can no more enjoy their favourite European leagues.
One sector that has been seriously affected in Ghana is the hotels sector. Data available to the B&FT from 16 hotels in three regions show that a total sum of almost GH¢63.1million – equivalent to US$11.8million (Bank of Ghana, March 19, 2020 mid-rate of 5.3480) – has been lost due to cancellation of room bookings and conferences scheduled for the months of March and April.  Ghanaweb reports that the hotel association, through its president, is calling for a bailout as they lay-off many workers.
"We have been paying taxes to government over a long period of time. These are critical moments and it will be prudent if we get some shielding from the state. Government must provide some sort of leverage with regard to salary payments. Some people will say, as a business, there are good times and bad times so hotels should learn to contain it. Our real concern is about the staff, the people who get their daily bread from working in the various hotels.
"Hotels will not be able to pay them because clients are cancelling bookings, and it is these same monies that workers are paid with. Hotels are forced to lay-off workers because they are unable to pay staff amid the pandemic." He also stressed the need for government to release a stimulus package for the sector to help fight the coronavirus's fallout.
"We are looking at VAT rate being reduced if possible; is it possible to even adjust the electricity and water tariffs, and is it possible to look at suspending the payment we make to regulatory bodies including property rates and similar costs? That's what we want to know now." We want government to offer some relief by way of tax-cuts to prevent a complete shutdown of their facilities."
With the increasing numbers of cases locally and globally, there seems to be no light at the end of the tunnel. Hoteliers must begin to think of alternatives to stay in business or some will eventually have to close down. Already, there is news of Zaina Lodge closing down until July.  That is the best option on the table for now, considering how stretched government resources are. The sad part is that domestic tourism cannot be an option to alleviate the situation.
The World Tourism Organisation (UNWTO) hosted a high-level virtual meeting on Sunday March 22, bringing together key UN agencies, the chairs of its Executive Council and Regional Commissions, and private sector leaders. Tourism is the economic sector that has been hardest hit by COVID-19, and all participants accepted an invitation from the UNWTO Secretary-General to become part of a Global Tourism Crisis Committee formed as UNWTO prepares to launch a global guide for recovery.
The UNWTO-led committee will hold regular virtual meetings, emphasising the need for coordinated and efficient action by the private and public sectors, governments, international financing institutions, and the United Nations. Since the start of the pandemic, UNWTO has been working closely with the World Health Organisation (WHO) to guide the tourism sector as it faces up to the COVID-19 challenge. This meeting, hosted in Madrid but conducted virtually for reasons of public health, further emphasised the call for international cooperation to underscore a united response based on the latest public health recommendations and reflecting the deep economic ripple-effects and social cost of the pandemic.
"This unprecedented public health emergency has already become an economic crisis that will come at a social cost," said UNWTO's Zurab Pololikashvili. The Secretary-General added that: "Tourism is the hardest hit sector, and all our best estimates have been overtaken by the changing reality".
Without any certainty over how long this crisis will last or what the final economic and structural impact on tourism might be, all participants were united in their deep concern over the millions of jobs that are at risk of being lost. With small and medium-sized enterprises making up 80% of the sector worldwide, the wider social impact of the crisis will go far beyond tourism – making it a key concern for the international community.
According to the Oxford Economics, two important points define the situation in a way that is different from SARS in 2003. China is now 16% of world GDP (it was 4%in 2003). In 2019, China supplied 7% of US overseas visits (it was 1% in 2002, implying a700% increase). We are now seeing disruptions to both supply and demand. As such, anticipating a V-shaped recovery would be misguided.
A U-shaped path for GDP growth now appears the most likely scenario. Importantly, we note that the virus shock comes against a backdrop of weakening economic activity. Prior to the outbreak, the manufacturing sector was experiencing its most severe slump since the global financial crisis, real GDP had posted its worst three quarters performance since 2016, and consumer spending was cooling.
While the Oxford Economics baseline economic forecast doesn't anticipate a recession with 1.3% GDP growth, if authorities decide to close schools, which is now happening; severely restrict travel, which is now happening; and limit all non-essential movement, which is again happening, the US economy will fall into a recession – with zero GDP growth in 2020, putting an end to the longest economic expansion ever.
The present declines appear likely to be worse than what the US experienced in 2003. China's declines are far-exceeding the 56% decline experienced in the second quarter of 2003. And Electronic Authorisation for Travel Approval applications for visa-waiver countries (primarily Europe, Japan, and South Korea) fell nearly 7% in February, and are trending worse in the first week of March. It's not implausible that international declines will be closer to what we experienced in 2001, when visits to the US fell by 8.4%. Our current models expect an international visitor-loss of 7.6%, concentrated in the second and third quarters of the year. In volume terms, this represents a decline of 6 million visitors and US$19billion in spending this year.
Event cancellations will hurt larger cities with major international conventions. Groups represent about 24% of hotel room demand, and we are receiving a steady flow of large-event cancellation announcements. Certainly, a large share of events will continue as planned but attendance may falter. As countries like the US hope to reopen their country by Easter, it is my hope, and that of many people, the number of infected persons will begin to drop and those infected will recover so that life comes back to normalcy. A word of caution is that experts say even if this pandemic was to end today, it would take at least one year before the tourism industry bounces back. I hope hoteliers are listening.
Philip Gebu is a Tourism Lecturer. He is the C.E.O of FoReal Destinations Ltd., a Tourism Destinations Management and Marketing Company based in Ghana and with partners in many other countries. Please contact Philip with your comments and suggestions. Write to forealdestinations@gmail.com / info@forealdestinations.com. Visit our website at www.forealdestinations.com or call or WhatsApp +233(0)244295901 / 0264295901. Visit our social media sites Facebook, Twitter and Instagram: FoReal Destinations