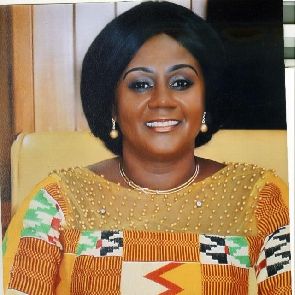 The Minister for Tourism, Arts and Culture, has inaugurated a committee to see to the establishment of a Gold Museum in the Western Region.
This follows a promise she made to parliament during her vetting. According to her, after 100 years of mining in Ghana, there is no embodiment, opened to tourist, to educated and tell the Ghanaian gold story.
She is confident that, the move will attract tourists and serve as a legacy to store the country's rich mining history.
Mrs. Oteng-Gyasi addressing the committee members said that, the tourism industry remains amulti-billion one and is now the fourth income earner of the country's Gross Domestic Product (GDP).
According to the minister, when the Gold Museum is established, unique gold artifacts would be made available for tourist to appreciate the history surrounding Gold mining in the country.
She further charged the Committee members to live up to their bidding, and choose the most appropriate town in the region to host the proposed Gold Museum Project.
The 10-Member Committee for the establishment of the Gold Museum is under the Chairperson of Rev. Dr. Joyce Aryee.
On her part, Dr. Aryee, who was the longest serving CEO of the Ghana Chamber of Mines, emphasized that, the stakeholders in the Chamber of Mines, have over the years contemplated establishing a Gold Museum but was not successful.
According to her, the minister's commitment to see the realization of this initiative is a laudable one, and all players will be rallied to see to the realization of the well-intended project.
The Board Chairman of the Ghana Museums and Monuments Board, Kwame Sowu, remarked that, the Committee might not need an entirely new building or structure for the Gold Museum Project, but can liaise with some Mining Companies, to allocate some of their old mining buildings which in itself can be a source of history and artefacts to the impending Gold Museum yet to be established.
The Committee has two months within which to complete its work, as per the terms of reference assigned to them, which are catalogued as follows;
To identify a suitable town, location or piece of land to establish the Museum.
To map out plans towards the acquisition of land documents and other documents as may be necessary for the establishment of the Museum.
To advise on technical assistance to work out plans towards the execution of the project.
To liaise with the Ghana Museums and Monuments Board to identify material of Historical and Archaeological value for the museum.
To engage the Mining Industry for collaboration and participation.
To map out strategies to solicit funds from Corporate bodies and Private Organizations for the preparations, constructions and to equip the Museum, and the last but not the least is,
To undertake any other activity which in the opinion of the Committee, will enhance its work.