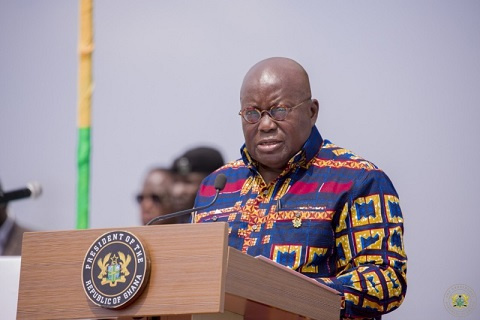 Government's attempt to utilise the Ghana Heritage Fund (GHF) to fight the Coronavirus pandemic has been met with some opposition, while others argue that what's the point of a heritage fund when coronavirus has the potential to wipe out large swathes of the population.
The Ghana Heritage Fund (GHF) was primarily created to set aside a portion of petroleum revenue for the benefit of future generations and that is why it's proposed utilisation to offset intended revenue receivables has attracted a lot of attention.
The Institute for Energy Security (IES) has come out hard in opposition to any contemplation of dipping hands into the GHF which it describes as 'any attempt to go close to the Heritage Fund will be seen as an assault on the well-being of future generations'.
That is a consideration that cannot be overlooked or downplayed since it was primarily the reason why the Fund was created in the first place.
IES Executive Director, Paa Kwasi Anamua Sakyi further suggests its contemplation is a wholesale theft of the prospects of generations to come; and as a result will be met with stiff resistance.
While acknowledging that the world in general and Ghana in particular is experiencing extraordinary times in recent history due to the coronavirus pandemic, and extraordinary measures need to be taken to combat the rapid spread of the novel virus, the energy think tank believes it must not be a launch-pad for government to unnecessarily engage in implementing measures that are "short-sighted and lack robustness, and come with negative ramifications for the future.
Context-wise, the IES explained that the fight against the novel coronavirus does not fall under any of the circumstances under which the fund can be used; and that the attempt to tap into the GHF – if successful – will therefore rob future generations of the endowment once all the petroleum resources have been depleted.
On the other hand, the Ghana Stabilisation Fund (GSF) was established for such moments of shocks in the economy, hence analysts like Professor John Gatsi believe resorting to the GSF will be enough to cater for the coronavirus fight without necessarily venturing into the GHF. One thing is clear from the on-going debate and that is that the Petroleum Revenue Management Act (PRMA), 2011 (Act 815) would have to be amended if the request is granted.
The Ghana Infrastructure Investment Fund and the Contingency Fund are also meant for circumstances like the current situation and we fail to fathom why government has not employed that option.