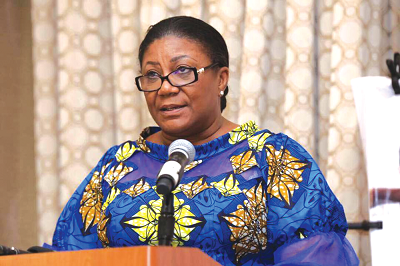 Rebecca Akufo-Addo, First Lady of the Republic of Ghana has commended Gold Fields' Corporate Social Responsibility (CSR) agenda, noting that their projects have sustainable outlooks rather than a simple act of charitable giving.
"I commend Gold Fields for contributing to improvements in the health and maternal care of the people. I believe this is what Corporate Social Responsibility should be about; it is about an organisation's commitment to the larger community," she said.
Whilst social responsibility helps improve an organization's image and gives them the social licence to operate, she said it enhances the livelihoods of host communities. "That is how powerful and vital CSR can be."
The First Lady, said this at the opening of the Huni-Valley Health Centre, in the Prestea – Huni Valley Municipality in the Western Region. "Considering the importance of this facility to the thousands of people living in this municipality, it is only appropriate for it to be upgraded and equipped with modern facilities to better serve our people, especially women and children," she said.
She said: "I am glad to learn about Gold Fields Ghana Foundation's investment in education, health, water and sanitation as well as livelihood enhancement programmes in the host communities. Key among these projects include scholarships for over 2,000 students, provision of school infrastructure, teaching materials, libraries and ICT centres such as the Abosso Library, as well as programmes to motivate teachers such as your annual Teachers' Awards.
I must say, Gold Fields' commitment to improving the health and maternal care in host communities is also admirable. I would also urge you to continue to implement strategies, to reduce the impact of mining activities on host communities. Protecting the environment is also a key component of CSR," she added.
She mentioned that the Rebecca Foundation, which was established in 2017, shares a common vision with Gold Fields. Since 2017, the foundation, she said, has supported government's efforts to improve health care for women and children, literacy among children, as well as economic empowerment for women.
Also, the First Lady said the Foundation has established strategic partners to help address these critical issues.
"In just two years, the Rebecca Foundation has impacted so many lives across the country through projects, such as the construction of the Mother and Baby Unit at the Komfo Anokye Teaching Hospital in Kumasi, the Paediatric Intensive Care Unit at Korle, Bu Teaching Hospital among others" she pointed out.
Also, through the Foundation's 'Learning to Read, Reading to Learn' initiative, "we have built school libraries in the Western North, Central, Bono and Upper West Regions. We will continue to spread our wings wide so that we will be able to cover many more areas in Ghana."