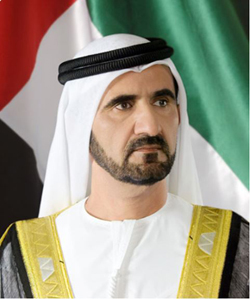 Dubai is what we all call Dubai today because of the foresight of its leaders. Everything we see there today is as a result of careful planning and, more importantly, implementation of those plans towards building a future where citizens want to call home.
Due to thoughtful leadership, the city launched what is now known as the Dubai Future Foundation (DFF) — a natural extension of Dubai's vision of bringing the future forward. Let us see how this initiative is driving the Dubai's future.
Launched in 2016 by His Highness Sheikh Mohammed Bin Rashid Al Maktoum, Vice President and Prime Minister of the UAE and Ruler of Dubai, DFF plays a pivotal role in shaping the future of Dubai through the adoption of innovative technologies for the advancement of humanity. Through ideation, collaboration, prototyping and legislation, DFF partners with government and private sector entities to strengthen the skills of our current and future generations, and implement strategies that will propel Dubai into the future.
Chief Executive Officer of the Dubai Future Foundation, Khalfan Belhoul, shared his thought in an interview with the B&FT's Obed Attah Yeboah during a recent trip he made to Dubai.
Why was the Dubai Future Foundation created and what was its mandate?
Taking a step back, I want to talk about our drive towards future foresight. This is not a new concept or a mindset that we are applying. It is a concept that was embedded in our DNA by our leaders. They taught us the importance of having a farsighted vision, planning and risk taking. We have seen this with the transformation of Dubai and we are still seeing it with the continuous evolvement happening around us. We are taking the same approach at the Dubai Future Foundation.
The Dubai Future Foundation (DFF) is an entity, or an engine that is mandated to enable both the public and private sector alike to adopt emerging technologies, acquire advanced skills and always be ahead of the curve when it comes to the latest technologies and trends. DFF's vision: Enabling the future of Dubai for the advancement of humanity.
Key Dubai Future Foundation initiatives include
Dubai 10X
One Million Arab Coders (OMAC)
AREA 2071
Dubai Future Accelerators (DFAc)
Dubai Future Academy (DFA)
Country in Residence Programme
Museum of the Future
What are some key success stories undertaken by Dubai Future Accelerators?
MVMANT partnered with RTA to develop is a solution for mobility on demand where the allocation of vehicles is managed by AI. MVMANT also has an AI platform that can be used to predict the number of passengers of the entire bus and metro network.
Educhain, partnered with the Knowledge and Human Development Authority, to develop an innovative backend blockchain solutions for institutions, government and corporates enabling seamless issuance and exchange of official digital records.
Veragon partnered with DEWA to develop an 'Air to Water' technology mimics nature and produces large scales of water from the air using nothing more than humidity as the source.
What are the implications of the Blockchain strategy beyond government and for the wider ecosystem?
The Dubai Blockchain Strategy was built on three pillars, Government Efficiency, Industry Creation and Thought Leadership.
Industry Creation: In addition to rolling out blockchain in the government, we need to create a blockchain industry that enables private companies and startups to thrive and innovate. To achieve this aim, we have created two key action areas to support the development of an enabling ecosystem that will empower businesses:
Smart Dubai Global Blockchain Challenge: Hosted annually in Dubai, the Smart Dubai Global Blockchain Challenge invites startups from across the globe to pitch blockchain ideas that could be implemented in the city. Last year, the second Global Blockchain Challenge received more than 200 applications from 85 cities that wanted to showcase their best and brightest blockchain solutions. For this year DFA collaborated with Smart Dubai on the blockchain challenge and I am proud to say that we have increased our applications by 250% and received over 700 applications from 79 countries. Smart Dubai shortlisted the top 20 entities and will fly them to Dubai to present at the Future Blockchain Summit in April, where three winners will be awarded cash prizes and introduced to relevant government and private sector partners.
By opening the door to blockchain professionals from around the world to come to Dubai and help pilot and implement use cases for each sector, the city is fostering both the blockchain market and its own economy.
Blockchain Conferences: Dubai has been hosting blockchain experts and speakers on a regular basis in order to stimulate debate and discussion around the most pressing and controversial issues surrounding the adoption of blockchain technology on a citywide level. The 2018 Future Blockchain Summit was globally the largest Blockchain conference ever held, with more than 8,000 attendees. In this year's edition the summit is expecting over 14,000 attendees.
Thought Leadership: This pillar reflects Dubai's aim to lead global thinking on blockchain technology and become the hub for blockchain intellectual capital and skill development.
Skill Development:Dubai aims to become the regional and global hub for blockchain skill development by offering the most comprehensive and frequent training programs aimed at blockchain coders, policymakers, strategists, and project managers. The Dubai Future Academy, an initiative of DFF hosts a series of blockchain focused workshops and sessions in partnership with Dubai Blockchain Center, this session teaches participants about the history of blockchain technology as well as the fundamentals of its economic and security models
Intellectual Capital—Smart Cities Global Network:Smart Dubai aims to create and share intellectual capital related to its blockchain adoption by developing case studies for each of its city pilots. To achieve that goal, in April 2018 Smart Dubai launched the Smart Cities Global Network, the largest international network of smart city stakeholders. Smart Dubai aims to bring together partners that share its passion for advanced technology, Fourth Industrial Revolution breakthroughs, smart living, and spreading happiness in the community through tech-enabled, human-centric services. The Centre for the 4th Industrial Revolution focuses on 3 main topics of research of which one of them is Blockchain; looking  at the implementation of blockchain in government as well as in supply chain such as ports, trade, cargo. In collaboration with the world Economic Forum, the Dubai based center will also be looking into case studies on this technology and how to implement it in terms of regulation.
How is Dubai creating a unique model for blockchain?
Test & Implement: Instead of waiting for tried and tested solutions, Dubai wishes to be a pioneer and world leader in Blockchain adoption and implementation, therefore, as the leaders of Dubai have understood the potential impact the technology can have on the future of the city, Dubai is working with government and private sector entities across the city to identify, evaluate and eventually implement Blockchain solutions, making everyday processes much more seamless and efficient
Policies: While working on identifying and implementing use cases with our partners, most entities identified the need for official government issued Blockchain implementation policies, therefore Blockchain policy is being developed for a number of areas, such as security, ownership, infrastructure management, consumer rights, startup support and enablement, financial technology, etc. The policy implications of blockchain implementation will be assessed continually. Smart Dubai is running policy workshops with public-and private-sector entities to identify challenges they will face before blockchain is implemented, and will finalize the policies with their feedback in mind.
Infrastructure: We identify that Blockchain is an expensive technology, therefore to minimize initial costs we have launched the Dubai Blockchain Platform in partnership with IBM. The Dubai Blockchain Platform provides startups and entities access to Blockchain infrastructure on a Pay As You Go Model, helping them focus on the application development and not worry about costs of infrastructure and maintenance.
How is Dubai creating an environment that supports innovation?
Launched by His Highness Sheikh Mohmmed Bin Rashid Al Maktoum, Crown Prince of Dubai and Chairman of the Dubai Executive Council, the "Regulation Lab" is seen as one of a kind lab dedicated in providing an environment that encourages the adoption of new technologies as well as testing out solutions to further position Dubai as a hub for innovation and a role model of future governments. The regulation Lab enables our vision in the race towards a better future for humanity.
The lab will further create a reliable and transparent legislative environment, introduce new legislation and develop existing ones, as well as regulate the work of advanced technology and its applications. The Regulation lab will work closely with lawmakers from federal and local government authorities as well as the private sector and business leaders to develop legislations governing vital future sectors impacting humanity and support the UAE's role as a global incubator of innovation and creative projects.