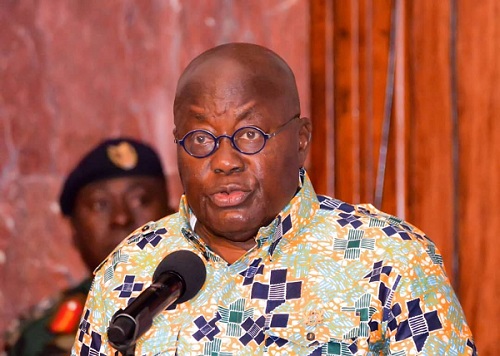 President Nana Addo Dankwa Akufo-Addo has pledged Ghana's commitment to implementing the African Continental Free Trade Area (AfCFTA), describing it as a "historic obligation" that the nation intends to act on with the highest sense of urgency, dedication and excellence.
Ghana has been selected as host-country for the AfCFTA's Secretariat – and with the commencement of trading set for 1st July 2020, the president urged African leaders to exhibit a collective desire for shared prosperity with the hope that AfCFTA will succeed, and provide a new impetus and dynamism for the rapid growth of Africa's economies while deepening the process of integration in Africa.
Addressing stakeholders at the opening of the 10th Meeting of African Ministers of Trade and 2nd Meeting of the African Continental Free Trade Area (AfCFTA) Council of Ministers in Accra, he said: "We owe it to generations unborn to ensure that the biggest trading bloc on the globe, whose outcomes will be rewarding to all and which will assist in attaining the 'Africa We Want', does not falter.
"Let us work together as stakeholders and strategic partners to resolve the complexities of regional integration, while ensuring that implementation of the AfCFTA leaves no one behind. We have the opportunity to build a new, prosperous, stable Africa that will make its own unique contribution to the growth of world civilisation. Let us seize the time.
"When you consider the fact that trade between African countries remains low, currently standing at some 16% of our combined GDP compared to other parts of the world, like the European Union's 70%, it is obvious that these very low levels of intra-regional trade cannot improve our prospects of bringing prosperity to our peoples. A large part of the growth and prosperity that we seek on the continent will come from us trading more among ourselves," he noted.
Furthermore, he indicated that a region with a high level of internal trading among member-states enjoys a higher level of economic development, including higher income levels and more developed physical infrastructure. This phenomenon underpins the need for a concerted effort to enhance activities and programmes intended to improve intra-regional trade in Africa.
That is why heads of state and governments of the African Union committed themselves to creating a single market for Africa by overwhelmingly endorsing establishment of the African Continental Free Trade Area, he explained.
The AfCFTA coming into force means that Africa now has the world's largest free trade area since formation of the World Trade Organisation.
The Free Trade Area will cover a market of 1.2 billion people, with a combined GDP of US$3trillion, across the fifty-four (54) member-states of the African Union that have signed up to the Agreement.
"It will provide the vehicle for us to trade among ourselves in a more modern and sophisticated manner; it will offer a huge opportunity to exploit the abundant wealth and resources of our great continent for the benefit of all our peoples; and it will give us protection in dealing with other trading blocs."
Africa's population is set to reach some two (2) billion people in twenty (20) years' time; an African common market presents immense opportunities for bringing prosperity to the continent through hard work, enterprise, innovation and creativity.
According to the president, countries can harness fully the benefits of trade if they mainstream trade policy into their national development strategies, policies and programmes.
Trade works for developing countries in a significant way, because it enhances economic growth by allowing each country to use its resources more efficiently; and by specialising in production of goods and services the country can produce more competitively.
The overarching goals of measures to harness benefits of the AfCFTA are to develop and expand economies, and create sustainable jobs for the youths.
"It is estimated that by 2050, Africa will have the largest number of young people in the world. This means that all countries on the continent, including ours, will have to find sustainable ways of creating jobs, other than relying on the limited absorption capacity of public sector employment. To do this, we need the private sectors to take advantage of the AfCFTA to expand production, both in industry and in agriculture, and take the lead in the socio-economic transformation of our countries as other private sectors have done elsewhere."
Governments have to assist this process by fashioning and implementing a comprehensive set of policies that will empower the private sector to achieve its goal. Appropriate fiscal, monetary, financial, energy, exchange rate, tariff and non-tariff policies must be coordinated to enable African enterprises be competitive and, where possible, achieve comparative advantage.
Similarly, for effective implementation of the AfCFTA, African Trade Ministers must ensure that institutional structures that are established to support the AfCFTA are based on practical approaches that work in Africa. He appealed for senior officials and technical experts to conclude all of the outstanding implementation issues by the deadlines that were set by AU Heads of State and Government in the Extraordinary Summit in Niamey, Niger, during July 2019 for smooth commencement of trading from 1st July 2020.
On his part, the Minister of Trade and Industry, Alan Kyerematen, thanked member-states for supporting Ghana's bid to host the AfCFTA Secretariat. He was optimistic that the Single Market is going to be the game-changer for the continent's economic transformation.
He cautioned his colleagues that they have come far and turning back is not an option. He entreated his colleagues to work together and resolve any outstanding differences that would make it impossible to achieve the free trade area – noting in his own words: "Don't be haunted by the fear of failure, but be inspired by the challenge of success".
The Commissioner for Trade and Industry of the African Union Commission, Albert Muchanga, stated that with the onset of AfCFTA, the continent has created possibilities for attracting long-term investment and opportunities.