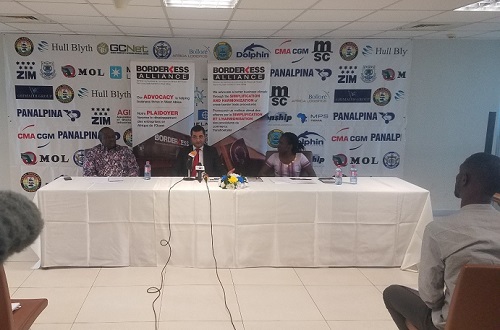 Efforts of the government and other West African economies to leverage the Africa Continental Free Trade Area (AfCFTA) to industrialise and drive prosperity will be constrained if the emerging trends and challenges in trade facilitation across borders are not collectively addressed, Ziad Hamoui, National Committee President of the Borderless Alliance, has said.
Addressing journalists at the launch of the 8th Borderless Conference in Accra, he said: "To drive Africa's industrialization agenda and to create larger and freely-accessible regional markets for its locally produced goods, removing trade barriers is critical.
"West Africa must seize the opportunity of the AfCFTA to drive its economic integration agenda by exploring both regional and international instruments of trade facilitation."
He added: "If we want more traders to ship through the ports of Ghana, we need to show that the country has improved its competitiveness in trade, transport and infrastructure. That is the only way the country can reap the benefits of regional integration".
Mr. Hamoui also reiterated the need for regional economies to iron-out the various obstacles so as to eliminate barriers to trade, streamline trade procedures, and also facilitate the movement of people and goods at lower cost.
"Consequently, businesses will expand, jobs will be created and more revenue will be generated for government, and more income for people," he said.
The 8th Borderless Conference, which is scheduled to take place in Accra from April 24 to 26 at the Swiss Spirit Hotel-Alisa, will pool together transporters, shippers, policymakers and other key industry stakeholders to discuss the challenges to trade and transport facilitation within the West African region.
Mr. Hamoui said of the conference: "This year's conference will ensure sustained advocacy on trade facilitation, regional integration and ease of doing business in West Africa.
"Decision-makers and trade experts will discuss how to build an enabling business environment across the region."
The three-day conference will also be a melting-pot of ideas, as stakeholders will get to examine the current trends, successes and challenges to trade and transport facilitation in order to drive economic growth across the sub-region.
The conference is on the theme 'Facilitating intra-regional trade in West Africa: Emerging Trends'.
"The Borderless Alliance and its host institution, Ghana Shippers' Authority, believe in participation of the private sector and state agencies for championing the advocacy and capacity building required to enhance trade competitiveness across the sub-region.
"We expect this year's conference to bring focus on the crucial discussions needed to ensure intra-regional trade is boosted across the African continent, and indeed West Africa for that matter," Mr. Hamoui, indicated.