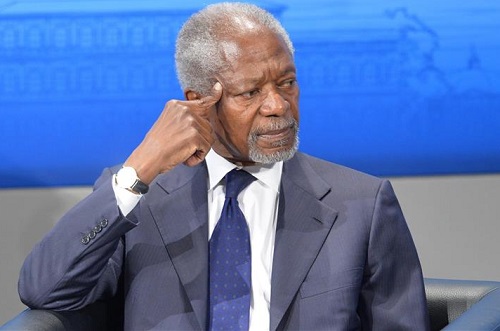 Between September 3 and 9, 2019, Ghana became the centre of international attention when hosting the African Green Revolution Forum (AGRF) in Accra, under the theme 'Grow digital, leveraging digital transformation to drive sustainable food systems in Africa'. Perhaps Ghana was selected for the conference for two reasons: first is the role former UN Secretary General Mr. Kofi Annan played in conceiving, framing and popularising the 'Africa Green Revolution'. So, therecouldn't have been a better venue than Ghana to host the conference to immortalise Mr. Kofi Annan, exactly one year after he passed on.
Global causes
Mr. Annan championed many global causes during his distinguished and illustrious career as a diplomat; but as a native of Ghana, he always felt a special responsibility to Africa. And there was no issue more important to him than tackling hunger and spurring growth and development through agriculture.
During his tenure as Secretary-General of the United Nations, Mr. Annan often wondered why Africa – with its abundance of fertile land and freshwater – had failed to turn farming into an asset. He even commissioned a study for the UN to analyse why 'green revolutions' – agricultural reforms in Asia and Latin America that lifted millions out of poverty and accelerated economic transformations – had failed in Africa.
His study reached an important conclusion: "While Africa's farmers have the potential to meet the continent's nutritional needs, they cannot do it alone". The study's findings led  Mr. Annan to advocate for a "uniquely African green revolution" to increase farm productivity, and his plea later became the basis for the African Green Revolution Forum (AGRF). The AGRF has since become one of the world's most important platforms for African agriculture policy planning and implementation. Small wonder that the forum attracts iconic global development thinkers, like the former UK Prime Minister Mr. Tony Blair, among others.
Perhaps, the second reason for Ghana hosting the forum is the current government's 'Planting for Food and Jobs' policy, which has revolutionised agriculture within one year of its introduction – to the admiration of many international development organisations.  Ghana has been hailed for its agricultural leadership on the continent, and its pro-agriculture technology policies.
Minister for Food and Agriculture, Dr. Owusu Afriyie Akoto, underscored the fact that his government has prioritized agriculture through increased budget allocation and the development of flagship programmes like the Planting for Food and Jobs, which is transforming the agricultural sector. Planting for Food and Jobs has also been identified as a major intervention that has the potential to provide jobs for the youth and curb emigration to Europe.
Statistics indicate that because of the PFJ launching in 2017, in 2018 Ghana's food prices remained stable. There was no importation of maize in 2018, according to data from the Ministry of Agriculture.
At a recent interaction with journalists at the Presidency, President Nana Addo Dankwa Akufo-Addo described his administration's flagship programme of Planting for Food and Jobs as yielding desired results. "For the first time in many years, there is abundance of food. And I notice that the prices of foodstuff are low and, in some cases there is a glut. We are currently exporting plantain to some of our neighbours – quite a turnaround from when I was lamenting two years ago that we were importing plantain from Cote d'Ivoire," he rejoiced.
Significance
The AGRF forum is considered the world's most important and impactful programme for African agricultural industry players, who meet regularly to share lessons on the how to move agriculture in Africa forward. The core aim of the project is to provide a multi-disciplinary forum for delegates to discuss and commit to programmes, investments, resources and policies to remove the roadblocks that prevent revolutionising agriculture in Africa
The theme, 'Grow Digital: Leveraging digital transformation to drive sustainable food systems in Africa', was rather strange but not entirely surprising in a digital world – where everything now hinges on the Internet. Quite expectedly, the question many people asked was "how can agriculture be digitalised in Africa, where Internet penetration is still low?"
One agricultural expert explained that with agricultural extension weakened or non-existent in many African countries, the Internet offers an innovative medium to reach farmers with seamless information on agriculture. Both the Alliance for a Green Revolution in Africa (AGRA) and FAO agree that the digital era offers many new innovations and breakthroughs that will allow the African continent to get ahead of the curve, and sustainably unlock the full potential of its smallholder farmers and agribusiness sector.
"We must seize this moment to achieve our aspirations. With the right policies, programmes and investments, we can ensure that smallholder farmers prosper; that our women are empowered; that our youth enter and shape a vibrant agri-food economy; that our food systems become more sustainable and nutritious and that we build a prosperous Africa," says a statement by AGRA.
Progress
This ties in with the notion that Africa is beginning to show signs of progress and growing prosperity for millions of its people. The continent has witnessed sustained economic growth and a modernisation of its economy for more than two decades – powered by an increasingly inclusive agricultural transformation and by rapid growth in digital innovations.
Some experts have projected that sustained agricultural transformation will remain at the centre of driving Africa's progress and development.
In many parts of the continent, there is growing evidence that farmers are embracing and applying digital technologies, in the absence of extension services. With the right policies, programmes and investments, we can ensure that smallholder farmers prosper, that our women are empowered, that our youth enter and shape a vibrant agri-food economy, that our food systems become more sustainable and nutritious, and that we build a prosperous Africa.
MDGs
In 2012, Mr. Annan estimated that the progress toward achieving the various Millennium Development Goals, MDGS in Africa rested on catalysing a green revolution across the continent.
As then-Chairman of the Alliance for a Green Revolution in Africa, he pointed out that improving the productivity and profitability of Africa's agricultural sector was essential for improving food security. He noted that agriculture offers a real opportunity for African states not just to feed their people and possibly be part of the global food security system; "but to create lots of employment for our young people and make living in the rural areas comfortable. If we can do that, people will not be rushing to the cities to live in the slums the way they are doing. We will be increasing incomes and laying the foundation for progress in other critical areas," he noted.
Several studies have proved that investing in agriculture and agro-business not only improves food security, but is also one of the proven sources of employment for the youth. Thus, the surest way preventing our youth from undertaking deadly voyages to Europe is to provide incentives for them to venture into smallholder agriculture.
Economic experts say Africa's smallholder farmers are the vital link to realisation of the continent's agricultural transformation, with agribusinesses sparking job-creation and economic advancement.  However, sustaining and scaling progress in the sector requires investments beyond money – which include greater political, policy, and financing commitments from both the public and the private sector. This also calls for the full commitment of Africa's development partners if we are to stem the tide of youth migration to Europe.
Innovation
As stated earlier, Ghana's flagship programme of Planting for Food and Jobs (PFJ) has been hailed globally as an innovative intervention that seeks to create food security and produce the raw materials to feed the agro-processing industries, while creating jobs in the process. In the early 1990s, agriculture accounted for 56 percent of Ghana's total employment figures, compared to 41 percent in 2017.
The PFJ focuses on delivering improved seeds, fertilisers and extension services to smallholder farmers across the country – at a 50 percent subsidy absorbed by the government. It is refreshing to note that through this intervention, Ghanaians – especially the youth – are being admonished to take up agriculture as a full-time business to enable the country produce enough to feed itself and for export.
That said, initiatives like PFJ thrive on partnerships involving government, the private sector and development institutions like AGRA. Central to this equation are the smallholder farmers – themselves a component of the private sector as suppliers and customers within their value chains. Now in its second year of implementation, the PFJ programme has enrolled 600,000 smallholder farmers with a target to reach 1.5 million farmers by the end of 2020. The focus is on seven value chains: rice, maize, sorghum, select vegetables, soya bean, groundnut and cassava.
Partnerships
Sight is not lost of  the vast resources and coordinated action provided by local, regional as well as global partnerships: such as the Partnership for Inclusive Agricultural Transformation (PIATA), a US$ 280million initiative of AGRA, the Rockefeller Foundation, the Bill and Melinda Gates Foundation and USAID, which embodies the principles of the 2014 Malabo Declaration on Accelerated Agricultural Growth and Transformation for Shared Prosperity and Improved Livelihoods, and the African Union (AU) pledge to end hunger by 2025.
The government of Ghana has revealed that AGRA has also provided technical support so as to enable it mobilise resources for the PFJ programme – specifically targetting the youth. "The aim of getting the youth involved in this programme is that we want them to know farming is a business, and while they are not getting jobs to do they can also go into farming. And with the support that we are giving to them, they should be able to increase their productivity and also get a lot of value," says Dr. Osei Akoto, Director of Crop Services at the Ministry of Food and Agriculture.
According to the Ministry of Food and Agriculture, PFJ also promotes Planting for Export and Rural Development and Rearing for Food and Jobs – the livestock component that was launched in 2019. Under the Greenhouse Village Project, graduates of agriculture will be trained in greenhouse technologies to build up vegetable export targets, with the support of Israeli experts.  Another component, Mechanising for Food and Jobs, entails an introduction of machinery/equipment that can be operated by smallholder farmers.  In pursuance of this, government has signed a US$220million agreement with India and Brazil to supply the machines.
Also, promoting on-farm productivity and creating off-farm opportunities raises the profile of farming as a viable enterprise that stands to benefit from investments in improved seeds, machinery, technology, knowledge and training. It signals further involvement by both the public and private sector to spark an African agricultural transformation.
References
Kofi Annan (2012) "MDG rest on Green Revolution in Africa." Kofi Annan Foundation
Project Syndicate (2018) "Kofi Annan's Unfinished Green Revolution."
(***The writer is a Development and Communications Management Specialist, and a Social Justice Advocate.  All views expressed in this article are my personal views and do not represent those of any organisation(s).