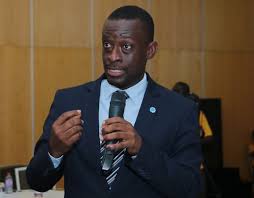 Kwabena Okyere Darko-Mensah, Western Region Minister, has urged management of the Half Assini Government Hospital to use part of their Internally Generated Funds (IGF) to maintain the facility.
"Most private institutions are doing better; their IGF is used for training of their staff, repairing certain equipment, fuelling their vehicles, paying their staff among others; you should be able to use you IGF to develop your facility," he noted.
He pointed out that most government institutions depend so much on the central government to provide everything that they need. "What do you use the IGF for? Go and learn from the private sector and apply it," he said.
Mr. Okyere-Darko Mensah gave the ultimatum after the Acting Jomoro Municipal Health Director, Mr. Joseph Kwame Sampson, mentioned some of the challenges impeding smooth running of the hospital during a working visit by the minister and his team.
Some of the challenges Mr. Sampson mentioned were: inadequate infrastructure to accommodate the staff, poor health infrastructure, inadequate CHIPS compound, uncompleted project, and no means of transport among others.
Although, he explained to the minister that the IGF was used for conferences, workshops among others. The minister insisted that the private health facilities also attend these event, but are able to develop their facilties with their IGF.
Hospital records zero maternal mortality
Dr. Frank Agbemordzi, Medical Superintendent at the Half Assini Government Hospital announced that the hospital recorded zero maternal mortality in 2018.
"For the first quarter of this year we have still not recorded any death, and this is an indication that we can record zero for this year," he said.
This achievement, he pointed out, can be attributed to the pregnancy school that was introduced to pregnant women; reduction in the time taken in caesarean delivery from two-three hours to 15 minutes currently; as well as setting up a blood-bank and frequent blood donation exercises at the various institution.
Also, he mentioned that an antenatal outreach programme is being held every Wednesday and Thursday by the midwives. "Our staff go with a pregnancy register and visit various homes to educate them on pregnancy-related issues".
According to him, some of these interventions have really ensured good health care delivery for the people, saying "very soon, we will be running 24-hour theatre coverage".
Improvement in health care delivery
The Acting Jomoro Municipal Health Director, Mr. Joseph Kwame Sampson, added that tuberculosis immunisation has improved tremendously.
He said the stillbirth and infant mortality rate, and also for children under age five, have dropped; low birth-weight has reduced and family planning visits have gone up.
Again, he said, admission of individuals at the hospital in 2017 was 5,628 and reduced to 4,741 in 2018, which is an indication that the hospital is doing better.
Mr. Ernest Kofie, Metropolitan Chief Executive for Jomoro Municipal Assembly. said a list of uncompleted project will be submitted to the Regional Coordinating Council for further discussions.
"Half Assini is very peaceful; government has decentralised scholarships for nurses and doctors, and urged them to take advantage of this to further their education and improve upon themselves," he said.
However, he mentioned that there are obligations: "After education, you need to serve your community".