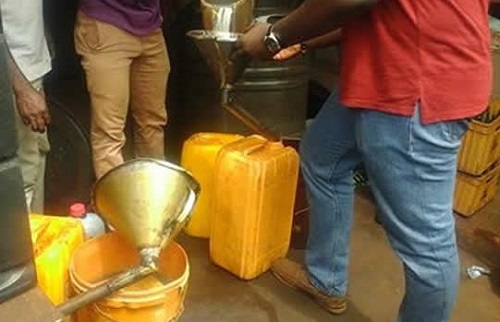 The price of pre-mix fuel has increased by some 30 percent in and around Tema, as middlemen buy the commodity in large quantities, create artificial shortage, and then re-sell the essential commodity to fishermen at a higher price.
Nii Odamtey, Chief Fisherman of Awudun, Tema, told B&FT that the commodity, which is to be sold at GH¢7.50 per gallon is now being sold by middlemen for GH¢10 a gallon.
"It seems to be nationwide, not in Tema alone. We have a lot of middlemen who are buying the pre-mix. They are not fishermen or even canoe owners. Now the middlemen are more, so when the pre-mix comes and we sell it, then fisher-folk are complaining they did not get anything. So, who are those buying, who are we serving? Are we serving the right people or not?"
The challenge with middlemen is further compounded by the proliferation of various pre-mix committees in the area. From a reasonable pre-mix committee of two, there are now about 10 committees in charge of pre-mix in the area.
"Before, when you came to Tema we had only two dumps, so we were very strict in monitoring because we normally write names; hence, when you buy pre-mix you can't buy it again when the next consignment comes. But now how can we monitor when we now have 10 (ten) committees?
"This is affecting our business as one person can buy about three (3) drums a day, because they buy from one and more committees or middlemen; meanwhile, somebody wants to buy only ten (10) gallons but will not get it," he said.
Nii Odamtey suggested the only way out is proper supervision. "Share the committees among the about-800 canoe owners, whereby no one will trespass to buy excess from other committees. This can also help them do proper checks and monitoring, and also ensure fairness in premix distribution."
Nii Mattor, Chief Fisherman of Ashiaman, indicated that the port expansion project is negatively affecting their fishing expeditions, because they have to purchase more pre-mix fuel to reach their usual fishing spots.
According to him, five (5) litres of pre-mix fuel was previously enough for fishermen to journey from Tema to Nungua and Teshie for fishing, but with the on-going port expansion project, fishermen now require 20 litres of pre-mix to travel the same distance.