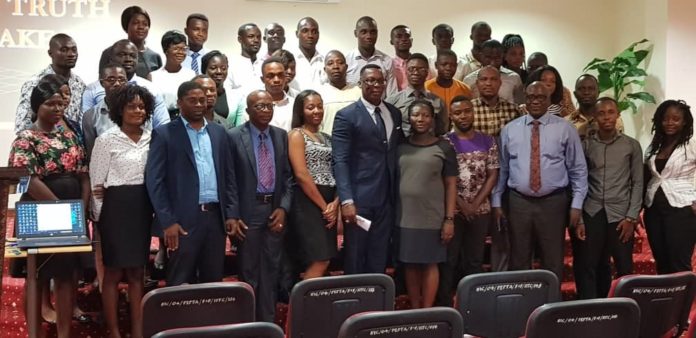 The National Insurance Commission (NIC) has started making frantic efforts to improve insurance penetration in the country,
To this end, one of the boldest expansion initiatives aimed at growing the Insurance Industry has started in Accra with a 4-day training programme for youth seeking to become insurance agents at the NIC auditorium in Accra.
The NIC is doing this in collaboration with the Ghana Insurance College, under which 10,000 tertiary institutions and Senior High School graduates will be given basic training in insurance; and, hopefully, this will make them employable as insurance agents by the various life and non-life (general) insurance companies in the country.
The initiatives aim at providing employment opportunities for the youth and providing skilled manpower for insurance companies, thus enabling them to improve on the current two percent of Gross Domestic Product (GDP) penetration rate the industry has been able to achieve nationwide.
The ongoing training is for the first batch of trainees, drawn from the Greater Accra Region, but subsequent training sessions will involve youth from all the other regions of the country.
The NIC has since beginning of this year embarked on road trips to the Central, Western, Ashanti, Brong Ahafo and Northern Regions to raise awareness of the programme and attract participants.
At the training programme's opening ceremony, Commissioner of Insurance – Justice Yaw Ofori, asserted that: "These certified persons will serve as an agency recruitment pool for insurers, who will only have to train these persons on the company's products and services.
"Apart from taking some expenses off the books of insurers and creating employment, we believe that an agent who is equipped with business ethics and market knowledge will sell right – resulting in public trust that will lead to growth of the industry," Ofori stressed.
He added that the NIC believes when insurance agents are trained right, mis-selling, defrauding clients and other unethical practices will be greatly curbed.
Richard Okyere, Director-Ghana Insurance College, bemoaned the fact that while Africa presents about 13% of the world's population, the continent's contribution to the world's premium income is only one percent. He assured that the training will provide participants with a fundamental grounding in insurance practice and regulation relevant to agency practice; although individual companies which eventually employ them will need to provide company-specific training, particularly for their peculiar product lines.
At the training programme's end, trainees will undergo an examination; and those that pass will receive a certificate in Agency Practice from the GIC. Certificate-holders could pursue further courses in insurance to attain Chartered Insurer status in the near-future.
About 35 trainees were taken through subjects such as Principles of Insurance, Insurance Products, Claims, Insurance Contract and Documentation, Basic Agency Laws, Salesmanship, and Personal Development by the College's Resource Person, Steve Kyeremanteng.
"Another batch of 100 will attend similar training after the exit of this batch on Friday," the Registrar College intimated to B&FT.