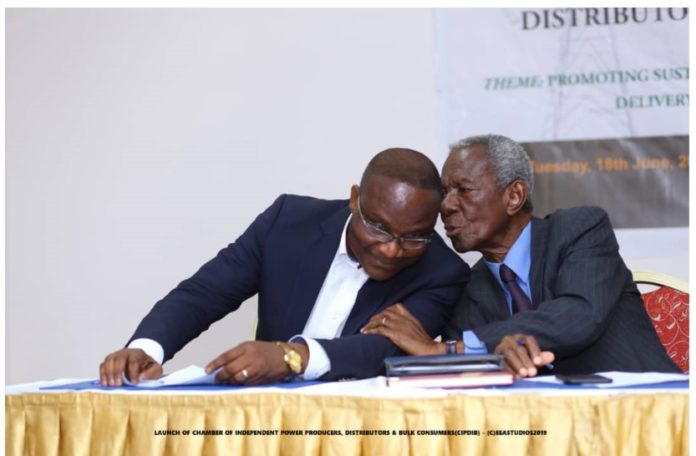 Economist and board chairman of the newly-inaugurated Chamber of Independent Power Producers, Distributors and Bulk Consumers (CIPDIB), Kwame Pianim, has called for the imposition of cost-reflective tariffs to sustain investors in the energy sector.
This, he said, will ensure a fair risk-adjusted rate of return for investors and offer value for money to power consumers, especially IPPs, distributors and bulk users of power.
According to the celebrated economist, it is impossible to fast-track socio-economic development with a critical backbone whose key players are virtually crippled financially.
"Setting realistic tariffs for power will enable investors in the sector to recover their full cost and operate on strong and competitive balance sheets.
"When this is done, they [institutions] will focus on their core business of generating power to feed industries that will in turn create more jobs for the youth," he said at the Chamber's inauguration in Accra.
Mr. Pianim noted that one key element for stabilising the energy sector is to ensure that its key players regain and maintain sound balance sheets.
This, to him, will encourage them to have long-term market-driven plans that respond effectively to demand. "A Ghana Gas with a strong balance sheet will be well-positioned to offer long-term off-taker agreements to international oil and gas companies for competitive supplies.
Similarly, VRA, ECG/PDS or GRIDCo with strong balance sheets will help build a strong energy ecosystem to provide a stable energy sector that can operate with minimal political interference," he argued.
Mr. Pianim also said the most constraining element to growth of the country has been the legacy debts and perennial shortfalls in revenue collection, on the back of political impotence in tackling the issue of unrealistic energy tariffs.
He added: "Having a stable, complete cost-recovery energy sector may not be a silver bullet for resolving our economic woes.
"But it is one of the several thousands of things we need to get right in order to unleash our nation's economic and social transformation process."
The new Chamber, Mr. Pianim indicated, will add impetus to the necessity of creating a national consensus for a non-partisan approach to sustaining the power sector in order to underpin national socio-economic transformation.
CIPDIB has been formed to represent the voice of members on government legislations which may affect the industry; advocate and lobby for policies that will promote the best interests of its members; and also lead energy policy negotiations.
It will also organise in-house and off-site skills training and workshops for members and non-members alike.
The chamber also seeks to provide industry research and strategy committed to enhancing the industry's commercial viability and sustainability.
It will also coordinate and facilitate activities of industry players to promote healthy cooperation and competition among members and industry.
Economist and board chair of the chamber, Kwame Pianim (right)