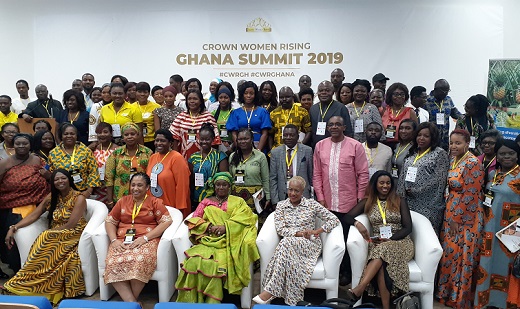 The Queen Mother (Osomanyawa) of Bekai Royal Black Stool of Akwamu and Akwamufie, Ohemaa Nana Yaa Asaa Safoa II, has indicated that government and all Civil Society Organisations (CSO) involved in women empowerment must work at improving access to funding and land for women.
"Women have been the backbone of economies in Africa over the years, but have not been recognised appropriately; the challenges women entrepreneurs face from time immemorial have not changed.
"Access to funding, gender wage gap, and marginalisation at all levels as well as lack of access to land are still prominent.  Government has not done enough – only talking about policies and the need for empowerment which have not been realised, likewise CSOs. But this is the time we need to see real action plan and support for women to thrive in business," she said.
Ohemaa Asaa Safoa II made the pronouncement in an interview with the B&FT at the side-lines of the maiden Crown Women Rising (CWR) Ghana Summit, held at the Ghana Export Promotion Authority (GEPA) Auditorium in Accra.
CWR is a women-led affiliate of a Washington DC-based non-profit organisation with focus on women empowerment, business partnership development and capacity building.
The Regional Director (West Africa), CWR, Nana Sekyere, speaking on the theme 'Women entrepreneurs empowered for Africa's prosperity: Engage, connect and grow', bemoaned the reluctance of government officials, banks and other corporate institutions to come on board in supporting and empowering women entrepreneurs to upscale their businesses and contribute to the Gross Domestic Product (GDP) of their country.
"There is so much that we can do to support women; either in agribusiness, craft and design or exportation. Agriculture has so much potential because we have a large fertile land size, so that we can grow exotic vegetables for export among others.
"In Kenya for instance, their women are at the forefront of food and vegetable trade and export; we also have soil that is so fertile but we are not doing that, and I decided that I want the same for our country, Ghana; and I hope with collaborative efforts we can achieve it," she stated.
Some key topics discussed at the summit included: The African Growth and Development Act (AGOA), which delves into processes, regulation and national strategy to build capacity for exporting success; nurturing talent among young females; access to finance, its barriers and strategies; and exporting as a means of growth for women-led business in the West African Region.
Key speakers present at the summit were: Dr. Nana Yaa Owusu-Prempeh, Founder and President, Women in Leadership International (WILI); Dr. Amanobea Boateng, Founder of Women's DNA Foundation; Jessica Lewis, Entrepreneur-USA; and Esther Fife, Vice President of Global Financial Dignity-USA, among others.