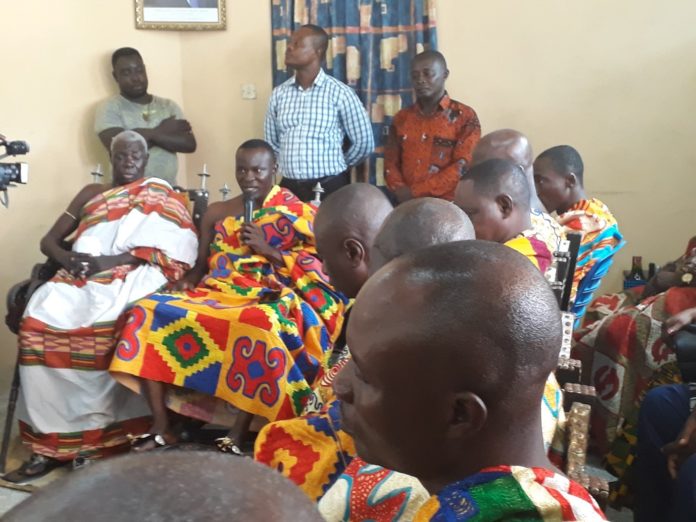 Obrempong Hema Dekyi, Paramount Chief of Upper Dixcove Traditional Area in the Western Region has called chiefs in the Ahanta Traditional Area to change their attitude and not to depend so much on politicians for the betterment of the people in the communities.
"Politicians will come and go but as chief, we can rule and rule if we do not indulge ourselves in activities that will lead to destoolment. The politicians, have come to help us build our nation, before Guggisberg came into the country, we were already ruling, things were going right and we all agreed to share powers at this level, but we have left everything in the hands of government" he said.
"Litigation, acrimony, indiscriminate sales of land among others have become too much in this area; it is about time we bury the hatchet. If we stand us one, no one can penetrate, look at the amount of money we spend on court isssues, if there is any kind of development, let us invest in the education of our youth" he added.
He pointed out that amount spent during litigation, can be used to support in the education of the people.
"Without education we lost as a people, we are the root cause  of problems in our communities, we sit here and complain that our powers have be taken away from us, we have caused the mess and need to clean them up" he added.
Obrempong Hema Dekyi poured out these sentiment when the Western Regional Minister, Kwabena Okyere Darko-Mensah  paid a call on the chiefs at the Ahanta Traditional Council,  at Busua in the Ahanta West Municipality of the Western Region.
The visit, was for the new regional minister to introduce himself to them, share ideas, make suggestions and also discuss ways of improving the lives of the people that will bring about the needed development.
Obrempong Hema Dekyi continued that it is about time the Ahanta rise; our youth have become radicals, drug addicts, unemployed and teenage mothers among others.
"If there are projects coming to the district what do we do? Because of our selfish interest some of these project do not come into realty, we sit here and sell land indiscriminately and then we turn out to become beggars" he pointed out.
"We do not go into agreement when we sell land, for the purposes of development, let us put our individual differences aside for development to thrive" he said.
"Since 1992 the Ahanta West Municipality have dedicated their lives to support the NPP government; it is about time we get our fair share of the national cake, we have served for too long but this place is not developed" he said.
"Government comes and goes but we still remain the same; what is the cause of the problem? I know NPP is a listening government, if Nananom are the cause of the problem, we have resolve it, bring whatever development we need to the Ahanta land and we shall accept them gladly" he told the regional minster.
Otumfuo Baidoo Bonsoe XIV, Chief of Ahanta Traditional Area mentioned that most of the road in the Municipality should be tarred.
He urged the regional minister to ensure that Takoradi – Apowa stretch is tarred properly.
In his response, Kwabena Okyere Darko-Mensah, Western Regional Minister said "Our biggest challenge in Ghana on road is that if we move one step forward, then we go two steps backwards because the technology we use is not proper".
"I personally believe that asphalt is now a scandal because the work on roads that President Kufour did from Takoradi to Apemanin is spoilt" he said.
He added that there is fund for works on the Takoradi-Apemanin road because that is where most of these big trucks ply.
"From Agona Nkwanta roundabout to Dixcove has been advertised. Sankor to Cape three point has been picked and for Kejabil road, there is a problem with the contractor; if he is not able to deliver, the contact will be terminated and then there will be given to a new contractor.