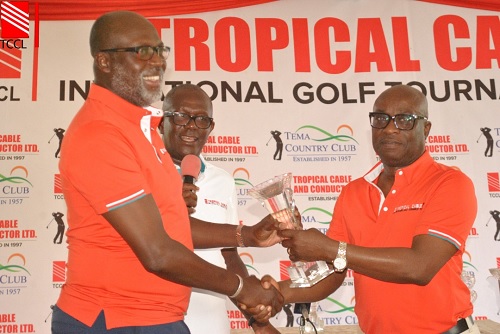 This Saturday, about 150 amateur golfers will converge at the Tema Country Golf Course for a fierce display of talents in a competition that will produce the next winners of the Tropical Cable Classic Golf Tournament (TCCGT).
It will be the third edition of the budding tournament that started in 2017 and is fast becoming an event that golfers and enthusiasts of the game eagerly look forward to. The competition is organised and sponsored by Tropical Cable and Conductor Limited (TCCL), West Africa's foremost manufacturer of electrical cables and conductors.
The Managing Director of TCCL, Dr. Tony Oteng-Gyasi, said like previous years' editions, the 2019 TCCGT was expected to draw golfers from the various regions to the Tema Golf Country Course to compete in both male and female categories.
He said the organisers and the Tema Country Golf Club were expected a total of about 150, golfers to participate in this year's edition. Beyond the pride, Dr. Oteng-Gyasi said winners would be decorated with medals and awarded cash prizes by TCCL, the organisers and sponsors.
He explained that the medals and cash prizes were available for both male and female categories and they would be complimented by individual awards to athletes that would excel on the day. He said the organisers expected a competitive competition since all the biggest golfers across the country would participate.
Dr Oteng-Gyasi explained that TCCL, as a corporate entity in the country, decided to target the growth of golf through the organisation of competitions which he said would give athletes the opportunity to compete and fine tune their skills.
He also noted that it was the dream of the company to bring the corporate entities across the country together through the sport of golf to socialise and network. "We are expecting a very tough competition this year because over 150 golfers across the country will participate in both male and female categories.
As a company, we decided to invest into golf in order to give athletes the opportunity to compete in order to keep them active," Dr Oteng-Gyasi, who founded TCCL, said since its inception in 2017, the TCCGT has chalked successes over its two previous editions and this year's competition is expected to to be an improvement.
Previous editions attracted about 120 participants, making this year's edition, which aims to attract more than 150 golfers to the Tema Golf Course, a marked improvement.