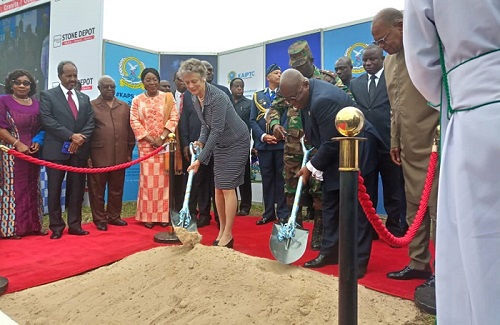 President Nana Addo Dankwa Akufo-Addo has cut the sod for construction of a monument in honour former United Nations (UN) Secretary-General, Kofi Atta Annan, to begin
According President Akufo-Addo, the selfless efforts of Kofi Annan have today made the country a significant contributor of peacekeeping operations in the sub-region and even beyond – adding that Kofi Annan dedicated his life to mobilising political will in addressing evolving human security threats.
"What I have seen and remember is a man of principle. [Kofi Annan] was a man who valued the important concepts in life, and lived his life according to those values. Therefore, a grateful posterity has found it necessary to honour him," President Akufo-Addo said.
"I am very happy today to have the honour of cutting the sod in honour of one of the most illustrious of our compatriots," he added.
Madam Nane Maria Annan, the wife of Kofi Annan and Founder of Kofi Annan Foundation Switzerland, indicated that the aim of achieving global peace still remains significant and there is a need to preserve the legacy of Kofi Annan.
She however expressed her profound gratitude to all who supported her and the family through hard times.
"My family and I want to thank you all who have given us support and embraced us through the difficult moments that have passed. We have to continue to work in his spirit," Nane Annan said.
After three poster designs were presented to the contractor (Stone Depot), one was selected. The design portrays the gentle, quiet and soft-spoken late diplomat in a mobile pose with a simple gesture, to present Kofi Annan as an astute gentleman, a peace diplomat and a global icon.
The statue will measure 18 feet with a 2-foot pedestal, totalling 20 feet. It will have a width of 6 feet, a thickness of 5 feet and weigh 21 tonnes; and it will take the contractor six months to have it completed.
According to the Chief Executive Officer (CEO) of Stone Depot, Elias G. Hage, it was important to achieve impact for the statue. For that reason, a 20-foot height was chosen to achieve the aim of having a towering statue at the entrance of the KAIPTC – strategically placed close to the boundary of the fence and road for all to see and appreciate Ghana's International Peace Diplomat on a giant scale.
Having decided on the concept, size and location, the material to be used remained critical due to its proximity to the sea and effects of the salt-laden humidity on the statue's durability. After a series of considerations, the statue was to be produced in grey ornamental stone marble known as Sierra Elvira. This type of marble is said to be original, hardwearing, durable, water-resistant and has no weather coloration.
"Marble stone is natural. It can stand the weather at all times and can survive hundreds of years. It was carefully selected by a board above other materials for many reasons aside from the marine conditions. Certainly, it is material that needs to age well and look better with time. It is going to be a national monument that will make Ghana proud and Kofi Annan eternal," he said.
Speaking at the event, the Minister for Defence and Chairman of the Kofi Annan International and Peacekeeping Training Centre (KAIPTC) Governing Board, Dominic Nitiwul, indicated that the KAIPTC was established 21 years ago by the government of Ghana through the Ministry of Defence, with the mandate of training military, police and civil personnel for multi-dimensional peacekeeping operations within the sub-region and beyond.
"As Chair of the Governing Board, I appreciate Kofi Annan's direct influence on the evolution of the centre. He was a constant advocate of the Rule of Law, and a man who stood for peace and security in West Africa, Africa and the world," he added.