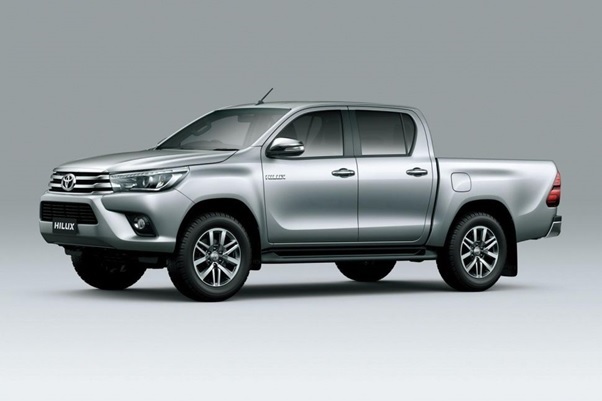 Toyota HiLux with its robust suspension and supreme off-road abilities is the unstoppable pick up you can look out for in Ghana. The Hilux's rock-solid chassis gives it incredible strength and durability for effortless load carrying. The Hilux can deal with conditions from the world's harshest terrains.
It seems like only yesterday when the current-generation Toyota Hilux made its Ghana debut, yet here we are speculating over a refresh already.
Toyota Ghana just unveiled several of their HiLux's new "HiLux Tough", "HiLux Regular", "HiLux Deluxe", "HiLux Automatic" and "HiLux SC" variants, giving us our first look at what's essentially an updated version of the popular pickup trucks.
Up front, things are looking pretty substantial as far as refreshes go artistically. The two-bar chrome grille at launch has been replaced with a more macho hexagonal-shaped design (as seen in the Toyota Tacoma) in glossy black, while the redesigned lower-end receives new-look fog lights and a more intricate honeycomb air intake.
The sides and rear haven't changed though, neither has the wheel design (though you do have the option of a special adornment set with different 18-inch alloys, additional accessories and extra trim) or the cabin.
Take note though that the redesign doesn't come to the entire HiLux range—at least not in Ghana for now. It is equipped with a 2.4-liter turbodiesel engine, 177hp and 450Nm.
HiLux Tough: With the type, it has manual rollers for the windows, manual door lock, manual air-condition switch, audio-AM/FM USB/AUX, airbag for both driver and passenger plus even driver knee side. There is also Anti-Lock Brake System (ABS) and Drive select switch (2WD-4WD).
HiLux Regular: With the model, it has Interior colour door inside handle, power adjustable rear-view mirror, headrests; front and rear (2+2), interior lighting (front overhead console), interior rear view mirror and front seat reclining; D+P.
HiLux Deluxe: It actually has unique features which is an add-on from the Hilux Regular which are Anti-Theft System (Immobiliser) plus Siren, seatbelt warning; for both the driver and passenger seats, also having a manual air-condition, urethane steering wheel, interior colour door inside handle and the audio which comprises of AM/FM, CD, Bluetooth, USB / AUX / plus six speakers.
HiLux Automatic: It has lots as in automatics which are airbag for both the driver and passenger plus the driver knee side, sides and curtain, Anti-lock Brake System (ABS), drive select switch (2WD-4WD), Anti-Theft System (Immobiliser) plus Siren, seatbelt warning; for both the driver and passenger seats, also having a manual air-condition, leather steering wheel, chrome inside door handle, cruise control, drive mode of both eco plus power. Its audio also comprises of AM/FM, CD, Bluetooth, USB / AUX / plus six speakers, auto headlamp levelling, and a "Follow Me Home Light Control System", front cool box plus front seat vertical adjuster.
HiLux SC: With regards to the Hilux SC, it has everything of the Hilux Automatic.
However, it does have features designed to make a hard day's work easier; like power windows and door mirrors, remote keyless entry, non-radar cruise control, 12-volt accessory socket, two-speaker multimedia system with 6.1-inch control screen, multiple connectivity including Bluetooth and steering wheel-mounted audio controls, plus numerous places to put stuff. It also has bottle holders.
Fitted for such a craggy vehicle is its general-purpose aluminium (GPA) tray, with hinged drop-sides, rear window protector frame and mudguards.

Built to last
With 1tonne payload and 3.5 tonnes towing capacity, the HiLux tows the toughest loads effortlessly. Trailer Sway Control (TSC) also available to ensure the vehicle stays steady in crossroads and on different terrain.
Basically, you can get in a HiLux, starting with 16-inch steel wheels with 215/65R16C light truck tyres and a full-size spare. Inside there's vinyl floors and basic cloth-trim seats, with no rake adjustment for the base cushion, no lumbar adjustment in the backrest and limited reclining room. And the steering wheel is only height adjustable.