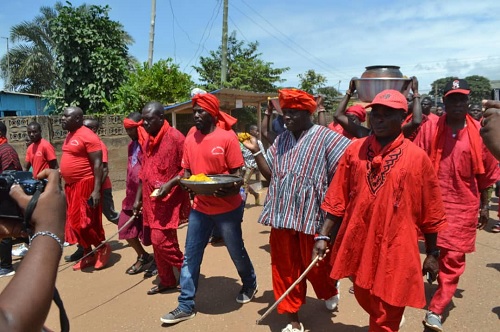 People of Tema New Town celebrated this year's Homowo festivities, which coincided with the 60th anniversary of their resettlement from the Old Town to their current settlement in Tema New Town.
The festival was climax with the sprinkling of Kpokpoi, the traditional delicacy on some principal street and all clan houses whose leaders contributed immensely in farming during the days of famine in Tema.
Speaking at the event, Paramount Chief of Tema Traditional Council (TTC), Nii Osonga Adjei Kraku II, urged his people to take education seriously and ensure their children gets proper education.
He reiterated that education is key and therefore parents should not force any profession on their children.
Nii Adjetey Agbo II, Manklalo of the TTC also encouraged them to keep their environment clean to prevent the outbreak of contaminated diseases such as cholera and others in the area.
The people should also endeavour to report criminal cases to the police and not cover up for any criminal activities in the area.
Nii Shipii Somponu II, a member of the TTC, noted that the essence of Homowo festivities is to forster unity among their people, which in history their fore father's demonstrated to hoot at hunger as they came together to farm during the period of food scarcity.
It's also a stepping stone for development and also educate themselves on the need to come together as one people.
Explaining their resettlement, Nii Somponu II said when the government of the day in 1952 wanted to construct the harbour, industries and accommodation for employees, the then government needed a place of convenience for such a worthy course, as a result, a chunk of their land was claimed, hence the resettlement in their current place called Tema New Town.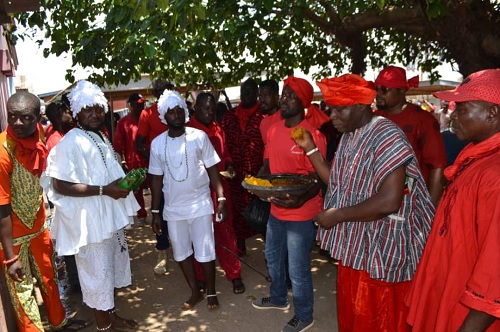 He said Tema being the centre of the world posses beautiful historic sites such as the Meridian rock, green wich meridian, the then vibrant meridian hotel, the Chemu and Sakumono lagoons respectively among others.
According to Nii Somponu II, they have lost most of these historical sites, however the lagoons, particularly the Chemu lagoon can be restored.
He therefore appealed to government to restore the Chemu lagoon back to its previous State, which used to be a source of livelihood to the people of Tema New Town.
Meanwhile games, beauty contest and musical program were held as part of the festivity.