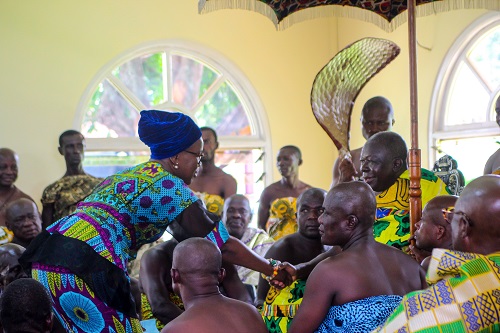 The Spelling Bee (Gh) has paid a courtesy call on Otumfuo Osei Tutu II on the occasion of the 20th anniversary of his ascension to the throne.
The delegation, led by Eugenia Tachie-Menson & Anand Jaiswal of De-United Foods Industries GH Ltd, producers of Indomie Instant Noodles called upon the Asantehene last week amidst the various activities earmarked to commemorate the 20-year anniversary celebrations.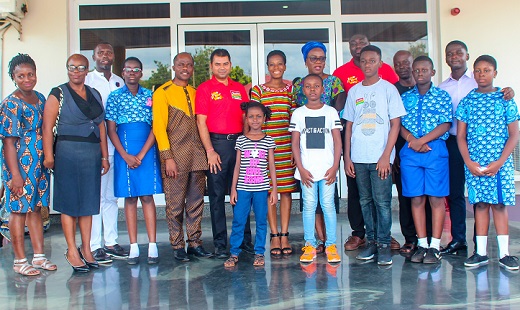 In a message delivered by Eugenia Tachie-Menson on behalf of The Spelling Bee and its partners, it read: "Since The Spelling Bee received the blessing and support of HRH Otumfuo Osei Tutu II to operate in Kumasi and the Ashanti Region, the programme has been successful in impacting the lives of children, who have gone on to the world stage to show the world what Ghana has to offer.
Together with our sponsors and partners, The Spelling Bee wishes to express our heartfelt gratitude to Otumfuo Osei Tutu II for his royal benevolence towards our programme."
Otumfuo Osei Tutu II in return wished The Spelling Bee and her partners continued success in their endeavours and urged them to carry on with their good work for the benefit of the children of Ghana.
He particularly commended Miss Shifa Amankwa-Gabbey, The Spelling Bee 2018 Champion and first-time Kumasi national winner, for her stellar performance in the US finals in May of 2018. Her performance was documented on CNN's African Voices.
A donation of 200 cases of Indomie Noodles, an assortment of drinks and money was presented to Otumfuo Osei Tutu II, as tradition requires.