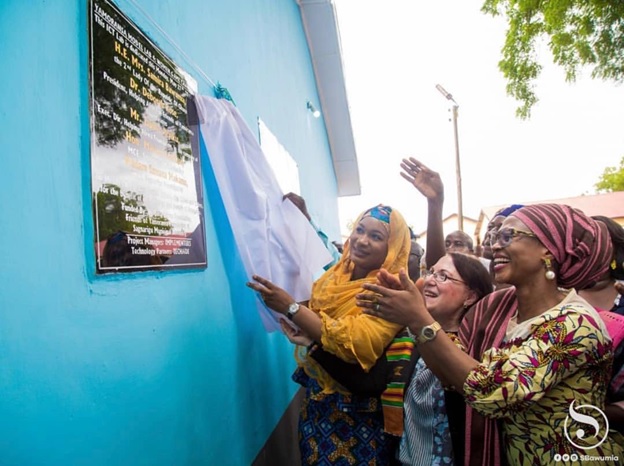 Two non-governmental organisations based in the United States: Friends of Yamoransa Foundation (FYF) and Helping Africa Foundation (HAF) have commissioned a computer lab for the Choggu Demonstration School in the Sagnarigu Municipality of the Northern Region.
The 56-seater Model Lab dubbed: "Yamoransa Model Lab-4″ was commissioned in collaboration with the Office of Hajia Samira Bawumia, the Second Lady.
The facility would benefit over 8,000 children from the host school and nine other surrounding schools. Each of the unique robust computers in the lab has 30 pieces of educational software for primary and junior high schools installed on it help with the teaching of Science, ICT, English and Mathematics.
TECHAiDE also installed its newest innovative technology, the 'ASANKA' which provides free access to educational contents using any Wi-Fi enabled device like phone, tablet, laptop, or computer with a wireless card.
Hajia Samira Bawumia , in her remarks, indicated that ICT continues to play an important role globally in the delivery of services to achieving broad socio-economic goals in education, health, employment and social development.
She said many children in the deprived areas of the country have little or no access to ICT as a result of lack of infrastructure and inadequate skilled personnel.
"As a nation, we owe a duty to the next generation, and that duty is to commit ourselves to the growth and development of our children".
Dr Rose said in response and for their love for Computer Literacy Programmes initiated and coordinated the funding for the project to enhance the teaching and learning of ICT.
She said, the effort of setting-up these Model Labs began with a mandate by the Ministry of Education, Ghana, to educate young in the emerging fields of ICT.
President of FYF, Dr. Deborah Rose, said the educational philosophy of the United States embraces the general liberal arts education, encompassing the humanities, the social and natural sciences, rather than strictly technical or pre-professional training and this she believed was the best preparation to become citizens of the world.
Executive Director of HAF, Japhet Aryiku, said the mission of the foundation was to work to improve the education, health and social welfare conditions in Sub-Saharan Africa, especially Ghana.
He said the lab project was in line with the mission and vision of FYF to promote and spread computer literacy in basic schools across the country
Mr Aryiku said the Yamoransa Model Lab is a development strategy by HAF and FYF to support and assist projects that are driven by the local community and that leaders in Ghana must be fully committed to support the project in a sustainable way.
Mrs Mariam Iddrisu, Municipal Chief Executive for Sagnarigu said, the municipality was changing trends and taking great strides in the field of education by making basic education affordable and accessible to all.