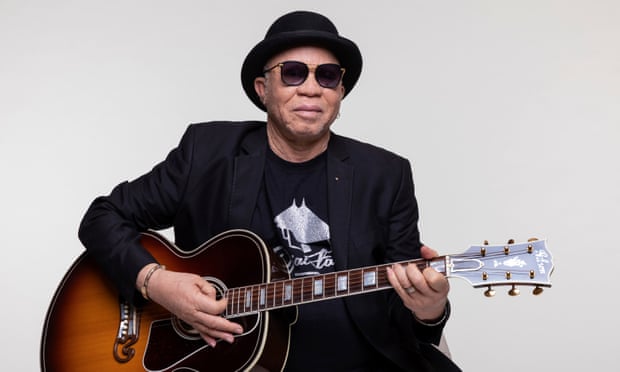 News about Salif Keita's participation in this year's jazz festival has been welcomed with much excitement and nostalgia by enthusiasts and people with a deep love for African music. I am no exception; I tweeted this news to my followers and also informed my CEO at the office.
Jazz is a special genre of music that can move the soul. Trailblazers of jazz in Ghana have been the likes of Jedu Blay Ambulley, Blab la lba etc. These great men have feted us to the tunes of Welcome Home, It's Alright, I Don't Know Why etc. This year's Stanbic Jazz Festival with Salif Keita, Richard Bona and the UB 40 band promises to be electrifying, as these musicians with energy will ignite our passion and love for jazz music.
I recall Salif Keita's performance in Ghana with Kojo Antwi at the National theatre in 2002. The event was christened the Night of the Titans as Kojo and Keita thrilled the audience with quality African music like Gaffou, Madan, Bob, Moriba, Me Nya Ntaban, Mmrika, Me Tonko etc.
Jazz music in Ghana
Jazz is a developing genre of music in Ghana. This music genre of black American origin usually synchronizes piano, guitar, violin, band etc. to make regular rhythm. Jazz performances are live with musicians mostly playing solo which require considerable skills to put up on the spot. Jazz has the propensity for driving tourism and business development to Ghana as the country is surrounded by other jazz-loving countries.
Notable jazz concerts telling the African story through music have been the New Orleans, Montreal and the Cape Town Jazz festivals. The Stanbic Jazz Festival has been a force to reckon with since its inception in 2014, and has contributed to the development of jazz music in Ghana.
The festival is now a global phenomenon and has consistently featured notable Ghanaian and international jazz stars and put Ghana on the global jazz map. The festival enhances the Ghanaian music industry; as local and international musicians share experiences and exposures.
The Man Behind the Golden Voice
Salif Keita is a renowned afro-pop singer-songwriter from Mali. Salif Keita's unique singing has earned him the title of the "Golden Voice of Africa". His singing prowess has also merited him several music awards including the AFRIMMA 2017 African Legend Awards for his contribution to the African music industry and the National Order award from the President of Guinea, Sékou Touré.
Salif Keita was born a prince in the village of Djoliba. He is an albino. Albinism is when people are born with no pigment in their skin, eyes and hair and this is often regarded as an omen of misfortune in Africa. Irrespective of his royal lineage, he decided to follow his passion; music. Salif Keita then developed his career by joining music bands such as the Super Rail Band de Bamako, Les Ambassadeurs Internationaux etc.
Salif Keita has mastered the music art with about 50 years of music experience under his sleeves and blends traditional West African music styles with European and American music influences. This includes instruments such as balafons, djembes, guitars, koras, organs, saxophones, and synthesizers. Keita opened a recording studio in Bamako where he recorded his album M'Bemba.
Human Rights Advocacy
Salif Keita is an ardent human rights advocate on albinism. The numerous atrocious murders of albinos for spiritual sacrifices and rejection suffered in his early life, inspired Keita to dedicate his work to calling for equal human rights for all, including albinos.
In 2009 he produced the album La Différence, in support of the struggle of the world albino society. In the album he opines that differences bring about diversity and beauty. "Je suis un noir, ma peau est blanche. Et moi j'aime bien ça. C'est la différence qui est jolie" (I am black, my skin is white [albino]. I love that because it is a difference that's beautiful).
Salif Keita announced his retirement from music with the music album Un Autre Blanc. The album further contributes to his advocacy on albinism, bringing to the fore Ramata Diarra; a 5-year old albino brutally killed for rituals in Mali. As Keita retires from active music at the age of 70; he looks forward to more advocacy in saving the lives of albinos who are victims of human sacrifice.
Ghana is expecting so much greatness in Salif Keita as he performs at the Stanbic Jazz Festival 2019. Let us support his endeavors as he promotes human rights. I look forward to an electrifying jazz experience.
Sylvester Kwame Osei is a communications professional who is passionate about jazz music and Salif Keita. Skosei001@st.ug.edu.gh