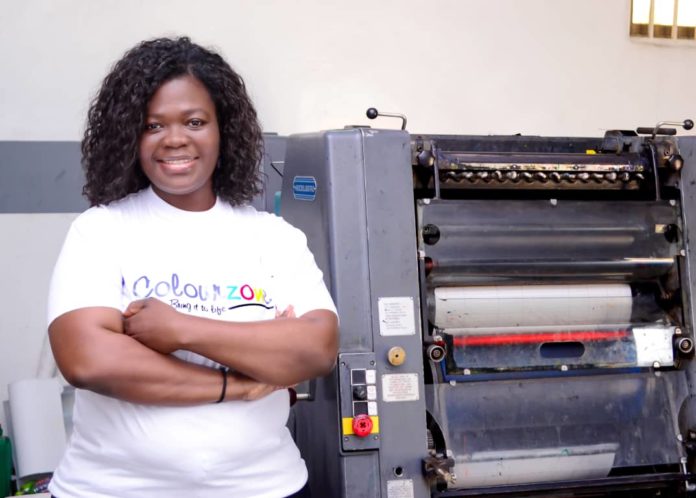 "Printing has always been a passion. When we were young, my dad had friends who were into printing. Anytime we visited them, I felt so excited. I was so interested in what they were doing. So when I decided to quit my job, I followed my passion." That is how Thelma Adiyiah-Kusi became a co-founder and Managing Director of Colour Zone Limited, a full service design and printing firm in Accra.
An alumnus of Kwame Nkrumah University of Science and Technology, a former operative in the maritime and banking sectors, Thelma raised capital for her business by saving a portion of her income over time and supplementing with a soft loan from a family friend. When the moment came in 2011 for her to hit the road of entrepreneurship, she teamed up with a former school mate who had technical knowledge and experience in printing.
Hurdles along the way
According to Thelma, things progressed smoothly to a large extent. Nonetheless, they had their fair share of challenges. The fact that both she and her partner had no formal training in how to run a business posed many initial challenges.
Their initial challenge was how to win the trust of prospective customers, considering that the company was unknown. They have made strides in that regard though.
Again, managing human resources was a major challenge. They did not have a standardized way of addressing staff violations. Moreover, rules had not been clearly spelt out. This often created tensions among staff.
Also, they didn't have a pricing model. Therefore, response to customer queries were done on an ad hoc basis, she always had to be present before request for quotations could be responded to, this delayed their feedback to clients.
Another challenge was in relation to management of cash flows. They often procured raw materials in bulk; such that the stock exceeded customer demand. The implication was that they often had funds locked up in inventory.
Further, their quality assurance processes did not deliver consistent print outputs. This sometimes led to errors in final products delivered to customers.
Overcoming hurdles
In 2016, Thelma heard about Invest in Africa from a friend of hers. Invest in Africa is a not-for-profit organisation committed to improving Ghanaian SMEs' access to skills, contracts and finance to build long-term capacity. They realized that joining Invest in Africa's Business Linkage Programme (BLP) would help them overcome the challenges they faced. The BLP is an intervention Invest in Africa uses to offer coaching and mentorship interventions that assist SMEs to scale up and become globally competitive. The programme is funded by the African Development Bank's Fund for African Private Sector Assistance (FAPA).
When Thelma joined the programme, she learnt so much that enhanced her competencies as an entrepreneur. Key lessons include how to take calculated risks, how to seek and use information properly and how to plan effectively. According to her, what she liked most about the programme was how she was able to translate the lessons learnt to the context of her business.
Coming out of the training, they learnt how to standardize their pricing model. This helped them respond more quickly to enquiries of customers.
To address the human resource challenges, they also developed and operationalized a staff handbook with support from a consultant assigned by Invest in Africa. This helped clarify and standardize what was expected of every staff and offered a mechanism for filing and resolving grievances. As a result, Colour Zone now has a cordial work environment.
The firm now has a sales and demand forecast model which helps them to align their purchases, eliminating the locked cash flow challenge they had.
Technical capacity
Colour Zone joined the Professional Print Excellence Programme run by Invest in Africa and Canon in 2017 to enhance to enhance the entrepreneurial and technical capacities of companies in Ghana's print industry.
This programme exposed Thelma and other participants to understand customer mindset and behavior. It helped shift her paradigm from product-selling to solutions-selling, focusing on the needs of customers and clients. They also received technical training about pre-press make-ready and colour management to produce accurate print products.
Results and poise for the future
Today, Colour Zone has been able to nurture a portfolio of loyal customers who continually give them business. Again, because they have been able to serve many customers, they now have samples to show and win new customers.
A major achievement of the firm was when they won a bid to print materials for a major government agency on a national scale. They have also worked for other private sector clients such as Betway and Ashfoam. Since taking part in the programme, they have seen a 150% jump in revenue.
In the near future, Thelma wants Colour Zone "to be at the forefront of branding and advertising in Africa, providing cutting edge and innovative solutions to customers' branding needs."