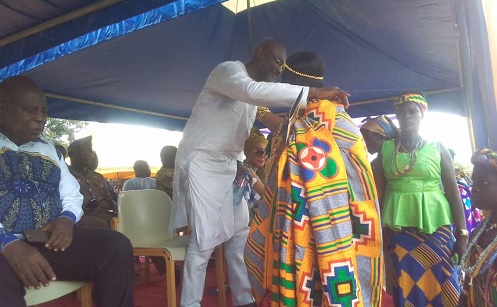 Chiefs in Ghana have been entreated to use their lands as a collateral to serve as future investment in their various communities, and demand shares in any parcel of land they give out, instead of selling it outright.
According to Kennedy Agyapong, Member of Parliament (MP) for Asin Central, chiefs must have selfless foresight that will be of great benefit to their entire communities by giving out their lands as a collateral for long term investment to investors who come into their area, and demand a share in the parcel of land they give out. This he believes will ensure a bright future for their youth, bring development, and when they are no more, their names will be written in gold.
Mr. Agyapong made the call as a guest speaker during the annual Ngmayem (millet) festival of the people of Manya Jorpanya, a division of the Shai state in the Greater Accra Region. The occasion which was dubbed "National development-the role of traditional leaders in the 21st century", also coincided with the 21st anniversary of the enstoolment of His Royal Majesty Nene Dr. Tei-Djahene Korabo IV, divisional Chief of Manya and Senior Asafoatse of Shai state.
According to him "the chiefs should not sell the lands for themselves, but always make sure that whatever land they sell or give out  for  development, should be used as a collateral, have  shares in the investment, so that they can yield dividends when  the investment grow, make more money for the area, especially for the youth".
"They should require for example 15% shares and 5% ready cash, instead of taking ready cash that is understandable. So that whatever dividend that comes out can be used for development, by so doing you will be able to have long term investment for your people". He said.
Mr. Agyapong urged chiefs to be wary because lands in Accra, Tema, and Ashaiman are currently in scarcity, and therefore investors are diverting their attention to areas like the Shai state for industrial purposes, stating that Chiefs must protect the land they have inherited, and therefore, should not give it out cheaply and also not entertain the issue of land guards who might eventually take over the area.
"Chiefs will do a disservice to their people if they give out their land at a cheaper price. They must protect the land which they have inherited from their ancestors" he indicated.
Mr. Agyapong pleaded with the traditional rulers to take decisions that reflects youth empowerment in whatever policy they roll out. And the youth should also have vision and work hard for a better future.
He donated GH₵20, 000 to the traditional leaders to aid them continue with projects.
The District Chief Executive (DCE) of Shai Osudokub District Assembly, Daniel Akufo highlighted the need for traditional authorities to operate as agents of development for the needed development.
Mr. Akufo commended Nene Dr. Tei-Djahene Korabo IV for his exceptional leadership role in the development of the area, calling on him to assist in resolving chieftaincy and land guards issues in the area.
On his part, Nene Dr. Tei Djahene Korabo IV, Chief of Manya Jorpanya, stated that as traditional rulers, their duty and responsibility is to use resources available for development in their communities for the benefit of their people.
He described his 21 year of reign as a fruitful one, with about 24 various projects successfully completed including eight (8) family residential apartment houses, pipe borne water, electricity, information centre, event centre, reshaping of the roads, and construction of modern palace which is currently ongoing, just to mention but a few.
"I was installed as a divisional Chief of Manya in 1998 in this deserted community with dilapidated houses. I took inspiration from some scriptures in the holy bible in Nehemiah 2:17-18 and Romans 8:31, motivated me to take the bull by the horn, and harmonized all financial and material resources to start developing the town. We fought and forged ahead to transform the community into a more habitable place. Today, Manya Jorpanya people are proud of its serene environment as it has become a beacon and a shining city within the Shai state and envy to its surrounding communities".
Furthermore, he called on Chiefs across the country to endeavour to play their role effectively in order for their people and the nation to benefit.
Queen Mother of the area, Nana Ayerko Blemayo II, was grateful to Mr. Kennedy Agyapong for his kind gesture. Adding that as a retired health worker, she constructed a maternity home to enable safe delivery of women in her area.
She promised to use the ¢10, 000 wisely and pleaded with philanthropists and corporate organisations to support her in fully equipping the maternity facility.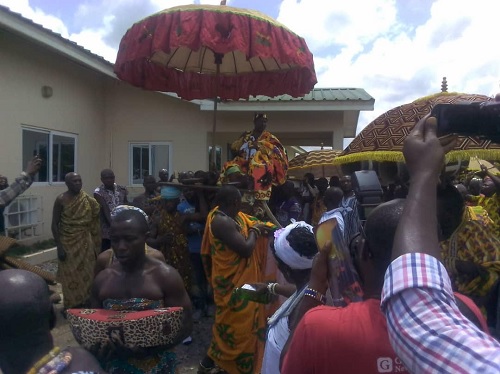 The occasion also marked the official commissioning of an ultra-modern event centre in the community.