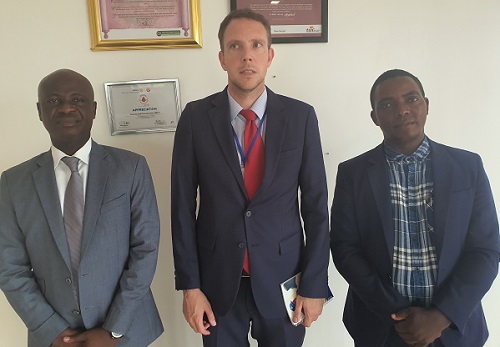 Pieter Smidt Van Gelder, the Head of Political Section and Deputy Head of Mission at the European Union (EU), has paid an official courtesy call on the editorial team of the Business and Financial Times (B&FT).
Mr. Gelder, who is new to the European Union but has worked in Africa for years for the Dutch government, was received by the Managing Director of the B&FT, William Selassy Adjadogo and his deputy, Dominic Andoh.
The conversation touched on the EU's priority areas such as participation of women in public life, youth and job creation, and the promotion of a green economy that looks to protect the environment, keep the beaches clean and significantly reduce single-used plastics.
He added that his visit also seeks to explore areas of collaboration between the EU, the B&FT, the media in general while getting familiar with the operations of the acclaimed business newspaper.
"We always work on a media session with the Head of Delegation of the EU to Ghana annually and we hope the B&FT will be part of the next session," he said. Touching on youth and job creation, Mr. Gelder noted that the EU is in discussions with the government on providing sustainable jobs for the youth.
Priorities
Mr. Gelder noted that next year, the EU would be undertaking several activities to sustain awareness of its priority areas.
"Next year our priorities include Europe Week in May, Political Dialogue and something with Women in Public Life and then something on Climate Week by the end of June. The focus of the Climate Week will be on the green economy because one of the priorities of the EU Commission is to reduce waste and single use plastics," he added.
Views from the B&FT
Mr. Adjadogo lauded the EU for its continuous engagement with the government of Ghana and Ghanaians. "The EU has been our partner for a long time and we at the B&FT are ready to extend our support to pushing a green economy agenda because we need clean beaches and we must get rid of single use plastics in this country.
With women taking up more leadership roles in public life, reports point to an improvement in quality of life and economic growth. We are willing to support the EU champion increased participation of women in public life and business," he added.
Mr. Andoh, Deputy Editor of the newspaper, added that the B&FT is ready to collaborate with the EU on special reports that projects the positive relationship between the Union and the government of Ghana. "We have special supplements that focus on specific occasions and sectors and we are ready to partner the EU publish a special report on your activities and member countries," he said.