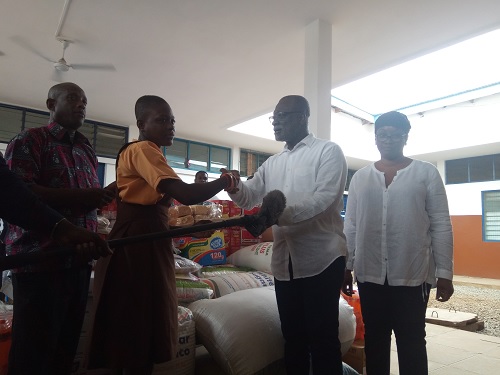 The Executive Chairman of GLICO Group, Dr. Kwame Achampong-Kyei, has joined children of the Dzorwulu Special school for intellectually disabled, to mark his 70th birthday celebration
According to him, one of the best ways to celebrate his birthday and feel fulfilled is to join the less privileged in society and share with them in his joy and happiness.
Dr. Kwame Kyei, on Tuesday 18th June, 2019 morning, sung, danced and played with the special children accompanied by the staff of Glico, after which he also donated some items to the school.
The items donated to the school includes; bags of rice and maize, gallons of cooking oil and bottled water, assorted drinks and biscuits.
Other items are; boxes of noodles, tin tomatoes, other tin products from Nestle Milo and an undisclosed cash amount.
Speaking to the children, Dr. Kwame Kyei said: "I am here to socialise with you, dance with you and share these items as I celebrate my birthday.
"It gives me great joy to be with you here today, I see this place as my home and will continue to come here anytime I get the opportunity."
Assistant Headmaster of the school, Frederick Tetteh, expressed his profound gratitude on behalf of the school, indicating how overwhelmed the school is to receive such presentation from him
"We appreciate the efforts and favour that you have shown us this day. Indeed, you have fulfilled scripture by doing on to these little ones who are less privileged what God requires of those who have, and may God reward you bountifully," he said.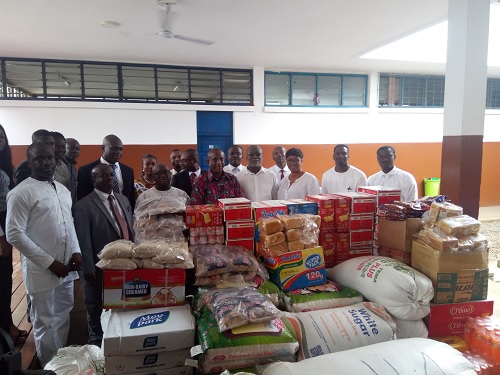 Dr. Kwame Achampong Kyei, an astute and passionate businessman, with over thirty years experience in business and entrepreneurship, established GLICO in 1987, as a specialist life insurance company which has about six companies currently.
These are Glico Life; Glico Capital; Glico Healthcare; Glico Properties; Glico General and Glico Pensions.
Dr. Kwame Achampong-Kyei's instrumental leadership has led to making the Glico brand a household name in Ghana. Glico continues to maintain its leadership position in the financial and insurance industry and has recently revolutionize operations in line with digitalization to deliver value to its growing customers.