Meandering through valleys and hills, through tunnels that passed through mountains, and riding in the rain-borne aura of serenity and pure nature, the tour of various vineyards and wine estates by the Ghana team to this year's Wines of South Africa Sommeliers' Cup Final event in Cape Town, was indeed an eye-opener.
It was a sponsored trip courtesy South African Airways, Wines of South Africa (WOSA) and Jon Williams Consult, to explore and taste the lush and splendor of the up-class wine culture of South Africa and how winemakers are building a wide employment base and sustainable tourism hub around grapes [wines].
The Ghana team to this year's WOSA event included renowned radio/TV personality, AJ Sarpong, Louis Bobbie Osei and John Vander Bosscher—making up the Citi TV crew; a sommelier and wine ambassador, Kodjo Adovor, an official of WOSA and trip coordinator Bill Bedrah and my good self.
As we checked into magnificent Vineyard Hotel & Spa at Western Cape around midnight on September 19, we knew we were in for some good treat.
Cape Town is indeed a city to behold, but its wineries and wine culture are equally exceptional. One of South Africa's pride and established signature has been its wide array of wine estates that produce almost all of the world's best wines from the Chardonnays, Sauvignon Blancs, and Chenin Blancs, to the Pinotages and Merlots et al.
The six-day stay in the city of wines got the team to some of the world-renowned wineries from the sprawling Durbanville Hills, Springfield Estate, Overhex Wines International, Nederberg and Backsberg to the quintessential and luxurious Boschendal, Diermesfontein Wine and Country Estate, Bridge of Hope Wines as well as well as KWV Wine Emporium and Villiera Wines.
These are some of the established wine estates that have been able to create experience around the business of wine. Visitors to these facilities do not only get to taste some fine wine, they also get to tour the cellars—wine factory—and the farms as well as help themselves to good cuisine.
The Wines of South Africa Sommeliers Cup is an annual competition for wine drinkers and wine professionals to showcase their talent, taste and everything about wine. But to some like me, it was an opportunity to understand the cultural, business and tourism aspects of wine.
Participants of the competition were able to blindly identify different makes of wine and the regions they came from just by having a taste. They also demonstrated the courtesies and attitude that came with opening a wine bottle either with the corkscrew or with heat.
A total of 11 finalists from around the world competed in the grand final of this year's competition which took place at The Vineyard Hotel & Spa in Cape Town.
In what can only be described as an epic battle of skill, concentration and attention to detail, Richelle van Gemert, from the United Kingdom, was crowned as the winner of the 2019 edition, following several rigorous semi-final rounds in various countries.
After the main competition, sommeliers from around the world and other wine lovers that made it to this year's event were taken on a carefully curated tour of some of South Africa's finest wine regions where they were hosted by local producers and experience a number of top wines and true South African hospitality, entertainment and culture.
In Boscendal, South Africa boasts a quintessential and historic estate producing an array of quality up-market brands of wine.
This wine empire has a picnic yard, a bakery and meat shop, a wedding yard that takes up to about 600 guests and a farm that produces everything that is consumed in the estate.
The Werf Food Garden works with nature to produce real food for both the estate and visitors alike. It also has a clinic, a farm spa and cottages as well as a mountain trail for bike rides.
For kids, Boschendal has a playground to keep them busy while their parents tasted some good wine.
Another sprawling wine establishment we visited was Villiera Wines which offers both an indoor and field experience; the facility boasts an early childhood development centre to host the kids of staff during work hours and a clinic that serves staff of the farm and other nearby farms.
With a wine production capacity of 1.5million litres per annum from its 180-hectare vineyard, its added value is its wildlife safari that sits on a 250-hectare land, offering visitors the opportunity to interact with flora and fauna.
An equally magnificent wine estate, Overhex Wines International, has a rich collection from its three leading brands namely Survivor, Balance and Mensa. The wines under the Balance ranges are specially made to bring that taste of balance in every aspect of the consumers' lives.
Founded in 2007 and situated in the town of Worcester in the Western Cape, the company has grown steadily over the years, riding on its unrivalled level of quality and innovation in its winery products, making it the eighth largest exporter of South African wine.
Saskia Lesch, International Sales Manager of Overhex, had more to say on their unique brands: "Our wines brings a little balance in every aspect our lives. We can enjoy wine with or without food, with friends and family; we need wine when we are sad or happy, when celebrating or just after breaking up with your partner."
I discovered at Overhex that wine is a very intricate part of our lives and the more we put that wine culture into our lives, the more we get clung onto some bits of lasting memories.
Saskia summed it up better: "Sometimes you hear some music that takes you back into memory lane and you try to recall all those special memories around it.
I think wine has the same connotations on our lives and that makes the whole experience much much better."
The tour also took us to the unique Durbanville Hills' cellar, situated about 20 minutes away from Cape Town's city centre and overlooking the spectacular Table Mountain and Table Bay.
Although the Durbanville area is renowned for its Sauvignon Blanc that excels under the cool conditions where it is grown mostly on the cool south facing slopes, the range of red wines also benefit from the warmer valley outskirts and opposing northern slopes.
Using over 230 stainless steel tanks and about 500 French oak barrels, Durbanville Hills is able to produce some of the best red wines the country could offer.
Our next stop was the KWV Wine Emporium, another top-notch South African winemaker and marketer with presence in over 100 markets across the world.
As the name suggests, the Emporium produces and stocks South Africa's best wines with grapes from over 50 farmers all over Western Cape, maintaining a century-long reputation for quality.
By this time, you may be wondering what's in flying global citizens from all parts of the world to tour wineries, taste some good wine and enjoy great South African delicacies.
To Wines of South Africa, the host organization, it was about telling the success story of these global wine brands in the most interactive and experiential way; that kind of learning that clings onto your memory like forever.
WOSA's Africa Market Manager, Matome Mbatha, told B&FT the idea behind the annual occasion: "The Sommerliers' Cup competition clearly showed how we exquisitely embraced the global citizens that came here. And also, the reception at the wineries and the warmth with which owners of these establishments showcased their various wines and appellations and even the regions that each wine came from."
The warmth and smile that greeted the Ghana team all through the swing across the cities of Cape Town and Stellensbosch, according to Matome, resonate South Africa's diversity and the believe that much could be achieved in the spirit of collectiveness and togetherness."
This, he said, was a practice that South Africans have kept it all seasons; winter, summer, spring and that shows the diversity and beauty of the country.
"It's not just about the production of wine; it's also about the ambience and the people. All of these tell the diversity of South Africa.
We have a longstanding slogan that says "South Africa, alive with possibilities" and indeed if you see how people are now involved along the various value chains, it shows that everything is possible," he succinctly admitted.
Mr. Mbatha however had a word of caution to every wine consumer: "Look at it from beyond just the products, but also where it comes from and the tourism bit around it but above all, drink responsibly."
You cannot talk about Cape Town's thriving wine industry without the award-winning brand Bridge of Hope Wines, founded by the strong and motivated Rosemary Mosia.
From the stables of Bridge of Hope Wines comes the Cabernet Sauvignon, Café Cabernet, Merlot, Chardonnay, and Sauvignon Blanc. On the classic range side, they have brands like "Cabernet Sauvignon, Unwooded Chardonnay, Natural Sweet Red, and Rose as well as Sauvignon Blanc."
Rosemary has braved the odds and tough winds in a post-apartheid South Africa to become one of the few feminine figures in the booming wine industry.
A trip to a wine estate in Stellenbosch back in the year 2000 was the starting point for her. She had been sent to Cape Town from Soweto to look for new business leads for her company.
"I was amazed at what I saw at these wine estates; they seemed to be some different world and since that day something came into my mind. I told myself that I was not just going to do drink wine but I was definitely going to have a business in this thing," she narrated.
After two years, she had started drinking wine and continued visiting these wine estates and was reading more about the wines online and developed the knack for tasting, smell and identify wine.
Fast-forward today, Bridge of Hope Wines is a household name in South Africa, Europe and has plans to expand its reach across the continent.
According Mosia, the name 'Bridge of Hope' carried a deeper meaning: "After tasting our wine, it takes you from one place to another and you get that satisfaction."
The estate has about 15 types of products; produces 15,000 litres of entry level wines annually as well as other bestselling premiums wines.
Another feminine success story for the wine business is Diemersfontein Wine & Country Estate, situated along the famous Cape Wine Routes, approximately 45 minutes' drive from Cape Town and managed by Denise Stubbs, a black woman.
One thing that came out strongly in our discussion with Denise was empowerment; she narrated the story of how from little from humble and little beginnings, she and a whole lot of black workers have risen through the ranks own a part of the wine estate using their sweat equity.
These are success stories that clearly tell the several opportunities that could be derived from moving from production only to creating whole experience around some of the cash crops that Ghana is noted for.
If we are able to promote the wine culture, there are several opportunities for wealth and job creation.
Specifically, there is that huge scope where people can enter the wine business especially in the area of distribution and packaging wines as a whole experience.
But that could be achieved if we are able to step up wine education in the country because the more people get educated, the more premium wines they will drink.
Currently, about 80 percent of Ghanaians are into the consumption of entry level wines, but that is a good start and a great sign of an opportunity for growth.
A sommelier and wine professional, Kodjo Adovor, in his assessment of this year's event was bullish about this impressive start as Ghanaians gradually shifted away from the beer culture to that of wine.
"Wine is everything; wine is food, wine is experience and you don't have to be rocket scientist to do wine. Our tongue is a powerful tool for learning about wine and I encourage Ghanaians to embrace the wine culture.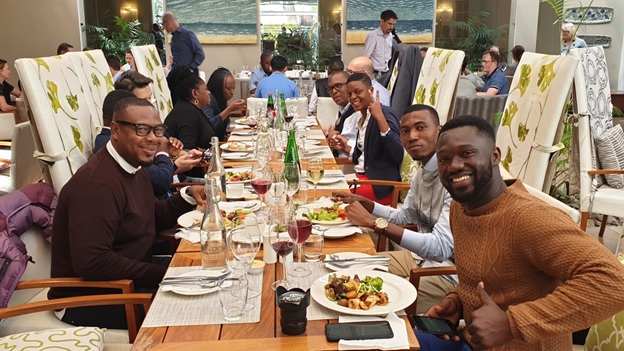 "Go out there and taste wine, when you go to a function, you get several options, get a glass of wine—hopefully South African wine—and experience it for yourself," he told the B&FT.
Kodjo is also ever-ready to transfer his knowledge and experience in wine to upcoming individuals that may want to take up the wine culture as he hopes to build a Ghanaian team of sommeliers to compete in future editions of the WOSA Sommeliers' Cup.
He shared: "I want to be a part of WOSA's education, be on the screens and out there to encourage people to taste and learn about wine. Hopefully, we can grow the base and get better because Ghana is an international city and we should represent ourselves well."