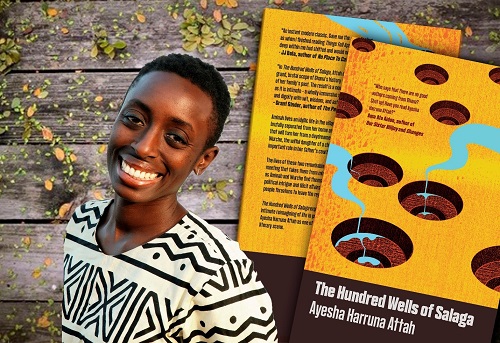 Author: Ayesha Harruna Attah
Year of Publication: 2018
Number of Pages: 231
Publisher: Cassava Republic Press
Reviewer: Shelter Akator
If you're going to give me a novel to read, it should be something that reads effortlessly; a ride through the pages on the back of a narrative that keeps champing at the bit to get to the finish line.
I've always favoured fast paced, arresting storytelling, and Ayesha Harruna Attah's "The Hundred Wells of Salaga", a 231-page book published in 2018 by Cassava republic press, is anything but.
Had it not been the burden of a mandatory review looming ominously as deadline submission day approached, I'm sure that I'd have probably never finished reading this book, and what a pity it would have been. Personal preference for fast paced stories aside, "The Hundred Wells of Salaga" turned out to be an enjoyable read.
The story is set in almost-colonial Ghana, progressing from the period before the British-Asante wars, after the official abolishment of slavery, in Africa and beyond it. The abolishment of the slave trade did not stop many brutal slave raiders like the infamous Babatu from continuously attacking, burning and dragging captives, bound and shackled several kilometres from Botu (which I suspect was located in present day Nigeria) all the way to the coast of Ghana, though.
It was in this state of uncertainty over the general safety of small villages that Aminah lived a happy rural life with her father, his two wives, her grandmother and three siblings. The happy soon left them when her father, a local craftsman, went as usual to sell his wares in the busy commercial centers down south but never returned. With her mother pregnant, Aminah had to grow up quickly to care for the family. But if she thought mastering the chores and becoming an accomplished house keeper was life fast-tracking her growing process, watching her entire village burn, with her mother and the newborn baby trapped in the flames as she herself was dragged along with her three other siblings as slaves to be sold to the highest bidder sharply corrected her flawed notions of having grown up quickly.
In what seemed like a couple of globes away, another girl, Wurche, was the princess of one of the powerful chiefs of Salaga-Kpembe with all the privileges of that status intact. But when she's forced into marriage with the prince of Dagbon to facilitate the alliance with her father-a strategic military play which eventually makes him the powerful chief of Salaga-Kpembe, she begins to wonder if she's indeed as free as she thought she was.
A series of fortuitous events brings both girls together in a sort of mistress/slave relationship, with time and proximity breeding need, lust, envy, companionship and sympathy among them till eventually, Aminah like the fabled ever-helpful genie of Alladin's lamp is set free to go after the love of her life, a slaver and ex-lover of her mistress – quite a lot of double barrelled meanings in there, I know.
Ayesha's narrative style, depending on whether or not you're a glass half-empty kind of person could be described as one which drags slowly with some very vivid descriptions and imagery, or one which slowly and gently eases you into the snug and cataclysmic world of her story – almost like the groom's experience on the honeymoon night with the maiden bride.
If you're inclined to poetry, Ayesha's imagery and description are a wet dream you'd be angry to rouse from. I haven't seen too many novels as richly endowed.
I do have some concerns about the development of some characters though, too many if I begin to dwell on it. Eeyah, for her many mentions across the entire breadth of the story, was never really definitively described. Adnan, Shaibu, Jaji were all key players in the story, and given how long they lasted in the narrative, I for one could have done with some extra information about them.
Again, I wasn't too impressed with the sudden changes in the personality of Wurche which seem so totally at odds with the character.
First, she's disdainful of her brother for being sympathetic and non-violent, she's impressed by Morro's brutal handling of a near slave escape, she gets married and doesn't want a baby to restrict her sparse freedom so makes determined efforts get herbs that would kill any such child. Try to reconcile that character profile with a Wurche that gets pregnant and doesn't even try to abort it despite how she despises the current fragility it confers on her, a Wurche who buys a slave and treats her kindly, a Wurche who gets pregnant again, this time carrying the baby of the white man who she's been very audibly disgusted with and distrustful of.
There's much to be said for the import of the author's message:
The average African's readiness to jump on the blame wagon and cry about unfair exploitation by the "white man" when the first point of contact for said exploitation is the greedy compatriot who is willing to almost literally sell his brothers and sisters off to the highest bidder. The ability and capacity for good in everyone, be it an immoral adulterous wife, a contrite slave raider or a reflective colonist European soldier. The need to look beyond one's predicament and forgive even the vilest people who have caused hurt, and honesty in all things ( even if it's proceeds from egg sales)
Who would I recommend this book to? African history enthusiasts, feminists (obviously), high school students, anyone who fancies a perspective on sexuality and morality, and any mulattos who don't know the story of their origins(hehe).