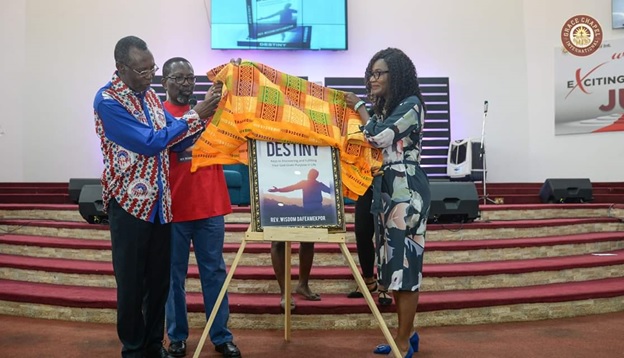 A Christian book titled 'Destiny' aimed at helping believers to discover their purpose in life has been launched in Accra by the headpastor of Grace Chapel International, Rev.Wisdom Dafeamekpor.
According to Rev. Dafeamekpor, the inspiration behind the book, came from his own desire to know what God's purpose for his life is.
He adds that if a Christian does not know or discover his God given purpose in life, it is possible one can end up destroying what God has brought you into the world to do or work against it.
The Headpastor also states that one's association can help them to discover God's purpose in their lives.
"I drew examples from a lot of bible characters, I did not write theoretically.  I took the life stories of people whom God used and extracted the lessons from their lives" he said.
He explained "is about everybody knowing what is his or her God given purpose in life and how to find or discover that purpose and then to you live your life according to that purpose" he told B&FT in an interview during the launch.
Destiny, which is the maiden book authored by Rev.Defeamekpor contains 170 pages and has 12 chapters.
Among some of chapters in his book for instance focuses on: Divine Encounters leading to Destiny, when the writer explains that the 'heavens are the Lord's but the earth He has given to the children of men'.
The chapter goes on to state that when God created the human race, His plan was that we should have dominion over the earth. He gave the earth to the human race in order for us to establish His rule and kingdom on earth as it is in heaven.
Additionally, it reveals that through His son, Jesus Christ, we have now been redeemed and given the legal right to be restored to son-ship, glory and honour.
There is also Moses' experience-listening to your heart, which explains that Moses was born at a time when Pharoah decreed that all newly-born Jewish males should be put to death. He did not want the Jewish population in Egypt to increase.
But Moses' mother hid him for the first three months. After three months, he was taken to Pharoah's house and his mother was hired as his nanny. His nanny (and mother) obviously influenced him and instilled in him who he was, regarding God's purpose for his life.
All these chapters in the book goes to emphasise the importance to discovering one's purpose in life.
Using himself to elaborate he said "It is my own desire to know what God's purpose for my life is, as we read the bible I have seen people who have been given their purpose from God.
It has been clear to them but some of them could not feel it, but the greatest one which set me thinking was Apostle Paul who when he wrote to the Galatians that he was separated from his mother's womb for the apostolic work he was doing
It is rather better if one discover his God's given purpose very early in life so that you can employ all your energy, strength, wisdom towards doing that"
The first copy of the book was sold at GH₵20,000 and bought by business mogul, Ibrahim Mahama, who was also presented with a citation by the church for his benevolence and humanitarian endeavours. On the day as well, over 1,000 copies were sold.
Rev.Wisdom maintains that he has set a target of selling 5,000 copies across the country and beyond.
Copies of the book which sells for GH₵30 post launch, can be obtained in major Christian book shops in the capital as well as online shopping portal, amazon.