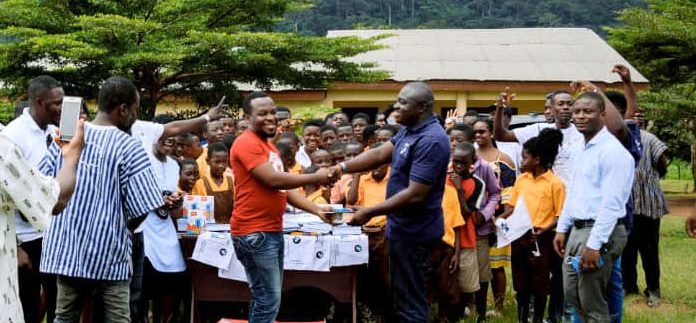 BMW Club Ghana have donated exercises books and other stationary to Obomeng DA Primary School with the aim of helping to ensure that students have materials to learn.
It's in their quest to One Child, One Book (1C1B) Project, the main Corporate Social Responsibility (CSR) initiative of the club to schools.
The donation event was held with support from Dreamland Direct Limited who gave out Stars Biscuits as backing.
The President of BMW Club Ghana, Benjamin Kwadwo Oppong, indicated that the club is officially accepted and has been certified by the African BMW Club.
"As a car club, driving forms part of our major activities which is dubbed Drive Tours. So, we drive on long distance journey and tour the country which is also a form of tourism.
"Usually on our drive tours, we add some humanitarian activities to it so that it benefits some communities we visit. We have previous done a donation to Kumasi Children Home, branded vest and reflectors to Ghana Police Service, and also paid tolls for about 3,000 drivers at the Tema Motorway. We've also drove to Sogakope to the Sogakope DA C School to modernise their canteen which was in very appalling state, so we actually built a new canteen for them and provided them with white boards in their classrooms," he added.
BMW Club Ghana is basically for owners of BMW automobile. However, membership is opened to anybody who is a lover of the brand.
The General Secretary of the Club, Wellington Kwadwo Oppong, indicated that the club apart from the social activities, also provides technical assistance to members who are facing challenges or have issues with their vehicles.