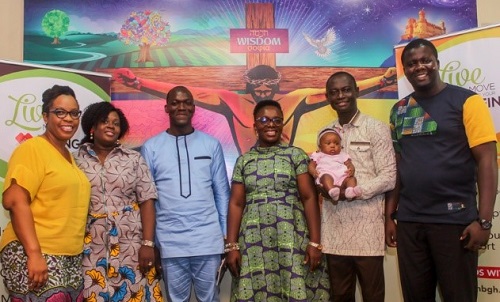 Experts have urged families and friends of couples battling with fertility and pregnancy-related challenges to be sensitive in their communication with them in order not bruise their emotions, cause psychosocial problems, and in some cases destroy relationships. This caution was given during the 6th edition of the Live, Move, Have your Being (LMB) Seminar series.
Live, Move, Have your Being (LMB) – a Christian not-for-profit organization that provides support services for families (men and women) dealing with fertility and pregnancy-related challenges – held its premier 2019 seminar in Takoradi, Western Region, on the theme 'Infertility and Pregnancy Challenges: effects on marriage and Relationships'.
The first part of the event saw Mrs. Maria Agozie, an insurance expert, recount the challenges she and her husband went through as a result of external pressures from family and friends as they struggled to conceive for a decade. "The first 10 years of marriage was very tough for myself and my husband as we struggled to conceive. Although we are Christians, the pressures from family, friends, church folks sometimes even affected our communication as a couple. It was a really difficult time for our marriage," Mrs. Agozie stated.
Mrs. Agozie stated that the ultimate reason for marriage is not only for procreation but to also establish a deep friendship. She therefore encouraged couples going through such fertility and pregnancy-related challenges not to allow the pressures and anxieties to get to them, but rather live their lives as they wait on God for children.  She stated: "Don't shut the door and cry every day. It will not solve the problem. Live your life; travel, take on new challenges; read more, help others; go back to school," adding that, "If your life stops because of infertility or pregnancy challenges, one day you will blame yourself for it".
The event, organized by Mahogany Consult and hosted by the ICGC Fijai Assembly, also had a panel discussion on the theme. The panel – Dr. Joana Larry-Afutu, Clinical Psychologist, Ghana Armed Forces; Dr. Seth Fenyi, Physician, Jemima Crenstil Hospital, Takoradi; and Rev. Frank Bioh, Head Pastor, ICGC Fijai Assembly, Takoradi, discussed the effects of infertility on marriages and relationships.
Dr. Fenyi cited several cases of relationship issues between couples as a result of infertility and pregnancy-related issues. He educated the audience that, globally, infertility cases can be attributed to health issues in females (30%), males (30%) with the remaining 40% factor classified as an unknown variable by scientists. "We should therefore not be quick to blame women for every infertility problem. This is breaking homes every day," he said.
Rev. Bioh stated: "Society not only needs to be educated on the effects of some comments passed about couples struggling to conceive, but must also be encouraged to support persons going through such fertility challenges". He stated that if society understands what couples struggling with infertility go through, it will be more sensitive to the issues surrounding fertility.
According to Dr. Larry-Afutu, "Fertility and giving birth is a basic human motivation and a cultural expectation": as such, couples tend to be stressed and frustrated with the least hint of infertility issues – causing tension between spouses. Dr. Larry stated: "When people interfere in the affairs of couples, either intentionally or unintentionally, it ultimately leads to excessive stress and tension" – adding that some physical manifestations of the psychological stress on couples include "the inability of men to produce mature and healthy sperm, and women not producing hormones that stimulate ovulation which is necessary for conception to occur".
Couples trying to conceive were also advised to deal with societal pressures by choosing to evaluate negative comments as unhealthy and unnecessary to dwell on. Dr. Larry-Afutu noted that: "People who deal with such external pressures poorly tend to be easily irritable, tensed, etc.; and this further deteriorates their health".
Mrs. Baaba Cofie, founder of LMB, charged the audience to educate families and friends on the negative effects external interference from society have on couples dealing with infertility, and encouraged them to become ambassadors to support couples going through infertility and pregnancy-related issues. "Let's not stigmatize persons (especially women) experiencing child-birth challenges. It is our duty as friends, families, neighbours and colleagues to support, encourage and pray for them," Mrs. Cofie said.