The chiefs and people of Mepe Traditional Area in the Volta Region have celebrated their 65th Afenorto Festival at Mepe in the Volta Region, amidst great display of culture and tradition.
The theme for this year's festival: "Building the structures for sustained development role of the youth" highlighted need to place the town's youth at the forefront of development and the future of the community.
Mankralo of the Mepe Traditional Area, Torgbe Kwasi Nego VI, said the festival was an annual ritual to foster unity and friendship among the people and mobilise the people to deliberate towards the development needs of the area.
He said the occasion will help the traditional leadership and townspeople to identify critical needs of the area and map out strategies to address them.
Torgbe Nego VI made a case for the youth of the area to be well equipped to drive contribute to development instead of being idle grounds for social vices.
He also appealed for the construction of bypass roads in the town, which he said had been a request to the government over the last five years, to help ease congestion on the main road passing through the township.
"We appeal to government to establish a technical/vocational institution that will provide the needed skills training for the youth of Mepe and its adjoining communities," he further noted.
The Mankralo encouraged newly enstooled divisional chiefs to come on board with their ideas that will help the traditional council in tackling the challenges of the area.
Member of Parliament for North Tongu, Samuel Okudzeto Ablakwa, in a brief speech made on his behalf, entreated the chiefs and people of Mepe to abide and respect the rule of law and embrace unity as a key pillar for development.
He presented 150bags of cement to support ongoing projects in the Mepe community.
The festive occasion brought a general feeling of excitement across the length and breath of the town.
There was plenty to eat and drink as food vendors displayed their neatly packaged menu comprising waakye, jollof rice, kenkey and fish and other local delicacies.
It was a joyous scene as the various clans of the town clad in their symbolic colours of red, yellow, green, white and blue, one after the other, and carrying their chief in a palanquin, danced their way to the durbar ground amidst drumming and singing and firing of musketry.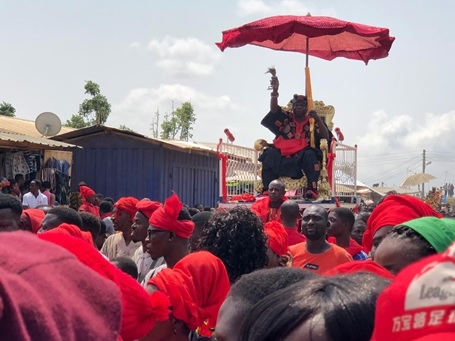 Afenorto, meaning 'period of rest at home' is a celebration by the people of Mepe usually between the month of July and August every year is aimed at renewing the sense of oneness of the people.
It also provides unique opportunities for reunions, and bondage with families and ancestors, among others.