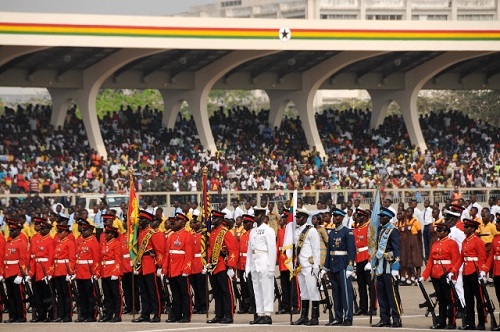 Twelve schools from Tamale in the Northern Region have been selected to participate in this year 62nd Independence Day celebration parade.
 Senior secondary schools selected are: Ghana Senior High School (Ghanasco), Tamale Senior High School (Tamasco), Islamic Senior High School and Tamale Girls Senior High School (Paynaa).
 While the Basic schools were Police Barracks Junior High School (JHS), Sagnerigu Girls Model JHS, Kamina Barracks JHS, Zogbeli D/A JHS, Nyohini Presby JHS, Ambariya Islamic JHS, Bawa Barracks JHS, and Prison Complex JHS.
Others were selected personnel from the security services and other state institutions to grace the occasion.
It will also be attended by President Nana Addo Dankwa Akufo-Addo, state officials and diplomats from other countries, with the special guest of honour being the President of Niger, Mahamadou Issoufou.
 This year's celebration is on the theme 'Celebrating Peace and Unity', and it was announced by President Akufo-Addo during his State of the Nation address last Thursday in Parliament that the 62nd National Independence Celebration is to be hosted in the Northern Regional Capital Tamale – specifically at the Aliu Mahama Sports Stadium on March 6, 2019.
"The theme consolidates the success made in achieving peace and unity among the people of the North, and also reiterates the fact that Ghana will continue to be the beacon of hope while remaining peaceful and also protecting its enviable record of being one of the most peaceful countries in Africa," according to  Deputy Information Minister Pius Enam-Hadzide.
Painting activities to beautify the township and commemorate the event are underway in the Metropolis, while the various hospitality establishments in the Metropolis have also been booked to accommodate the visit.
The Ghana Standard Authority, Food and Drugs Authority and the Ghana Tourism Authority – since announcement of the region hosting the event – have been embarking on sensitisation exercises to educate the caterers, hoteliers, food vendors, sachet water producers and sellers on the need to exhibit professional standards in their businesses.   
The Northern Region Public Relations officer for the Ghana Education Service, Kanzoni Awaala Donald, said the selected students have been prepared and their health status also checked to avoid any incidents during the parade.