Women in Ghana. We are 51% of the population. Too often our brilliance, our capacity and our capabilities are overlooked. Sometimes that happens due to our cultural, familial and societal pressures. Sometimes it is the result of the ways we internalize and then police ourselves. Our culture treats our girlhood as risk and reward. The risk is boldness, exploring our ambition and passions, reveling in our intelligence and not privileging our physicality. The reward, girls are taught, comes from being submissive, obedient, quiet and attentive to the needs of others. We define this as 'feminine'.
That is changing. It is slow, but it is changing. It needs to change faster and more widely.
Former US First Lady Michelle Obama wrote 2018's best-selling book, 'BECOMING'. In it she explores who she is becoming through multiple chapters in her life; her childhood in Chicago, high schools, a university education in the hallowed halls of Harvard, a marriage to a man of Kenyan and Kansan heritage and an ascent to becoming the first African American First Lady of the US.
I read 'Becoming'. I thought of women in Ghana, myself and those I know, work with, women of my family and friends, of colleagues and bosses. I wondered how we women in Ghana might answer the question: WHO ARE YOU BECOMING?
It's a question too rarely asked of women here.
The question came after I had spent some time intensely studying our landscape – particularly media and politics.
I sat and listened through the Ayawaso West Wuogon commission; our last State of the Nation address and multiple mornings tuned into morning shows. It felt as though we had created a formula which, even though it didn't serve half the country, was still maintained and upheld.
It is beyond time to reimagine leadership. We needed to recognize our current approach to leadership is linear, singular, oga. As leadership guru, Taaka Awori noted during an interview, in Ghana we limit leadership to the world of politics. For me, we think of leadership as V8, air-conditioned office, nice suit. It looks a particular way – and if it doesn't we don't include or consider it as leadership. It was time to explore more collaborative ways to lead.
What might change look like?
WHO ARE YOU BECOMING? Asking women in Ghana that question prompts a pause. Sometimes a long, uncomfortable silence. It is a reminder that we are so seldom asked – nor do we ask ourselves – that question. So, pondering it would require time.
And that's exactly what we took. Time.
With women from a range of sectors – from media and technology; from literature and leadership; from entrepreneurship and entertainment; from linguistics to health, we took time. Women gathered. The question was asked. And their answers would inspire a project #IAmBecomingGH.
Mrs. Obama's book and interviews reminded me how futile this question is:- What will you be when you grow up? Mrs. Obama reminded us that growing up was not a finite point or number or moment. That helps release a pressure so many women face to sprint towards a ring, a man, a marriage, a child to be deemed worthy in our society's eyes.
Those who do not choose that path are judged, maligned, stigmatized and shamed. By men and women.
March is International Women's History month. How fitting to close a month that has been filled with legislative frustration at a government due to unpassed and unfunded laws that would help women, with inspiration, vision and optimism.
Be an inspiration. Be a sister to yourself. Be a sister to your sister. Be inspired. We are the change we are waiting for.
WHO ARE YOU BECOMING?
#IAmBecomingGH is a video project created by ESTHER ARMAH & her company EAA MEDIA PRODUCTIONS. It features women in Ghana responding to the question, WHO ARE YOU BECOMING? Below are the women of the #IAmBecomingGH multimedia video project.
Peninnah Eshun
Amma Gyampo
Selikem Acolatse-Apaloo
Claudia Adusei
Lucy Quist
Thelma Efua Quaye
Sabukie Osabatey
Charlotte  Nettey
Elizabeth Kwesi Armah
Ama Dadson
Maame Serwaa Dzamesi.
Aretha Amma Sarfo-Kantanka
Araba Koomson
Taaka Awori
Matilda Thelma Nartey
Adeline Mawusi Yibor Houtykal
Sibylle Newman
Evelyn Agyepong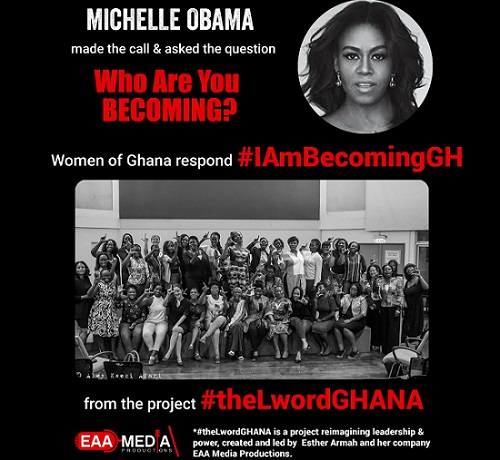 WATCH #IAmBecomingGH:-https://www.youtube.com/watch?v=qbzoC6IiKXA&t=1s
**************************
PASSED!
Whose right? Our Right! Our RTI Bill!
Finally. After almost 20 years, our government has just passed the Right to Information Bill. The cheers are ringing across civil society organizations, activists and organizers who strategized, organized, campaigned, pressurized to move the stagnant bill through Parliament's frustratingly slow process and finally be passed. It must now get Presidential assent and it is then formally the law of our land.
As a journalist, as media – this Bill is gold. Of course, questions about its strength linger. But no legislation ends up with the strength from which it began.
Bigger questions – what would I seek information about that would serve our nation? What would you seek information about? What deal? What scandal? What report? What issue? These will be the questions that dominate our discourse for at least the next news cycle as we, as a nation, wrap our heads around the significance of this Bill and its potential impact on our lives.
I suspect the early stages of a re-election campaign bid may have quietly influenced those seeking our votes that legislative successes may persuade reluctant voters to once again say YES.
So, with this surprise passage of the RTI Bill, could we have the Affirmative Action Bill enjoy the same fate?
**************************
R. KELLY: Celebrity, Culture, Complicity.
R. Kelly. Singer. Songwriter. Producer. Tune in to Ghana's Atlantis radio and you are bound to hear this man's music. His decades long career is dismantling. That's because of a television documentary series, 'Surviving R. Kelly', executive produced by dream hampton. It featured survivors of alleged sexual and physical abuse sharing their stories in a 6-part series that ignited global discussion.
After the documentary aired, the allegedly sexually abusive and embattled singer sat down with CBS anchor, Gayle King, for an interview peppered with outbursts, tears and behavior that prompted many to question if he was in the middle of a breakdown.
Tellingly, all those featured in the documentary called for the singer to get help. R. Kelly maintained that every woman, every story, every allegation, every encounter, every abuse was a lie.
On Thursday 28th March Webster University Ghana campus will hold a Public Lecture with a panel exploring the issues arising from the R. Kelly case. They will explore issues such as the cancer and seduction of celebrity, the myriad ways our culture stigmatizes, shames, judges and blames the victim but rarely reckons with the alleged abuse and equally importantly tackles the multiple ways society is complicit with high profile men who abuse. That complicity leads to men who need help or prosecution, getting shielded, protected and free to perpetrate again and again.