-How compliant are the Accountable Institutions?
The menace of money laundering and terrorism financing has attracted global attention over the years, with the adoption of many stringent measures to control it. At national levels, authorities continue to enact legislation and guidelines to prevent their financial systems from being used as safe havens to legitimise illicit funds. In Ghana, the Anti-Money Laundering Act (874) as amended is the enabling legislation on the global problem. This script looks at accountable institutions and the extent of their compliance with Section 23(7) of Act (874). Section 23(7) states "an accountable institution shall require the full personal details of a person who makes a deposit into or withdrawal from an account on behalf of another person".  Who or what is an accountable institution?
Identifying Accountable Institutions
 Accountable institutions or persons can be identified by the regulatory purview in which they operate or the nature of services they provide. Clearly, institutions regulated by the Bank of Ghana, the National Insurance Commission (NIC), Securities and Exchange Commission (SEC) and the National Pensions Regulatory Authority (NPRA) qualify as accountable institutions. Based on Section 21 of the Act, accountable institutions include a person or an entity that conducts as a business one or more of the following activities for customers or on their behalf:
Accepting deposits of money from the public repayable on demand or otherwise and withdrawable by cheque, draft, orders or by any other means.
Financing, whether in whole or in part or by way of short-, medium-, or long-term loans or advances of trade, industry, commerce, or agriculture;
Issuing an administration of means of payment including credit cards, travellers' cheques, bank drafts and other financial instruments;
Providing services in respect of financial guarantees and commitments (pledges);
Trading in foreign exchange, currency market instruments, transferable securities, or commodity futures;
Providing services in respect of securities portfolio management and advice concerned with the portfolio management;
Dealing in shares, stocks, bonds or other securities;
Safekeeping and administration of currency or liquid securities on behalf of other persons;
Investing, administering or managing funds or money on behalf of other persons.
Related Activities
An institution can also be described as an accountable institution if it provides the following services:
Leasing, letting or delivering goods to a hirer under a high-purchase agreement;
The collection of money or acceptance of employer contributions and payment from these funds of legitimate claims for retirement benefits;
Changing of money and currency;
Other accountable institutions (persons)
a) Auctioneers, lawyers (notaries) or accountants are also accountable persons when they perform any of the following services on behalf of their clients:
Buying and selling of real estate;
Managing of client money, securities or other assets;
Managing a bank, savings or securities account;
Organising contributions for the creation, operation or management of a legal person;
Creating, operating or buying and selling of a business entity;
b) Religious bodies
c) Non-governmental organisations.
d) Operators of games of chance.
e) A person whose business or a principal part of whose business consists of providing financial services that involve the remittance or exchange of funds.
h) Real estate company or agent, only to the extent that the real estate company or agent is involved in transactions for a client concerning the buying and selling of real estate.
i) Dealers in precious metals and precious stones.
j) Dealers in motor vehicles (cash transactions on the open market).
k) Trust and company service providers which, as a business, prepare for or carry out transactions on behalf of a customer in relation to any of the following services to a third party:
acting as a formation, registration or management agent of a legal person;
acting as or arranging for another person to act as a director or secretary of a company or a partner of a partnership, or to hold a similar position in relation to a legal person;
providing a registered office, business address or accommodation, correspondence or administrative address for a company, a partnership or any other legal person or arrangement;
acting as or arranging for another person to act as a nominee shareholder for another person.
In fact, Section 21 casts a wide net across many business activities as possible conduits for money laundering. In that regard, Section 27(3) requires that due diligence be conducted on third-parties.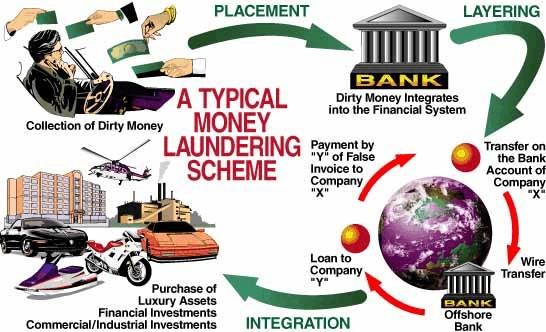 Due Diligence
Indeed, it is worth reiterating that Section 23(7) makes it mandatory for accountable institutions to request for "personal details" of third-parties who deposit or withdraw money on the behalf of account-holders. Even though the Act did not define what constitutes personal details, verifiable information in terms of a third-party's full name, date of birth, residential address, telephone number and national ID (Voter ID, Passport, Driver's Licence, or SSNIT Card) will suffice.
Level of Compliance
As part of risk management, the standard practice has always been that accountable institutions especially financial institutions, verify customers and third-parties' identities when they want to withdraw funds at their business places. But the same cannot be said in all cases when third-parties, as required under Section 23(7), make deposits on behalf of account-holders.
In the case of banks, there is high level of compliance regarding the verification of third-parties' personal details. However, microfinance institutions and other accountable institutions or persons are acting contrarily to this provision. At best, these institutions have on display the Anti-Money Laundering/Countering and the Finance of Terrorism and Proliferation of weapons of mass destruction (AML/CFT/P) compliance notice to the public.
While organising my thoughts for this script, I decided to do a mystery shopping to confirm or otherwise if I can deposit money on behalf of an account-holder even if my personal details (valid ID) is not readily available. Voila!  The low-tiered financial institutions I sampled have been accepting deposits from third-parties in clear violation of Section 23(7). Even though mere acceptance of those funds from third-parties doesn't necessarily mean that they are proceeds of crime, their non-compliance with the law implies that they can easily be used as conduits for illicit funds.
Indeed, some employees confirmed their experiences with the mainstream banks – but oblivious of the fact that their companies are accountable institutions. Apart from these instances, people are able to buy vehicles on the open market as third-parties without disclosing their personal details. The situation is very pervasive in many other enterprises that are unaware of the fact they are accountable institutions.
Collaboration
To fight the menace on all fronts, we need the collective efforts of the financial regulatory authorities, the Financial Intelligence Centre (FIC), the Games Commission and the law enforcement agencies (Ghana Police Service, Ghana Immigration Service (GIS), Bureau of National Investigations (BNI), Economic and Organized Crime Office (EOCO), and Narcotic Control Board (NACOB). Public education through the media will also help entities or persons who are unaware of their status as accountable institutions to comply with the law in the fight against the problem. Your feedback is always welcome. God Bless!
This script was written by a Chartered Banker with a flair for feature writing. Apart from his work schedules, he edits or proof-reads corporate material for his colleagues, executive managers – including distinguished professionals working in various fields outside Banking. Through this column, his articles feature on third-party online media platforms in Ghana and outside. Email: Kwaku.Anumu@gmail.com