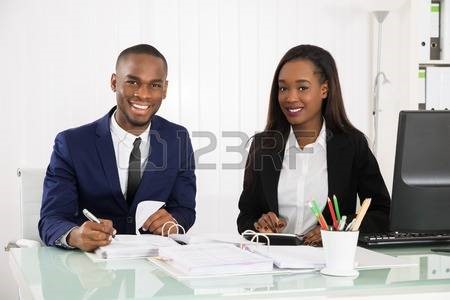 "Give to Caesar what belongs to Caesar, and give to God what belongs to God."
Last week, I looked at some perceptions and sayings from some bank customers who believe that bank branches are obsolete and therefore should be scrapped. We realise that such comments usually come from younger generations, the elite and financially savvy customers.
Let us look at the perceptions and sayings from another group of customers with a completely different viewpoint:
"Let them set up their digital branches and what have you. I am not comfortable conducting transactions without human interventions."
"Why should I put all my hard-earned funds into a machine operated by unseen persons?"
"Since I can't read and write, are they asking me to go away? Ok. Dear underground and unregistered microfinance company, here I come. Even if my funds are from money laundering sources, you will take it!"
"Sometimes I enter the branch to conduct some 'feelings banking' with the staff. They are beautiful and working with them makes me feel young once again. It makes banking complete."
Reflections
Is there anything like a typical banking customer? Definitely not. Anyone who has a bank account definitely enters the banking hall at a point in time, whether online or not. Let us look at the various persons found in the branches. Young students, wealthy elite customers or the bourgeoisie, market women, professionals, tourists, illiterate persons trying to find a safe haven for their funds after being duped by susu collectors and money lenders, public servants, middle-class citizens, young and old entrepreneurs trying to access loans, persons of all ages who just go to release some tension from a world full of troubles by just sitting in front of the front-desk executives and chatting with them. Each of these customer groups want to interact with their bankers in their own way. Shakespeare once said that the world is a stage and everyone is a player. True, isn't it?
The Unanswered Questions
Last week, I listed many searching questions that we should all try finding answers to. Banking, being a needs-based business, requires that we conduct research regularly into the needs of customers instead of assuming that decisions taken in the boardrooms will work for them.  Although I quoted a few sources of the different generations of bank customers in the USA and their banking habits, I have been unable to access much information with regard to the Ghanaian market. I hope to conduct some enquiries and get some statistics and empirical evidence of the local equivalents to use as a guide in future as I express my opinion on the subject.
The Millennial Generation of USA – The customers to watch 
In all this, we recognise that each group is accompanied by its own risk culture. Before I give my personal observations, let us go back to the American generational bank customer types where a lot of research has been done. My main source is the 2015 Year-End Millennial Snapshot — Bank of America:
Quote: "The millennials, or Generation Y, are the most versatile group among the bank customers who are making the most massive impact into banking due to their potential influences in the retail banking scene.  These millennials, who are defined as those ages 18-34 in 2015, now number 75.4 million – surpassing the 74.9 million Baby Boomers (ages 51-69). And Generation X (ages 35-50 in 2015) is projected to pass the Boomers in population by 2028". Apr 25, 2016.
Let us also explore some findings from the Cisco Internet Business Solutions Group (IBSG), which recently conducted a study with 1055 respondents to explore consumers' evolving financial priorities, service expectations from banks, and interaction preferences.
It states: "While consumers have faced significant financial strains in view of a deteriorating jobs outlook and dwindling asset values, they have at the same time embraced new technologies such as video, and adopted online behaviours at an astonishing rate. These trends are particularly true for Gen Y, also known as 'Millennials', and Gen X consumers. They came out with these top findings about them:
Their top concerns are debt reduction, expense management, and financial education.
Although they receive financial advice from friends and family, they truly value advice from professional advisors.
85% are satisfied or very satisfied with their current financial services provider.
They are active users of new technology:online tools, youtube and mobile phones.
They are interested in advice from an automated source.
Nearly 40% are interested in interacting with an advisor via video.
They prefer posting questions about financial matters to a blog or online forum.
26% are generally satisfied with their current bank; however, they would be willing to switch banks easily.
My Personal Observations of the Ghanaian Scene
Do we have the equivalent of Millennials in Ghana? Yes. This young consumer segment is a new and very important growth opportunity for any proactive bank. However, my wish is for banks to look at the local environment and create appropriate products for each customer group, taking into consideration the accompanying risks. We cannot handle customers operating in the Airport City bank branches the same way as those in the central business district of Accra.
From my personal experience, I wish to place the local Ghanaian customers into the following categories and descriptions, but please note that these are my personal opinions. The 'risk appetite' for each group is different, and it can only help young bankers to know how to manage each category's risk accordingly.
The Stark Illiterates – Reluctantly open an account after much persuasion. Does not trust the bankers too much due to terrible stories they have heard about internal and external fraud. They initially feel intimidated by the banks' environment, but when they feel welcome they feel their funds are safer and less likely to be squandered. They prefer dealing with a few 'trusted staff' and feel uncomfortable when these 'known faces' are absent. They however remain loyal and hardly ever switch banks. Bless them!
The Elite and High net-worth customers – They know they are rich and do not mind showing it off, or others knowing about it. They expect to be treated like royalty and do not mind paying a premium for such services. Apart from professionals who are mostly financially savvy and do not need to frequent the branches, they prefer facial interaction and physical transactions and vouchers. This group also includes the 'neauveau riche', who have just joined the rich people's group – either through sudden ill-gotten wealth or a big boom in their business. Some of them may be semi-literate and therefore need attention as well as special treatment, as they flaunt their wealth…Very interesting.
The 'Instant Coffee' Generation – They have been born and bred in urban areas, are mostly between 18 and thirty years, have played with digital games most of their life and computers are basic to them. They avoid branches and feel that going to the banking hall is a punishment, especially when there are long queues caused by system delays. They do not have patience to wait and do not mind paying extra in fees associated with on-line and digital banking.
Always on the move, they have no time for face to face contact with bank staff. They are ready to blast any bad service provider on social media or through the complaint systems. They know their rights and sometimes scare the front-desk personnel with threats of reporting them, with loud complaints that 'infect' the other customers. These customers when treated right are the future of banks' earnings. They can make or unmake a bank. Just love them and handle them with care.
The Casually Clad Customer – These are made up of artisans, errand persons, SME customers in a hurry to return to their businesses, messengers or agents of customers. They are another group to be feared, since they can easily change their accounts when they feel snubbed by staff. They form the majority of customers who frequent the banking halls to conduct business, and they are not too comfortable with ATMs, e-banking and all the attendant transactions that go with it.
Next week, I will look at some other types of customers that I have grouped together, and then finally end with the role of bank staff in handling all types of customers.
When you read my second book – "MY FRONT DESK EXPERIENCE, A YOUNG BANKER'S STORY" – it depicts various habits and mannerisms of customers in our part of the world that front-desk persons need to know and appreciate. The risk management and service delivery tips in the book enhance the "feelings business" that is much needed in the face to face banking appreciated by certain groups of customers.
TO BE CONTINUED…
ABOUT THE AUTHOR
Alberta Quarcoopome is a Fellow of the Institute of Bankers, and CEO of ALKAN Business Consult Ltd. She is the Author of two books: "The 21st Century Bank Teller: A Strategic Partner" and "My Front Desk Experience: A Young Banker's Story". She uses her experience and practical case studies, training young bankers in operational risk management, sales, customer service, banking operations and fraud.
CONTACT
Website www.alkanbiz.com
Email:[email protected]alkanbiz.com  or [email protected]
Tel: +233-0244333051/+233-0244611343