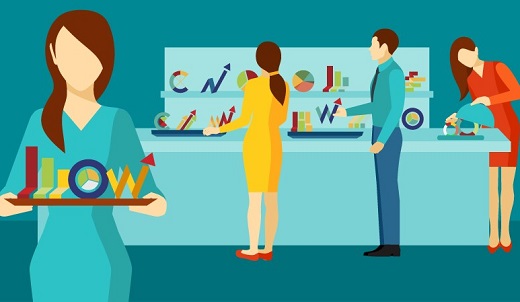 "I can do it myself" is a line anyone who has had the privilege of parenting or even babysitting a tot would have heard time without number. A variant of that line is "Let me do it myself". There is that age at which our children feel so grown up that they would want to try anything on their own. Try doing something for toddlers who just starting their first words and, chances are, you would have your ears full of a thousand reasons why they should be allowed to do that thing for on their own.
Putting on a dress, lacing of shoes, combing of hair and preparing their food are all things that our sweet little ones would attempt to convince us that they are well capable of doing on their own. If you stay long enough with those adorable kids, you will occasionally hear an outrageous attempt like "I can even drive this car myself." There are really no limits in the mind of children about what they are capable of doing all on their own.
Human beings are naturally prone to being self-reliant. It feels good to be able to do something on your own for your own self. This is why when able-bodied individuals become invalid, they feel so emasculated. It seems the desire to want to do things for ourselves is a deeply ingrained trait that we are all born with. And if recent studies are anything to go by, then it seems we never ever grow out of that innate desire to be self-reliant.
An article in the January–February 2017 Issue of the Harvard Business Review (HBR) stated that "fully 81% of all customers attempt to take care of matters themselves before reaching out to a live representative" and this figure was true across all industries. This is interesting because one would have expected that customers who pay money for a service would allow the organisation to do everything for them. However, customers still prefer to do part of the job of the company they are paying money to.
Customer self-service is a growing trend that businesses can just not ignore. As a matter of fact, it is not a new trend per se. I believe self-service was actually one of the main reasons why certain new gadgets and products came with manuals. Manuals did not only teach individuals how the products work but also taught new owners what to do when certain things happen. However, it is safe to state that developments in technology over the years fed into that need to do things on our own.
It can be said that the Automated Teller Machine (ATM), first outdoored in September 1969, was an icon of the early age of self-service.  Ever since businesses transitioned into the era of the WWW, customers have self-serving for years. Websites and webpages are actually self-service tools in their own right. What a website does is to give customers the opportunity to actually do their research without their help of a real-life individual. The FAQs Page on many websites is one of the earliest and commonest forms of self-service that customers have been using for some time now.
However since then, there have been many more exciting ways businesses are presenting to customers who want self-service. From automatic car washes where customers use coins, tokens, credit cards to operate the machines to get their vehicles washed, to more advanced self-service laundromats, through to advanced self-service photo booths and to self-service check in at hotel lobbies, there seem to be no end to this trend for self-service.  Supermarkets are rushing to fit self-service checkout counters in stores all over.
There are self-service kiosks, called Automated Postal Centres (APCs), being placed at the lobbies of Post offices for the sole purpose of offering customers an alternative to going to the counter to deal with people. Now an individual can go to the post office with a letter or a package, get it weighed, buy stamps, affix them on the package and send the package without saying Hello to anybody.
Customers are, these days, booking for flights and hotel rooms online without the assistance of any individual. Travellers are even using smart technology to go through arrival procedures at major international airports. The recent emphasis on Artificial Intelligence and its many potential benefits for customers will only serve to increase the trend for customer self-service.
It is therefore not at all surprising that an April 2013 collaborative study conducted by International customer service guru Professor Steven van Belleghem, global research giant SSI and Norwegian specialist translation services provider No Problem revealed that 70% of respondents expect a company's website to include a self-service application. Some 40% of customers even intimated that they would prefer self-service over human contact in the future.
There is a reason why the self-service industry is gaining so much traction these days. It seems there is so much to do in so little time that customers never seem to have enough time. By extension therefore, today's customers want speed with their service. As a matter of fact, customers of today are emphatic that a fast response time is the most important attribute of customer service.
Early this year 2019, San Mateo, California-based customer service software provider Medallia and global research giant Ipsos released a report titled, "The Customer Experience Tipping Point". The report, among other things stated that "seventy percent of consumers report that they expect an immediate response when they submit a complaint."
Another report based on a June 2016 survey attributed to CMO Council, the network of more than 15,000 marketing executives from a range of global industries, asserted that 75% of customers stated that "fast response times to issues, needs or complaints" was the most important attribute to the customer experience. Evidently, customers want things fast and they believe by doing it themselves, they would be able to fast track the process.
When things do not go as planned—and that happens once in a while—customers would prefer to first see if they can solve the problems themselves before reaching out to the organisation in question. This is why it has become imperative for businesses to ensure that they provide customers with the immediate means to find solutions to their problems. South Africa-based satellite broadcast service provider, DSTV makes a lot of noise about their ability to provide customers with the means by which customers can manage their DSTV accounts online, easily clear error codes, renew monthly subscription and even upgrade packages.
Apart from customers' need for speed, another reason why the self-service phenomenon is not going to go away anytime soon is because it is very cost-effective for companies as compared to having the company put in a person or persons offering the same service to customers. According to the 2017 HBR article, on the average it cost "more than $7 for a B2C company and more than $13 for a B2B company" for a live service interaction. The cost of self-service is however measured in pennies, according to the article.
If 8 out 10 customers prefer to do things on their own even before approaching an organisation, then organisations are ensuring that customers are able to do things on their own first. It makes perfect business sense. The customer is happy and the business is also happy. Happy customers make a business money, lots of money, really—and if what would make customers happy is to be able to do things on their own, then by all means, organisations should allowed them to.
Today's customers are so difficult to please. They know so much. They have means of getting whatever information they want, when and where they want it. Customers can compare prices of so many competing brands that they cannot be easily hoodwinked by any business. To put it succinctly, customers of today are a handful for businesses of today. So if an organisation finds out what makes these hard-to-please customers happy, then it pays to invest into that thing. If that thing that makes customers happy is self-service, then organisations must invest more into self-service technology.
Website content must be kept fresh all the time. FAQs must be up-to-date. How-to-videos must be regularly updated. As the world becomes increasingly mobile, it would help a great deal if organisations make use of this mobile phone dependency in creating self-service options for customers. It is also of importance that businesses spend time and money offering some sort of training for their customers that would make these customers more self-reliant.
Smart organisations are those that would ensure that they do not just invest in self-service technology but would even go to the extent of looking out for more ways to make it easier for customers to serve themselves. Companies that refuse to invest in self-service technology would end being obsolete sooner than later. In my honest opinion, the business world is a competition of parties. Organisations that can provide a buffet of their services to their customers are those that would be laughing all the way to the bank.