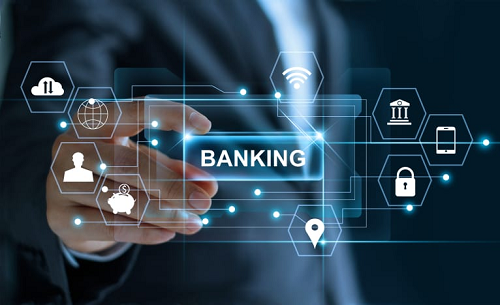 The world has become a digital community. The government of Ghana has seen huge potential for growth and development the country stands to gain if we are able to digitalize our economy. The huge windfall that a digital economy can reap would be achieved if all businesses and organizations take advantage of it and modernize their operations from manual, or semi-manual to fully digitalized or automated one.
Digital explosion is disrupting many organizations and banks and other traditional financial institutions are feeling the pressure. It is killing organizations which do not change to take advantage of the new ways of doing things. It is also spawning new businesses in every industry and creating new opportunities, thus bringing with it a disruption to the old ways of doing business. Most traditional banks with the financial muscle have seen the need to take advantage of the digital age to improve on their processes, transactions and other interactions to provide their clients with real time banking solutions.
In the digitally connected world, the challenge for RCBs is to efficiently interact with existing and potential customers, and among themselves to offer a seamless banking experience to the clients. The ability to respond to change brought about by the explosion in digital technology has become a key aspect of providing a real-time banking experience to clients, and institutions that are left behind may cease to exist or become less effective. The financial world is evolving and RCBs cannot afford to be left behind.
The case for RCBs going digital
People have become increasingly mobile and desire to have access to the funds where they find themselves. It is believed that there is a sizable percentage of banking transaction in Ghana that do not take place in the banks that hold their accounts. And with digital banking lot more transaction take place in the digital space where the client does not need to visit the banking hall but stay in the comfort of the homes and transact their business. This means banks should still maintain physical branches but switch their priority toward creating meaningful and personalized digital banking services that are easy to sign up for.
The cost of banking online is much less expensive than banking at a traditional branch. After the initial capital outlay needed to keep the servers running, RCBs will see a decrease in operational cost by focusing on the digital channels of providing banking services to with customers. This in the long run will reduce the need to put up own premises making available such funds for making more loans to clients.
Almost all telecom companies are offering mobile money services. People are increasingly keeping their funds on their wallets while many more businesses are accepting mobile money for transactions. With the mobile money interoperability mobile money transaction for the half year to June 2019 according to the Bank of Ghana was GHC140 billion. The value for same time 2018 was GHC104 billion. These telcos doubling as Fintechs aim to meet consumer needs by offering new innovative financial services without the need for them to put a foot in a traditional banking hall. If RCBs do not keep up they risk losing market to these telcos.
What RCBs can do:
Collaborate more than compete
The rolling out of a digitalize platform would compel RCBs to see themselves more as collaborators than as competitors. The Act establishing the RCBs make them unique as they operated within certain geographical boundaries. Most RCBs are found in areas where they may be the only rural bank there. However, with the amendments to the Rural Banking Act it is increasingly becoming a regular thing to find a number of rural banks operating within the same catchment area. This has undoubtedly brought competition among them but digitalization will help them collaborate more to the benefit of their clients as a superior platform would be made available for them to easily access services. Another benefit of the digitalization drive being pursued by the RCBs spearheaded by the Apex Bank would one product that can be a game changer to make RCBs a force to reckon with: the i-deposit module in the I-trans product.  Digitalization would enable the product to be further enhanced to maybe include both deposits and withdrawals everywhere in Ghana irrespective of which rural bank hosts a client's account.  This could be marketed such that every single person in Ghana would know that with the RCBs you need not go to your own Bank in Sandema before you can deposit funds into your account. You can be in Lower Pra Bank in Shama and make deposits into your account with Bangmarigu Community Bank in Walewale or Adonten Community Bank in Tafo. This is very possible as all RCBs are connected via ARB Apex Bank it should be possible to enable between-banks full transactions. Then the 140 RCBs with their over 700 branches would truly be a force to reckon with and their clients receive truly connected bank services.
Modernize, automate and streamline operational processes
RCBs providers still primarily rely on face-to-face interactions with customers. However most traditional banks have seen the power of digitalizing and have rolled out digital tools, that fully integrate all the services and products to provide a better customer experience. Digital capabilities can help Rural and Community Banks to increase employee productivity, provide a better customer experience, remove outdated processes, reduce cost and therefore increase income. Almost all RCBs are depending on legacy products, systems, solutions, to provide services to their clients leading to slow turnaround time. Digitalizing would improve improved both front-end and back-end operations and help the banks to modernize their operations and innovate beyond traditional rural banking offerings. Digitalizing could help the rural banks modernize their core operations and help develop new products and services to help them achieve their overall business goals. Digitalizing would lead to the enhancement of existing capabilities and technologies, such as updating IT systems to remove outdated legacy processes, and an agile banking software to offer better or even new products and services.  Digitalization usually leads to a dynamic of innovation that allows it to be more aware of new trends and the possibilities offered by new technologies. In addition, it can also help foster innovation among the team members.
Improved decision making, efficiency and productivity
Digitization goes hand in hand with data management, data is knowledge, and knowledge leads to better decisions. The digitalization of RCBs would make it possible to have continuous contact with the customers to enable the bank better serve them. It makes available more information, which allows management make better decisions. Applied properly digitalization of RCBs can lead to a significant increase in productivity, can reduce costs and result in return on investments and profits.
Seek new ecosystems and channels
The digitalization usually leads to a dynamic of innovation that allows it to be more aware of new trends and the possibilities offered by new technologies. In addition, it can also help foster innovation among the team members. Digitalizing can also help RCBs to expand into new ecosystems, to leverage on the available data now properly organized to offer tailored services to their customers. Digitalizing can enable RCBs scale up their services and other products. Banks and financial institutions that have gone digital have been able to expand into new ecosystems. New enhanced ecosystems would allow customers to fulfill a variety of needs in one single app because it enables the banks to offer interrelated and integrated products and services. Customers would not have to conduct certain services online while they would be required to go physically to the bank to conduct others. A customer who wants to buy an RCB's shares, make a fund transfer between banks or within the bank from anywhere in the world can do so without being obliged to be physically present in the bank premises.
RCBS expanding into new ecosystems can lead to a reduction of the cost of doing business because it will enable large scale automation of processes. The integration of the various systems would allow RCBs customers access and sign-up to a variety of banking services that were hitherto unavailable to them and can only be got from the traditional banks. This is why it's imperative that all support the ARB Apex Bank's push to digitalize all RCBs under one big digital platform since it presents a singular opportunity for all RCBs based on their collective size and spread in Ghana to leap frog their contribution to the development and improvement of the rural and peri-urban communities. Digitizing would also enable the RCBs under the auspices of the ARB Apex Bank have access to a huge database of clients to help them create customized services and products to serve the needs of their clients. It can also lead to the identification of unmet needs of potential and exiting clients and other unserved sectors of the economy. This would enable the ARB Apex Bank to offer real time advise and help to  RCBs.
Enhanced U-Connect/RCBs App
The ARB Apex Bank in their bid to help RCBs to provide real time banking solutions to the client created and introduced a banking app U-Connect that was available on android store. However as of the day of this article that app is currently taken off the market. This may be because not many RCBs have rolled it out to their clients.  It is incumbent on the RCBs and Apex bank to do more than put together a simple app with basic financial services. If ever the U-Connect app would come back then it must do more to meet consumer financial service demands and RCBs must actively promotes it to their clients. These days, consumers want financial services that are convenient and easy to use. They expect to be able to easily with one-click sign-up for financial services online and perform a variety of transactions digitally, from transferring funds to signing up for loans and paying for their bills without a hassle. Every RCBs must roll out area specific strategies that can help banks keep up with consumer expectations. The world is becoming increasingly highly digital with each passing day and millennials and Generation Z, are leading the shift toward digital banking. Specifically, mobile banking is rising in popularity among consumers. Financial institutions must therefore create mobile banking platforms and web apps to attract and secure these customers through these channels. This will help them remain relevant to consumers, help them increase revenue and compete with FINTECH start-ups that are disrupting the industry with their innovations.
——————————————————————————————————————
The writer has extensive experience in Rural Banking in Ghana. He is currently a staff of Lower Pra Rural Bank, Shama and a researcher in current trends in Human Resources Management and Rural Banking. He may be reached on enimilashun@gmail.com