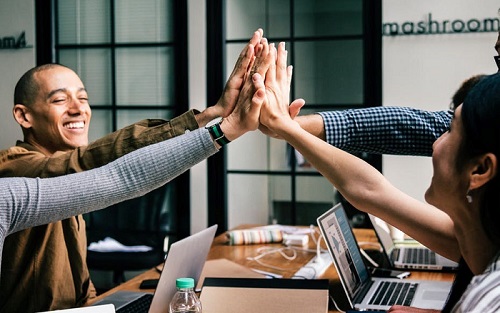 It does not matter how slowly you go as long as you do not stop. –Confucius
Hello Readers, welcome to the concluding part of the series on the National Service Person, Vida and how she is trying to make a big impact on the bank and possibly get her employer to hire her after the service. So far, Vida has demonstrated exceptional hard work and diligence, and coupled with her intelligence and enquiry mind, she has carved out a good name for herself. Everyone in the bank now knows her name as the NSP who stopped the fraudsters from cashing a stolen cheque of GHc45,500! The customer whose cheque was stolen could not stop praising her. Her picture continued to be on the bank's intranet for several months. She found herself mastering the roles of teller, front desk and back office functionary, and within the last month of her service, became quite popular everywhere she went. Let us see what happened in Vida's final lap of National Service.
The Final Lap
We have entered our final week of our stay in the bank. See how time flies. I entered the bank as a sweet and naive university graduate, with big dreams to reach Wall Street as an Investment Banker.  Working as a bank staff has really opened my mind to many things that I used to take for granted. It was not all glitz and glamour that we imagined when we were in school. Staying focused to your work, knowing that the customers are the reason for your presence in the bank is no more a strange feeling. One has to be smart and professional and also ask a lot of questions. Bankers do not assume. They work with facts and figures to be able to juggle the daily jigsaw puzzle and make profit for the bank and customers alike.
"So what has been my contribution in all this?" I asked myself. Have I been a helper or an occupational hazard? I searched deep in my soul and I can comfortable say that although I have made several mistakes, mostly due to ignorance, but I have also helped the bank serve its customers well and professionally. As for the citation and congratulatory letter from the Managing Director, it is a powerful tool to use in future. My first use of it is definitely the CV.
Sharing What'up messages with my colleague NSPs in other departments in the bank has also revealed how different we all are, as well as the differences in the working environments we found ourselves in as well as the office mates we work with. Quite a number of my fellow NSPs did not have a good working environment to work with. I picked up all the vibes and here are some of them:
Some were given tasks to do without knowing the implications and consequences.
They were asked to work like robots
Some felt unwelcome because some staff felt they were a threat to their stay in the bank. This was common with the contract staff whose job security was at stake. They felt the NSPs could easily replace them.
Some of the ladies encountered some sexual harassment from supervisors or managers who promised they could assist them secure permanent position after their service.
Some were not given manuals or operational guidelines to work with, although they were placed in sensitive positions in the bank.
I can't thank God enough for where he has placed me. In my branch, although I detected some of these vibes, I was smart enough to ask for guidance anytime I was confronted with a situation above me.
Good News
Two days before our exit from the bank, my manager called the two of us NSPs into his office and gave us letters. I opened it to find a three month contract from the bank to me! Praise God. I thanked him and my maker for this stepping stone. Our last day of the official end to the NSP program closed with a get together held for us by the branch staff. It was not a send-off but rather an ushering into a semi-permanent status where we will start enjoying some benefits in addition to a salary.  On the other hand, we are also going to be more responsible in our work and actions. As for me Vida, the sky is not my limit. It is rather the beginning of greater things to come.
Partnering Young People at Work
Dear Readers, with the above reflections from Vida, what do you think? How do you feel? How can we get the best from these young persons? An employer has a responsibility to ensure that young people employed by them are not exposed to risk due to lack of experience, being unaware of existing or potential risks and/or, lack of maturity. An employer must consider the layout of the workplace, how they will handle work equipment, how the work and processes are organized, the extent of health and safety training needed, risks from particular agents, processes and work.
Thinking of training brings me to this critical risk management area that we sometimes underrate. A significant number of employers believe there is little point in funding specific training for NSPs because they tended to only stay for a short amount of time.  Several NSPs report having extensive training, which some had received as part of apprenticeship programmes, which they had since stopped. By contrast, more NSPs describe receiving very little training and learned 'on the job' which consisted of figuring things out for themselves with occasional help from supervisors and workmates. Some described the training they had received as disjointed, incomplete or of poor quality.
Please permit me to offer a few tips or rather food for thought which will reduce the level of risks incurred in working with NSPs or young entrants and also improve your bank's bottom line. For all you know, some of them are great sales people and can improve your deposit levels!
Make them feel welcome from the first day. Remember these leave indelible marks in their minds.
Arrange one-on-one chats with them to identify their perceptions and attitudes.
Select person(s) in the department to be their mentor, if you cannot do it yourself. These days we don't even have generation gaps. I prefer to call it the "decade gap". Communication is key to bridging this gap, however small.
They come from dfferent backgrounds so they should not be treated the same way. Some are real "Dada Bee" (suffering from over-protection from parents and sometimes spoilt) and would need to be guided slowly to be adapted to being independent and looking at the bigger picture out there in the workplace. This reminds me of a lady who left her unwashed plate in the sink after taking her lunch in the pantry! Some overly humble ones find it difficult to say NO to suspicious demands from elderly customers. They don't know that fraud is no respecter of age!
Many young people are likely to be new to the workplace and in some cases will be facing unfamiliar risks, from the job they will be doing and from their surroundings. You will need to provide them with clear and sufficient instruction, training and supervision to enable them to work without putting themselves and other people at risk.
To save costs, use internal resource persons to regularly train and monitor the NSPs progress on the job. They are a good resource pool for future recruitment for regular staff. Re-assemble them every quarter to know how they are faring. They can be your best mystery shoppers. If need be, rotate some of them within the departments.
Good supervision will help you get a clear idea of the young person's capabilities and progress in the job and monitor the effectiveness of their training.
Do not assume. It is not always applicable that they are the "future leaders". In fact they are partners. Do not be too patronizing or paternalistic. Give them the needed push and monitoring and you will be surprised at what they can offer. Many NSPs have been known to have mobilized great statistics to enhance some banks' bottom line.
I hope my contribution has been useful.
ABOUT THE AUTHOR
Alberta Quarcoopome is a Fellow of the Institute of Bankers, and CEO of ALKAN Business Consult Ltd. She is the Author of two books: "The 21st Century Bank Teller: A Strategic Partner" and "My Front Desk Experience: A Young Banker's Story". She uses her experience and practical case studies, training young bankers in operational risk management, sales, customer service, banking operations ethics and fraud.
CONTACT
Website www.alkanbiz.com
Email:alberta@alkanbiz.com  or albique@yahoo.com