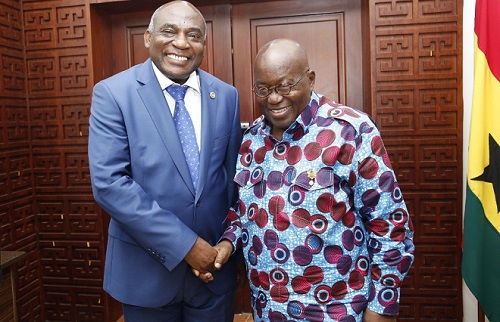 The president, a few months after he took office made a decision to rock a boat many citizens, experts and academics thought was too risky to touch let alone rocked in the first term of any presidency, a "cleanup of the financial sector".
He decided he wanted to "stabilise" the nation's financial system so his team led by the Finance Minister started with the banking sector, moved on the Specialized deposit-taking institutions, and now through the Securities and Exchange Commission they are on to the fund management industry.
Since the cleanup started in 2017, a lot of theories had emerged regarding the President's motivation to take such risk down the path of unpopularity in his first term. Political analysts said it would be the death of his hope for re-election as it is echoed time and again he may be getting a personal benefit that outweighs any risks.
Whatever the political rhetoric is, I would choose any day to be more attentive to what the fallouts of these actions reveal, ie the corporate governance problems that exposed us, as a nation, to what could have become a crisis we couldn't recover from should we have waited a little bit more.
As was communicated by the Institute of Director-Ghana the cleanup of the Banking Sector has exposed one truth, the Corporate Governance Standards we have in the nation are too blurry and fail to provide the checks companies need as guidance for sound business practices.
That for me seems to be the truth everyone is running away from as they take cover underneath political and sentimental umbrellas.
The President, on May 7, 2019, addressed members of the African Corporate Governance Network in Accra, he was clear about one thing in his speech (as delivered by a rep from his office), he wants to see Ghana become the Regional Financial stronghold.
"The Government's agenda to make Ghana the regional financial hub is being pursued with great commitment. Much as the government is committed to its responsibility in creating an enabling environment for business growth in Ghana, it behoves the private sector to ensure among others that their businesses are properly structured and governed per the principles of good corporate governance," the President's speech said.
This hope seems to be working out the way he, together with his team envisioned.
Reading from page 47 of Wednesday's Budget statement delivered on the floor of parliament by Finance Minister Ken Ofori-Atta, the government is content with one thing, regardless of what expert and street opinion says, the financial sector cleanup has been fulfilling exercise.
"A well-capitalised, solvent, liquid and profitable and resilient banking sector have emerged with improved financial soundness indicators in line with expectations. Even with fewer banks, asset growth within the banking sector in 2019 continues to be robust, underpinned by sustained growth in deposits and higher capital levels while credit has continued to recover compared to the same period last year," Mr Ofori-Atta read with a satisfactory tone.
"At the start of the reform in August 2017, he said, "total assets GHC 89.1 billion for a sector that had 36 banks and two years after the reform process started, total assets have increased to 115.2 billion at the end of August 2019 with only 23 banks".
For a government trying to do the right thing, these numbers couldn't have been cooked up and this should only mean that the corporate governance lapses, debatably, have been resolved, at least if we are looking at the bottom-line presentation against the reform processes that led us here.
Ken Ofori-Atta mentioned also that total deposits had improved due to "trust in the system", the profitability of Banks had "been greatly enhanced with a significant pick up in profit after tax in 2019", and the "sectors solvency remains strong".
We know this same exercise has been carried out on specialized deposit-taking institutions and just recently it trickled down to the fund management industry.
The SEC revoked the licences of 53 fund management companies on Friday, November 8, 2019.
The president in his May 7 address to the African Corporate Governance Network (ACGN), hinted on the SEC's moves towards a cleanup.
"The Securities and Exchange Commission has a draft Corporate Governance Code for listed companies which are expected to be finalized after consultation with industry players".
President Akufo-Addo sees the problem, recognises is damaging effects and stood for the right thing to be done.
Waking up sleeping giants 
The banking sectors' cleanup did one more thing that is not emphasised, it has awoken sleeping boardrooms in corporate Ghana.
"It must be noted that some public and private companies in Ghana have put in place governance codes to ensure best practice in the board's oversight responsibility of their companies," the president shared intimately and proudly with the members of the ACGN.
The ACGN is a body that is made up of Corporate Governance related institutions and advocacy arm in 19 African Countries, including Ghana it was important to the president to use a platform that partnered the IFC and IoD-Gh, to clear up misconceptions and make comments that made things even more transparent on this quest he was on.
"Even though Ghana can boast of numerous well-run companies that have demonstrated a commitment to good corporate governance, It must, however, be noted that poor corporate-governance is cited as the major factor that led to the recent banking crisis in Ghana.
Quick to acknowledge the efforts of the implementing team, Mr Akufo-Addo said the Bank of Ghana's swift action to sanitize the banking sector was indeed commendable.
"It is worthy to note that the central bank has put in place the CORPORATE GOVERNANCE DIRECTIVE 2018 for Banks, Savings and Loans Companies, Finance. Houses and Financial Holding Companies.
The directive is very comprehensive and sets out clearly among others the responsibilities and duties of directors in the banking sector with sanctions for breach of the directives.
This will surely go a long way to instill confidence in the banking sector." This was reiterated by the Finance Minister on Wednesday, November 13, 2019, in parliament.
The president believes for Ghanaian businesses to compete globally to attract foreign investment partnerships, "they must be guided by the fact that investors are prepared to pay a premium for the shares of a well-governed company.
This places on boards the responsibility to position their companies for foreign investment by ensuring that they implement and practice good corporate governance."
"It is important for boards to note that shareholder activism is on the increase given the fact that shareholders are demanding more accountability and transparency from their boards. I wish to state that my remarks are not limited to only the private sector, boards of state-owned enterprises in Ghana must also ensure that they are guided by good corporate governance practices, procedures and principles. The examples of well-run state-owned enterprises from other jurisdictions must serve as an example for our SOEs," he added.
This he expressed, should in the first place be embedded in the thought processes on which the IoD-GH for instance, creates their advocacy campaigns.
The President's Faith in IoD-Gh 
The president will passionately champion this path until he sees the results he had foreseen at the time of conception.
If I am stating my sincere opinion, the truth is, organisations like the IoD-Gh outlive governments and so they play a gatekeeping role that no political entity can handle with the aptitude of the transparency needed. Mr Akufo-Addo has been bold, he started a good case, but the spoils within time will be gathered by bodies like the IoD-Gh as companies become guided off the path of crippling lapses.
The President knows this, and so he requested of the body to grant him three wishes even in their autonomy as an advocacy arm, he wishes to the body.
I wish to put forward the following for your consideration as you engage in advocacy for best practice in corporate governance…
Companies must ensure that only persons with the requisite qualifications, exposure, skills and integrity are considered for appointment to boards.
there should be zero tolerance to retain on boards whether private or state-owned, directors who do not exhibit a commitment to act in the best interests of the company and its shareholders and stakeholders.
This calls for chairpersons of boards who can provide sound leadership over their colleague board members. Boards must ensure that directors constantly improve their skills and knowledge to keep in step with best practices globally.
In pursuing the transformational agenda for Ghana, we must recognize the fact that the majority of our businesses can be classified as SMEs.
These companies are in some cases run by family members who double up as shareholders and the day to day managers of the business.
These SMEs have huge growth potential especially in the area of job creation. Many major companies in Asia started as family businesses but have made the transition to becoming international conglomerates. Sadly, a good number of SMEs in Ghana do not survive and reach their full potential.
An identifiable weakness of SMEs is their governance structure. I would urge that there is an intentional targeting of SMEs with the view to exposing them to good corporate governance practices in the running of their businesses.
The Go-Getters!
The IoD-Gh, led by its president Mr Rockson K. Dogbega(FIoD),
Within five months they of the president's kind requests, the institute has concluded a long term initiative aimed at enabling Small and Medium-sized Enterprises (SMEs) to survive beyond their first-generation ownership and management.
The Institute of Directors-Ghana (IoD-Gh) and partnered with their mother organisation, African Corporate Governance Network (ACGN) and International Finance Corporation (IFC) to make this work within a short period.
It will be launched on 22nd November 2019 during the Institutes's International Conference and Exhibition on Corporate Governance.
My Concluding comments 
This shared interest in that the IoD and the president have, has done one thing beneficial, it has validated and helped the institute out of what many have said was a lonely fruitless cause.
Today, the institute's advocacy arm is receiving a triple of the attention they had in the past. Doors are no longer closing shut on their advocacy attempts and they have also received just the booster they needed to solidify their relevance.
The institutes' advocacy arm is receiving audience across the country not because they did not have an effective message in the past, but because the example that has been made of the financial sector, and its associated fear, is bringing companies to a place of common sense.
Better days ahead for mother Ghana I believe. days that will soon see the end of company collapses due to bad corporate governance.