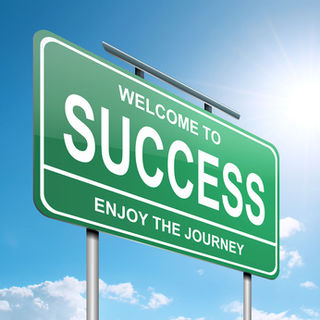 : …Successful people believe in putting in effort to achieve results.
It all starts from childhood when we are always encouraged to dedicate ourselves in prayers and therein ask for success and we will be granted. We are always told with God everything will be fine and success will surely come our way.
We are even told with a good intention to be a saint and do better for society; thus, be charitable, be selfless, loyal and have concern for others, we will definitely succeed. That is not all, we are pushed to come out to say and promise all the good things to society, with that and by some miracles all we wish for will be granted.
Here we are, certainly without any doubt of the existence of a supernatural being with power and authority, how many of us in our society have succeeded through all these overnight as we expect? Is there not more to success than what we know, think and expect? In reality, there is no such thing as something for nothing, therefore those expectations contravene the fundamental principles of our universes.
In fact, there is no success without effort and no achievement without hard work, said Mr Adam Shahadu, the owner and CEO of Classic Security Limited, a Ghanaian owned international security company duly registered and accredited by the Ministry of Interior and National Security. Verily, for the sake of our students and young graduates, it is always a laudable idea to pick from among the lot of thriving entrepreneurs in our mist to use as a an example for those still in dilemma to emulate and as a guide into entrepreneurship and business development.
Let's pray for knowledge, wisdom and skills
Born in a small town called Tolon in the western corridor of the Northern Region of Ghana, Mr  Shahadu has seen it all and says life should not be taken at wholesale nor for granted, advising that there is more to success than just hoping and praying to jump the gun.
Knowing right from childhood, that he needed to change the status quo, he set sail for his dream which he knew very well, thus; SUCCESS, actually without knowing how he was going to manage his way through even pre-tertiary education.
Calling himself a result oriented individual and also believes in self-education as his main guiding principle for life and success, he told me in my encounter with him, his story after he invited me for a chat over banku with tilapia and hot pepper.
To explain himself, Mr Adam put it bluntly that he worked his way through his tertiary education the same ways as any other typical Ghanaian child, passing through twists and turns; starting from teacher training college and private classes for 'A' levels in the mid 1990s.
Going forward, he enrolled himself for HND course in accounting in the later part of the 1990s and made his way into the Canadian International Development Agency as an assistant accountant after completion to start his long walk to his dream life. He afterwards landed himself a job with J-Stanley Group Companies as an accountant, he narrated. To climax his all-out war for success, he eventually made his way to the United Kingdom in 2003 for further education.
To put to perspective, entrepreneurship is about determination and self-belief and through the search for knowledge, wisdom and skills to achieve it; Mr Adam attained a master's qualification in management and finance from the University of the West of England, UK in 2006. He also became an affiliate member of ACCA, UK and worked with a number of companies before deciding to come back to Ghana to pursue the dream in his homeland.
On arrival, he worked with GOCREST Service Limited in Accra in 2014, a security company and thought it was time for him to set his time against his target of becoming his own boss. As a matter of fact, it was another opportunity to learn and this time to gain enough specialised knowledge as a significant capital to start his business.
That was not all, he enrolled for a PhD programme with Walden University in the US in 2014 but had to suspend it due the attention he needed to set the baby business on track. Nonetheless, the ambitious entrepreneur said he will certainly consider it again in the future since knowledge is his passion. Lo and behold, being smart as he is and an entrepreneur of his kind, by the end of 2015, he was in his own employment as a security expert and a consultant after gaining the required experience.
Leaning towards me at the dining table, Mr Shahadu stated on authority and with emphasis, saying, 'as a people, let's rather pray for knowledge, wisdom and skills to use for our success and not just pray for success direct as we have done for all the years while remaining at the same point. We should not think it's going to happen, it does not happen like that, no society has advanced with just prayer, to be honest, but through planning and effort; a fundamental principle even endorsed by God, the Almighty. To this, the knowledge enthusiast, called for further checks in the scriptures and better interpretations for our own good.
Do not try to jump the gun
Many young people of today tend to believe that one cannot be successful without stealing or being dodgy or lying to people but Mr Shahdu sees it differently and advises that the opposite is the situation. In that, he did not start life or his career lying and being dodgy but concentrating, observing and learning from his superiors and the experienced ones.
He added, 'look! Plan and set your goals for your success. Mr Shahadu knew what he wanted in life but had to figure out the how, which eventually evolved before his very eyes after persistent effort. His ambition to succeed was non-negotiable, he could visualise his success and his life in abundance. He knew how he wanted to live his life, where he wanted to visit and put in effort to get himself there. Indeed, he knew he was on his own, with no one to support; neither of the parents had any influence of any sort and although YES was his destination, NO was how he was going to get there.
He said if you are not failing enough it means you are not doing and trying enough to succeed. Mr Shahadu was undeniably willing to fail, which he really did on several occasions, but never submitted to or accepted to be a failure. More so, he is someone who does not believe in instant success and said to me, 'I know some people are born with silver spoons in their mouths, certainly, I was not but was rather borne with a pick axe on my shoulder so wherever I find myself I start to dig before everyone turns up'.
Be ready to learn from someone
Looking direct into my face, the confident looking entrepreneur said to me, 'right from the onset, I loved my vision and never expected anyone's validation of the vision or applause from anyone'. From his story, I noticed he learnt a lot from others and now has over 300 workers across the country under his management. Continuing his story, the young man who is getting to his mid 40s did not hesitate to describe himself as an envelope of several life disciplines and a coat of many colours. Surely, he has a skills-set he acquired working with others and for some people who mentored him and he now has a-360 view of life when it comes to work and even family life. He has been taught how to be creative and innovative to be a real successful entrepreneur to stay ahead of his competitors. He proudly put it to me, 'I have never regretted being a submissive and positive forward looking learner'.
Starting the business
To an entrepreneur, starting a business is a mind-set and a life assignment that moderates your time, teases your talent and invokes your endowed treasures all the time. The security guru again linked his high quality social and network capital to his endowed treasures and how it aided his security start-up whilst he was in his last employment. To start, according to him, he first saved some percentage of his salary overtime and with his knowledge and skills gathered as knowledge capital, coupled with his confidence in his experience, he was able to convince a friend to help him with a starting up financial capital.
Truly, the quality of knowledge capital garnered by Mr Adam was used to his advantage demonstrating the first and foremost capital needed to start a business is not necessarily money but knowledge as I have always mentioned. In principle, the quality of social capital you have determines the quality of relationship you have with people and the sort of support you can access all the time.
Thus, your social and network capital need to be solid and purposeful, you need to create and join communities that will let you realise what your life means to you and that should be created intentionally and maintained for high return on investment. Note, everyone has access to human capital and we need to understand it and learn how to use it to our advantage. One is always blessed with a skill-set around to tap into for your own progress in business in particular. To add to that, Mr Adam confided in his wife and the sister in-law who both assisted with their time and expertise to make the idea work; another vital ingredient of a successful start-up also to note.
There is no cheating but a merciful God
We tend to overlook the statement that 'God helps those who help themselves' despite we say and hear it every day, yet still; most of us are not just prepared to help ourselves and expect God to cheat for us. These are those who think and believe they can sit under trees, or loiter about and for some strange reasons all they want on earth will just appeared before them. Of course, everything you want to do and succeed needs a thorough search to understand and follow the fundamental principle governing it and its operations and with that you will succeed as a reward for your effort.
Any one from anywhere can make it
To emphasis, to be successful, you need to create a new relationship with money, understand it, get to know what it is for, how you can get it, and how to manage and multiply it. From our encounter, we both agreed that everyone needs to create a new money mind-set and of course it requires that you need to change and move to a new mental geographic location to start all over again. To be exact, everyone should be a master of their own fate and the captain of their own soul and not think there is someone somewhere who can direct their affairs better than them. More importantly, everyone should take responsibility and prepare to receive what they wish for themselves and not be taken by surprise or be overwhelmed by their own success and prosperity. It can be done no matter where you are from or who you are; prosperity is everybody's birth right and you need to claim it in a manner that is legitimate and real. As has been noted, the burning desire to do something is the basis for all achievements and the desire to succeed should start today. Your plan to be free from poverty should start today. Your call for a healthy and happy life should start today. Even, with all these, Mr Adam still plans to learn more, diversify and delve into other areas and create more value, solve more social problems with creativity and innovation but did not disclose further. He admitted saying the market is full of gaps and rather wondered why the young ones are not filling them up.
One his closing statement
To conclude, Adam pointed to his head with his eyes fixed to mine and said,' people should look for specialised knowledge this time at seminars and through relevant workshops to update their skills in whatever they want to do in their lives. They should have their vision clearly spelt out and life purpose to motivate them in everything they seek to do. Lastly, he said our graduates really need knowledge on how to create value, how to solve problems and the time to start is now.
The author is a consultant in entrepreneurship and business development, and an expert in university-industry interaction and knowledge transfer for innovation. He is also a co-author for two textbooks: Financial Entrepreneurship for Economic Growth in Emerging Nations, and Innovation and Social Capital in Organisational Ecosystems. Email: fatahi507@yahoo.com