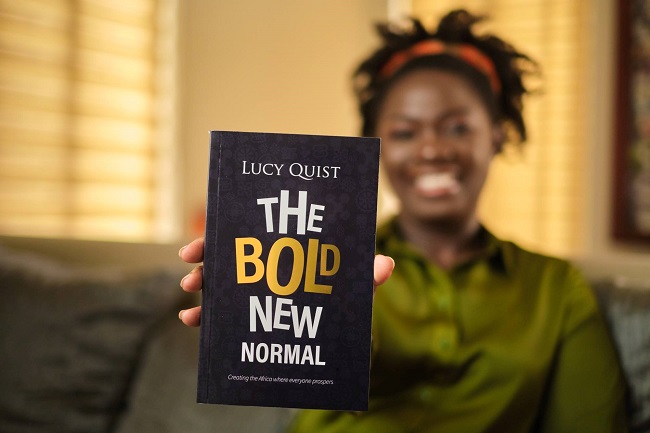 Vice President of the GFA's Normalization Committee, Lucy Quist, has launched her maiden book, The Bold New Normal.
The one hundred and sixty-two-page book which serves as an inspiration for Africa, focuses on the giant steps Africans, especially its leaders, must take in order to change the narratives and face head on, the problems and negative mindset created by Africans.
According to Lucy Quist, there is so much potential in Africa however, most Africans have become to comfortable with the negatives such as poverty and unemployment so much that it has become the acceptable norm associated with Africa.
She stated that the commonest narrative out there to companies who want to employ Africans into their firm is that: "We can't find talent in Africa"
She narrated that: "What upset me, was hearing the Jumia CEO in 2019, repeating what I was told in 2008; he said that all the tech development was done in Europe because they can't find talent in Africa".
Madam Quist said her inspiration for writing her book, stemmed out from young people who asked her to become a mentor to them. She said she was further motivated to write 'The Bold New Normal' after a Ted Talk she gave to motivate Africa and remind Africans of their potential to do more and be more.
She said: "When you read the book, I'm very honest and open about the fact that it started from a group of young people who kept asking me to mentor them. It became a discussion point where these youth engaged on my social media platform. So, as I got the chance to deliver a Ted Talk on what I believed in for the continent, I started getting requests for me to write a book. Some people suggested I write a book about myself however, it's not about me. It's about the continent. I don't believe that we should ever think of ourselves as arriving because I always tell people until our country and continent arrives, none of us have arrived."
Touching on what makes her book different, Madam Quist noted that the book exposes Africans to the fact that the African norm is a package of negativity
"So, when I talk about the new normal, it means I want a package of good things to pass on to my children and their generation to come. In the conversations, I realized that if we have to do this then we have to be bold about it. We can't carry on timidly hoping that change will happen. It will be the same conversation in years to come. But I believe that we have what it takes."
Speaking on whether she has any future plans to adding on more books to her maiden one, Madam Quist responded in the affirmative adding that: "If I feel led or realise I have something to say, I'd write again."
Currently, the book can be purchased online at www.lucyquist.com and in bookstores across the country. It will also be listed on amazon soon where readers across the globe can have access to it.