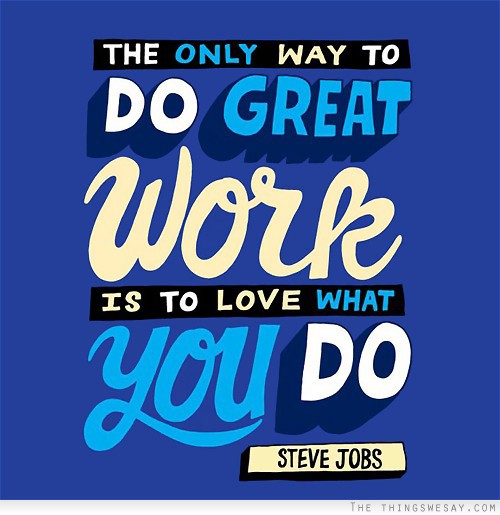 Hello dear Readers, Welcome to the concluding series on learning to love your job. I hope the previous two articles have been food for thought for you as you re-assess your job viz-a-viz your needs, wants and preferences. With the increasing dynamism in technological innovations, one cannot project too much what the state of the banking industry will look like in the next ten or twenty years.
What  was the result of your SWOT analysis? Do the positives about your job far outweigh the negatives or vice versa. Take a decision. Do you want to quit? If yes, the earlier the better. If no, then flow with me on the twenty steps to loving your job. In loving your job, you will be more risk conscious to prevent anything from taking it away from you.
THE TWENTY STEPS TO LOVING YOUR JOB:
APPRECIATION FOR THE "SMALL THINGS": When you wake up in the morning, remind yourself of all the people and things in your life that you should be grateful for. If there are things in your life you have been taking for granted, pause and plan how you can show gratitude to people who have assisted you in several ways. Say a word of prayer.
STOP WHINING: At least there must be a good reason or something good about the job for which you wrote the acceptance letter. It might have been ten years ago, but are the reasons still applicable? If yes, sit down and reflect on YOU yourself as a person and your future plans.
CONCENTRATE ON THE THINGS THAT YOU ENJOY DOING IN THE OFFICE: What aspects of the job do you enjoy most? Focus on those ones and do it even better. It will be the cornerstone to "shine" your future.
UPGRADE YOURSELF: Knowledge is power. It will be your shield, armour as well as a weapon in future. Take advantage of week-end or sandwich programs being offered by many tertiary institutions. However remember to do this within the regulations of the job. Do not run away to attend lectures.
FIND CREATIVITY AND EXCITEMENT IN ROUTINE: Try to smile more often. If you are a front desk person who faces customers, why don't you look out for good prospects and refer them to your Manager or Sales persons, even if you have not been given that assignment. Exercise your selling skills, your conversational skills to make customers want to transact business at your desk. Perhaps you can write a poem, play or article for your bank newsletter. Your expressions can open the way for interesting developments. Why do you think pleasant-looking faces of the bank staff are selected for their calenders and other brochures? Be the face of the bank professionally as well as creatively. You never know who is watching you.
LOOK FOR A MENTOR IN THE INSTITUTION: These should be people that will prepare you to stay positive always.
AVOID NEGATIVE PEOPLE: Such people highlight all the bad feelings you have about your job. They make one feel dead inside. Avoid them.
ACCEPT NEW ROLES AND RESPONSIBILITIES: They are gifts in disguise that prepare you for higher roles either on the job or elsewhere. Be prepared to accept transfers on the job. Regard them as the ladders to climb to the top.
REMAIN RELEVANT ON THE JOB: Take advantage of the e-learning certified programs that apply directly to your current job and be more marketable. Check from the internet for programs on Risk,Fraud, Credit, Compliance, Sales and Marketing, Branding, Investment, etc.
TIME MANAGEMENT: Set priorities among your routine shedules and abide by it. Make good use of your diary, reminder schedules on your phone or computer.
CLEAR YOU DESK: What does your desk look like at the end of the day? Can one find letterheads, sensitive documents, customers' correspondence, statement of accounts, loan application forms, completed account opening forms with customers' details? Are your drawers unlocked with official stamps, plain statement sheets and sensitive documents? This can lead to disaster if they fall into the wrong hands. The effect of such laxitity can lead to fraud, loss to the bank and of course loss to you.
GO TO YOUR BOSS: Study your boss's mood or routine and approach him or her at a convenient time and discuss certain risks you have detected that may affect your bank. He/she will never forget this good deed. It may end you a promotion or a letter of commendation. In addition, ask if there are positions further up the ladder for which you could strive toward.
ASK FOR SOME EXTRA WORK THAT CAN BE PERMITED, to make your job more interesting. If you are in customer service, perhaps you may be asked to try your hands at some simple credit analysis. Boredom is the root cause of unhappiness at work.
READ OR LISTEN TO MOTIVATIONAL BOOKS AND MESSAGES: Just like the GOOD book, the Bible, the constant reading of motivational or inspirational books or articles is food for lost or grieving souls. Subscribe to them on phone or email and get uplifted everyday.
READ CURRENT TRENDS IN THE INDUSTRY: Knowledge of recent trends in the banking industry can take you to your future glory or your new job.
BE MORE RISK-CONSCIOUS: What are the latest risk issues in the industry? What have you learnt? Can you spread the message to your colleagues and boss. Perhaps it will earn you more respect.
OCCASIONAL TELECOMMUTING: Can some aspects of your work be done virually or off-site? Instead of reporting sick, why don't you discuss with your boss and work from home once in a while? Such days can be really productive if you actually mean to work. No traffic jams, distractions and tummy aches. Just prove it and you will be a role model. Just keep to your word and your boss will believe you.
DON'T ISOLATE YOURSELF: However short your lunch break is, sit with the boys or girls, chit chat at the canteen or pantry, sometimes you can have a quick admiration of nature from standing outside and taking a clean breath of fresh air, away from the airconditioner. It is good for your lungs.
NETWORK: Network with other bankers, read books and share relevant knowledge through social media. Join Linked-In and receive professional knowledge. Its free of charge. Set up a google alert to receive latest news in your industry.
EXHIBIT YOUR CREATIVITY: Join groups within your bank. eg Ladies Assciation, Sports or Football team, Choir or Singing group, Drama group, etc. perhaps your creativity will be exposed through creative writing, acting, poetry recitals, debating, public speaking and presentation skills.
THE LITMUS TEST
Test yourself for these exhibits.
Do you get up with a bounce even on a Monday morning, thankful to God that you have a job waiting for you when others are still idling at home?
Do you look forward to going to work even if it is mostly due to your office colleagues?
Do you receive ocassional chit-chats from work colleagues even after office hours and week ends, or sometimes to chat about developments in the office?
Do you sometimes find yourself chatting about some good developments at the job, with your family members?
Has your future career plans become enhanced with the knowledge that it is a stepping stone to greater heights?
Do you take an interest in the social events organized by your bank and even take part in some of the events?
Are you proud of your bank and even happy to sell the bank outside banking hours?
Dear Readers, these are my thoughts. Perhaps a few may be applicable to you. People who exhibit love for their job are better prepared to face any risks, while using the risk events as learning points to be better prepared. Losing one's job results in loss of focus in life, albeit temporaily. At the end of it all, please "shine your eyes", protect your interests, focusing on anything that will cause you to lose your job. Loving your job is definitely a palliative in risk management.
Love your job and Save your bank from losses.
Save your jobs and Save your Bank.
Enjoy your week and I will surely see you on paper next week.
ABOUT THE AUTHOR
Alberta Quarcoopome is a Fellow of the Institute of Bankers, and CEO of ALKAN Business Consult Ltd. She is the Author of two books: "The 21st Century Bank Teller: A Strategic Partner" and "My Front Desk Experience: A Young Banker's Story". She uses her experience and practical case studies, training young bankers in operational risk management, sales, customer service, banking operations and fraud.
CONTACT
Website www.alkanbiz.com
Email:alberta@alkanbiz.com  or albique@yahoo.com
Tel: +233-0244333051/+233-0244611343