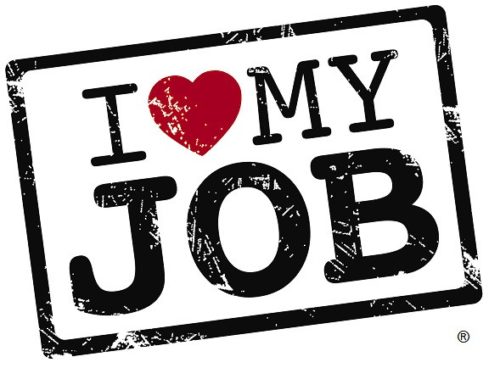 "The only way to do great work is to love what you do"- Steve Jobs
Hello dear Readers, I hope you enjoyed the Easter break and are back to start another quarter of the year on a more positive note. While some people are looking forward to the work, others wish the holidays were longer. Perhaps one can say that it depends on which side of the divide one finds him or herself. If you are an employer you will be happy to be back, of course to make more money. If you are an employee, you may not be happy because of various reasons.
Dear readers, I decided to digress in writing this article because I was saddened by a conversation on the radio last week. When a host asked his guest "Do you love your job?", she delayed in answering the question and just said: "Well, it's my job and I have to do it and do it well". She also went on to say that she had tried to resign a few times but her boss did not allow her to.
I felt saddened that such a prominent person in society would continue to work in the circumstance she finds herself in. It is not healthy for her, the institution she is working for, and society as a whole. Moreover, it is risky. Immediately one just 'goes through the motions', risk rears its ugly head and one gets blinded to areas requiring prudence, caution and good service delivery. These situations are also found in some financial institutions where the staff are continuously being reminded to focus on the customer and serve them better. Without liking or loving what you do, can you do it? It's not easy.
What is 'work'?
'Work' is a hard word to define. One person's idea of work can be another person's idea of leisure. Something that you dislike doing at work, you might quite enjoy in a leisure setting. Reference: http://www.myfuture.edu.au/getting-
Why do we work?
Let us first consider why we work, or look for a job. Here is what some people say:
For the money, of course
To be in control of my life
To supply my service which is needed by others
To practice the skills I have learned
For survival, a basic necessity
For procurement of food, shelter and clothing for me and my family
For companionship and a sense of belonging
For self-actualisation and prestige
I could go on and on. Look at the way many people suffer to get a job. How many people actually get a job of their choice? I am sure it will be less than 5% of employees. In developing countries where the job market is so restricted and actually closed sometimes, what do job applicants do? Do they accept the jobs given them, terms and conditions noted, hoping they will get better? Suppose the job is a temporary one, a contract that is renewed every six months but never gets confirmed or made permanent, what happens? Due to the surge in cost-cutting measures employers have adopted, job security is now at stake. Can you love a job you are not secure with? People get job satisfaction when they work. After all, their pay enables them fulfil their important needs.
Can you Love your Job?
Despite all this, I strongly believe that unless we have a change of attitude toward our jobs, we will continue to let the risks faced on the job get to us and make us more vulnerable. I sometimes liken the love of one's job to loving one's body. Look at how we make sure our bodies look beautiful, use different creams and lotions to smell good, put on appropriate clothing to protect ourselves from the vagaries of the weather, attack from animals – as well as from fellow human beings! Can we call this risk management of our bodies? Ha Ha! Likewise, if you like or love your job, you will do your best to protect your job by avoiding or minimising risks or anything that can make you lose your job.
'Going Through the Motions'
In the absence of liking or loving our jobs, we find ourselves just going through the motions. This sentence is an idiom meaning to do something in a mechanical manner indicative of a lack of interest or involvement. Here are some examples:
A feeble effort at attempting to do something
Do something insincerely, or in a cursory fashion
Pretend to do something because you are expected to do so
Do something without believing in its intentions
In summary, we can say that people going through the motions show the following characteristics: no feeling for the job, not responsive, not proactive, non-complaining, irritable, and resigned to their fate. Anybody in this state is likely to fall into trouble without knowing. In a financial institution this causes laxity in controls, increase in errors and frauds, as well as bad customer service and loss of business.
How can we make an attempt to like or love our jobs? Let me attempt to make some humble submissions on this highly controversial situation. By looking at various situations and levels in a financial institution, one can see some insights.
The Stresses on the Job
The Young Entrant: Having secured employment in a bank, what perceptions did you have about bankers? Is it all about putting on nice clothes, trendy suits, sitting in air-conditioned offices the whole day drinking tea? Is it just about smiling to customers? Riding nice cars, eating from posh restaurants at lunch-time? Taking loans to purchase nice personal effects and a dream-house? Ooh, now that you have entered the real life banking situation, are you disappointed?
If you are a Sales Executive, do you find yourself walking the length and breadth of the city in the scorching sun, scouting for customers to buy products you yourself do not really appreciate or understand how they work? Are you meeting your targets? Are you a Teller hemmed in a cubicle the whole day, paying and receiving cash and having to smile at customers even when you don't feel like it? Are you feeling the effects of late closing, long working hours, sometimes on an empty stomach? If you are a vault custodian, do you feel like a prison warden holding a key with you the whole day, taking it home and rushing through early morning traffic to open the 'Jerusalem gate' before customers arrive? Is the vault key becoming your twin sister, following you around?
The Loan Officer: Are you a Loan Officer, assigned to hundreds of customers whose businesses you don't understand? Don't you have any training in credit appraisal? Are you not comfortable with numbers? Are you not comfortable with the interpretation of balance sheets and all the ratios that go with them? Are your customers' default rates so high they are now giving you the shivers anytime you study the statistics? Have some of them vanished into thin-air and cannot be located? Is your management blaming you for wrong appraisals and aiming for your neck?
Let me end here for now. Next week we will look at various stresses in financial institutions, and some attempts at liking one's job if not loving it. This antidote can really minimise risks faced on the job and make bankers enjoy their banking career.
The job is made for man and not man for the job.
Have a pleasant week.
To Be Continued….
ABOUT THE AUTHOR
Alberta Quarcoopome is a Fellow of the Institute of Bankers, and CEO of ALKAN Business Consult Ltd. She is the Author of two books: "The 21st Century Bank Teller: A Strategic Partner" and "My Front Desk Experience: A Young Banker's Story". She uses her experience and practical case studies for training young bankers in operational risk management, sales, customer service, banking operations and fraud.
CONTACT
Website www.alkanbiz.com
Email: alberta@alkanbiz.com  or albique@yahoo.com