What kind of man are you? Who taught you to be a man? How did that teaching shape you, and your attitude to power, your body, to girls and women and to our bodies?
Such questions are rarely asked of African men. They should be asked more often. As a Continent, a neglected area of power and change is within the hearts and minds of African men. We need a new conversation about African men, masculinity and a reimagining of power.
That kind of reimagining would mean significant steps in our progress as a people, within our economies, our communities and families. Transforming a society and shifting it to one where we more effectively fight to end violence against girls and women means reckoning with our notions of masculinity, manhood and power.
That kind of reckoning is a requisite to dismantling some normalized behavior that eases boys into violence against girls who become women. It is not just about the acts of violence by men, it is about being silent witness to such violence, it is about being taught that men stand by other men, they don't speak out against them – no matter how heinous their behaviour.
That learning must be unlearned. There is no other way for impactful, sustainable change to happen.
These are hard questions. They are necessary. So, it is welcome news that an annual project – called #IAmUNLEARNING – is being launched this month to explore and engage these very questions.
How would you, your brothers, colleagues, friends, fathers, sons, husbands, lovers answer these questions: what did you learn about being a man? What do you need to unlearn to become a better man? How would that unlearning change or shape your behaviour and your your attitude?
***************************************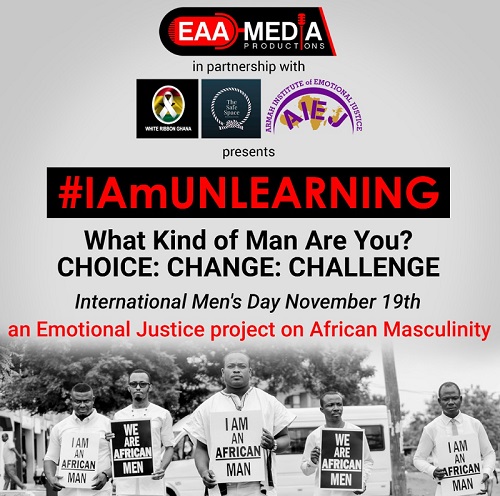 #IAmUNLEARNING: an Emotional Justice project on African men and masculinity by EAA Media Productions in partnership with Eli Tetteh, White Ribbon Ghana and The Safe Space Foundation on Tuesday 19th November which is named as International Men's Day.
ACTIVITIES:
VIDEO: #IAmUNLEARNING will debut their video Tuesday 19th November..
ON-AIR RADIO DISCUSSION: Live On-air radio discussion featuring Esther Armah and White Ribbon Ghana's Derick Botsyoe, Starr FM103.5's Morning Starr with host Francis Abban, 9am on Tuesday 19th November.