Boom! Mobile money industry worldwide is now processing over US$1.3billion a day with a record of 143 million registered customers. This is according to the State of the Industry Report (2018) on Mobile Money transactions published by the GSMA (Global System for Mobile Communications).
GSMA represents the interests of mobile operators worldwide, uniting more than 750 operators with over 350 companies in the broader mobile ecosystem; including handset and device makers, software companies, equipment providers and Internet companies.
The report is based on its Annual Global Adoption Survey conducted with support from the Bill & Melinda Gates Foundation, the Mastercard Foundation, and the Omidyar Network (a global network of innovators, entrepreneurs, technologists, investors and organisations committed to addressing the most critical economic, technological, and societal issues). The 40-page report highlights four (4) key trends which the GSMA considers are shaping the global mobile money ecosystem. These key trends have been highlighted in this write-up to enrich the ongoing discussions on the mobile money business.
The Key Trends
The first trend relates to enhanced customer experience. It came to light that cash-in and cash-out transactions still represented the most mobile money flows in 2018. According to the report, the cash-in and cash-out transactions grew by 11% year-on-year while digital transaction values grew more than twice as fast at 24%. Hence, the main drivers of digital growth in 2018 identified by the GSMA were bulk disbursements which grew by 29%, while bill payments also grew by 41% — a signal that mobile money providers are becoming strong partners for enterprises.
An overview of the global mobile money ecosystem as at December 2018 revealed the following statistics:
Item (1) Incoming Transactions – Total Value (US$16.1bn) from international remittances (1.3%), Bulk Disbursements (16.4%), Bank to mobile (9.1%) and Cash-in (73.2%).
Item (2) Circulating Value – Total Value (US$11.1bn) representing Merchants (10.8%) and P2P (Person-to-person 89.2%).
Item (3) Outgoing Transactions – Total Value (US$13.6bn) constituted by International remittances (17.0%), Off-net transfers (2.1%), Mobile-to-bank (7.6%), Air-time top-ups (4.5%), Bill Payments (17.0%) and Cash-out (67.9%).
Meanwhile, mobile money providers offering bill payments with reference to the report are connected to 102 companies on average. Bill payments are also an effective way to digitise government payments and increase revenues. The GSMA report, however, established that just over 17% of all bill payments in 2018 were directed to government agencies. It therefore states: "The opportunity is ripe for governments to follow the lead of private sector players in digitising payments and revenue collection, to benefit from the transparency, efficiency and profitability that mobile money delivers".
Also, the report reiterates the agent distribution network as vital to growth of the mobile money industry over the last decade, and it shows no sign of diminishing. In 2018, the global number of registered mobile money agents grew by 18% to reach 6.6 million – 57% of whom are active on a monthly basis. Indeed, the agent network role is evolving to support adjacent service offerings.
An increasing number of providers are investing in data collection and analytics, e-learning and technologies; including online dashboards, mobile apps, and conversational interfaces. In addition to enhancing user experience and enabling greater digital inclusion, these new services help to streamline operational processes by upgrading agent onboarding and training, and enhancing agent monitoring and engagement.
The second trend is diversification of the financial services ecosystem. The report indicated that the year 2018 saw many non-financial players diversify and invest in mobile-based payment businesses in order to gain market access in the payments space and then leverage their experiences to strengthen portfolio companies. It acknowledged that diversification underscores the commercial potential of mobile money and is a sign of growing competition, not ignoring its social benefits.
The third trend focuses on the increasingly complex regulation in the mobile money industry. In this respect, the report clearly states that: "Enabling regulation has a tangible influence on the adoption and use of mobile money services. The most successful providers today overwhelmingly operate in markets where regulation is enabling. Conversely, restrictive regulatory frameworks can stifle investment, limit the roll-out of new services and raise costs for consumers, all of which can negatively affect adoption and activity rates. In several cases, 2018 regulatory developments appeared encouraging at first glance, yet their layers of complexity reveal increasingly restrictive requirements."
In addition, the global report showed that the mobile money industry encountered developments in five main areas of regulation in 2018, all of which affect the provision of mobile money services: taxation; Know Your Customer (KYC) requirements; cross-border remittances; national financial inclusion strategies; and data regulation.
Regarding taxation for instance, it states: "The mobile industry is already one of the highest taxed in sub-Saharan Africa. Throughout the region, mobile money providers encounter three layers of taxation: general taxes, such as value-added taxes; mobile sector-specific taxes, such as excise duties on airtime usage; and mobile money taxes. In 2018, industry concerns intensified regarding the introduction of taxes on mobile money transactions throughout the region and beyond". The affected markets in this regard include Uganda, Kenya, Zimbabwe and Gabon.
The study is also concerned with the fact that taxing mobile money does little to support public finances or to advance its many positive contributions to economies. "Excessive taxation undermines prospective investment into mobile money, at a time when mobile operators already face considerable cost-pressures to enhance service quality, expand networks and meet new regulatory requirements. As an alternative to excessive taxation, the report recommends that governments should consider supporting the growth of mobile money services by digitising the payment of fees, rates, taxes and levies [due] from taxpayers."
Another area of regulation worth highlighting is the Know Your Customer (KYC) requirements. The report buttresses the ability to conduct KYC efficiently and effectively is key to expanding access to mobile money. However, the mobile money industry's capacity to scale services according to the findings is challenged by onerous KYC requirements. To address those challenges, these two approaches were identified (cited verbatim):
1) Simplifying customer onboarding
In markets without ubiquitous identification systems, mobile money providers struggle to onboard prospective customers who are unable to provide sufficient proof of identity. While ensuring universal ID coverage remains a long-term endeavour, a careful relaxation of regulatory restrictions in the short-term can bring more people into the financial system without substantially increasing risks; for example, by using SIM registration data for mobile money account opening. Pakistan, Ghana, Sri Lanka and Haiti are all examples of countries that permit the use of SIM registration data for mobile money KYC.
2) Use of digital IDs to enable electronic KYC (e-KYC)
To meet the needs of an increasingly digitised user base, mobile money providers — and the broader financial services industry — are looking to innovative technologies for ID verification, such as queryable digital ID systems and biometric authenticators. Some countries, such as Kenya, have ID systems that already offer e-KYC, and several others are well-positioned to offer such services should governments embrace the opportunity
The fourth trend identifies expansion of the mobile money value proposition. As revealed by the global survey, mobile money services providers reported steady year-on-year revenue growth of 23.9% on average, and profitability; 30% of providers reported EBITDA (Earnings before interest, tax, depreciation and amortisation) margins of over 25%. It however noted: "With close to 80% of providers reporting that most of their revenues are driven by customer fees, they are increasingly seeking to strengthen their value proposition to meet the evolving needs of individuals and small businesses".
The report further describes "significant evolution of the mobile money business model: a 'payments as a platform' approach that connects consumers with third-party services across a range of industries". Thus – recognising the compelling opportunity to increase and diversify revenue streams and reach new and broader customer bases – providers are seeking to develop a diversified, multi-sided model of adjacent services, enterprise solutions and personalised services.
Other Highlights
The report also takes a snapshot of the global and regional growths of mobile money as at the end of 2018. In the global perspective, the total number of mobile money deployments was 272, registered accounts(US$866.2milion) of which the active 90-day accounts totalled (US$298.7million), transaction volume (US$2.4bn) and value (US$40.8bn).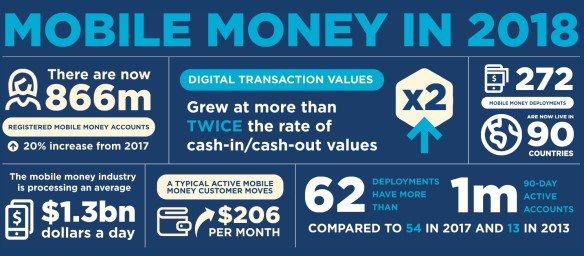 Regionally, sub-Saharan Africa, South Asia, East Asia & Pacific, Latin America & the Caribbean and the Middle East & North Africa feature in the list of mobile money growth rates for the period. It is revealing to note that sub-Saharan Africa shows the highest depth of penetration for mobile money. The number of deployments is 132, registered accounts (US$395.7million) from which (US$145.8million) are active 90-day accounts with a transaction volume of US$1.7bn) and value (US$26.8bn).
That's all for now. Thank you for reading! Information is power and you know how to use it when you have it. Over to you, Joe Lartey! Interestingly, 29 June 2019 marked 2 years since I have been engaging you and the world with these briefs. The spirit of the living God is in the vessel and I am deeply soaked and energised for more interactions. Amen! My sign-off has always been "God Bless" with a rising tone.
This script was written by a Chartered Banker with a flair for feature writing. Apart from his work schedules, he edits or proof-reads corporate material for his colleagues, executive managers – including distinguished professionals working in various fields outside Banking. Through this column, his articles feature on third-party online media platforms in Ghana and outside. Email: Kwaku.Anumu@gmail.com